Getac needs to look again at this chassis to see if they can make it lighter, but the modularity of this design and how much abuse it can take is difficult to ignore. With the latest mobile silicon and a massive battery capacity, the S410 G5 is undoubtedly built for a purpose.
Pros
+

Intel 13th Gen platform

+

Copes with dust, water and drops

+

Massive battery capacity
Cons
-

Brutalism in laptop form

-

Keyboard and touchpad are average

-

Expensive hardware and accessories

-

IP53 is not fully rugged
Why you can trust TechRadar We spend hours testing every product or service we review, so you can be sure you're buying the best. Find out more about how we test.
Getac S410 G5: 30-second review
The G4 model of the Getac S410 first appeared in late 2021, and it used the Intel 11th generation Core i5-1135G7 processor from the Tiger Lake generation.
Two years later, Getac wisely leapfrogged the 12th-generation silicon and chose the 13th-generation Raptor Lake i5-13500H in the G5.
Retained from the previous model is the ability to shrug off bumps and knocks that would kill most laptops, a highly flexible modular approach to features and a screen that can be read outdoors.
But now, with the new silicon, there is a notable bump in performance, even greater battery life and an even better port selection.
However, there are two things about the G5 that haven't been addressed since the G4 that might influence a purchaser. One is how remarkably heavy this laptop is, and the other is the relatively high cost once you add accessories.
Weighing in at an arm-sapping 2.38kg (5.25 lbs) it isn't a machine you will enjoy carrying over any substantial distance. This is the same as before, showing that in two years, zero effort went into making it lighter.
But probably the biggest issue here is price. The G5 isn't cheap, and that most resellers quote on this hardware rather than provide a flat price is telling. Buyers are encouraged to accessorize their G5 with a suite of accessories, like offline battery chargers, batteries, and vehicle mounts, bumping up the cost of ownership considerably.
The S419 G5 is built for a purpose, but not for a modest budget.
Acemagic AX15: Price and availability
How much does it cost? Quote only
When is it out? Available now
Where can you get it? You can get it directly from a Getac reseller
Unlike most laptops we cover here, the Getac S410 G5 doesn't have a quotable cost since each one is customised specifically for that customer.
A machine with the review hardware specification will likely cost around $4,000 but that's without any accessories, a service contract or enhancements. Faster processors, more memory, a discrete GPU, more batteries and an external charger could double that amount.
The entry-level hardware in the UK starts at £1760.53 (approximately $2200), exclusive of VAT.
If you were looking for a budget laptop that can cope with rain, then the S410 G5 probably isn't the machine you are looking for.
Getac S410 G5: Specifications
Swipe to scroll horizontally
| Item | Spec |
| --- | --- |
| Model: | Getac S410 G5 |
| CPU: | Intel Core i5-1350P (12 cores, 16 threads) |
| GPU: | Intel Iris Xe (EU 80) |
| RAM: | 16GB DDR5 (maximum is 64GB) |
| Storage: | 480GB NVMe M.2 2280, 256GB SATA SSD |
| Screen: | TFT 14-inch, FHD (1920 x 1080) |
| Ports: | 1x USB 3.2 Gen 1 Type-A, 2x USB 3.2 Gen 2 Type-A,1x Thunderbolt 4 Type-C, 1x Ethernet 1GbE, 1x Docking connector, 1x HDMI 2.0, 1x Serial port (9-pin; D-sub), 1x VGA port (15-pin; D-sub), 1x PowerShare USB 3.2 Gen 1 Type-A, 1x SIM card slot, 1x MicroSD reader, 1x 3.5mm Combo Audio Jack |
| Networking: | WiFi 62 (AX 211), Bluetooth 5.3 |
| Camera: | Windows Hello face authentication 5M camera (front-facing) |
| OS: | Windows 11 Pro (pre-installed) |
| Biometrics: | Fingerprint reader |
| PSU: | 19V/4.74A 90W |
| Dimensions: | 350 x 293 x 38.5mm (13.8" x 11.5" x 1.5") |
| TPD Limit: | 28W |
| Battery: | 2x 75WHrs, 3-cell Li-ion |
| Weight: | 2.38kg (5.25lbs |
Getac S410 G5: Design
Largely unchanged from the G4
Modularity
Heavy
In a direct comparison with the G4, it predominantly appears that the G5 has borrowed the same chassis and revamped the internals.
That the case is the same size and weight gives much away, and it also comes with the same soft and squishy keyboard and tiny trackpad that took criticism in its predecessor.
That Getac didn't take any of this onboard is disappointing, but it's understandable when you consider the engineering that went into this chassis to achieve the high level of robustness on offer.
But it's not just about being able to handle knocks, dust and water. It's also about the modularity of this design that enables it to be configured in numerous subtle ways.
Our review machine came with two hot-swappable batteries, but those can be augmented with a third, smaller battery if longevity is important. The boot NVMe drive is mounted in a removable caddy, a SATA HDD or SSD can be added, and many of the ports on the exterior can be swapped out for different combinations.
Most of the ports on the G5 are protected by hard plastic covers with rubberised seals. When you first get your machine, we'd recommend opening these covers using a plastic spudger since they are so tight that you will quickly break fingernails while getting them open.
Oddly, the one port that isn't protected is the power connector, but we assume Getac put some special electronics in this to avoid a water droplet frying the system.
What's confusing is why Getac hasn't transitioned to USB-C power, as the G5 has a Thunderbolt port, but the PSU they provide is of the pin-barrel variety.
The power supply is another hefty item, although it can generate the amps to charge both internal batteries in around 2.5 hours.
Working outdoors provides a real challenge in bright conditions, and the TFT panel used here was chosen for its 1000-nit backlight and not its colour accuracy. At only 14 inches, the 1080p resolution screen seems a little small considering the physical scale of the machine, as the borders are substantial. Getac does have an option for a touch-capable display, should you like that interface, but the screen doesn't fold for tablet use.
The overwhelming impression of the G5, like the G4 before it, is that it is built to take abuse- but also to give it out to the poor person designated to carry this hefty machine.
If you are operating from a vehicle, this might not be an issue, but this isn't the type of equipment that suits being carried up a mountain or through a jungle.
Getac S410 G5: Features
13th-Gen platform
Tons of I/O
Only 1GbE Ethernet
In our reviews, we've discussed how Intel lost the plot with its mobile processors and allowed AMD to come back into these markets with lacklustre 11th and 12th-generation offerings.
The 13th-generation hardware in this machine is significantly better, although far from perfect, and the performance and power efficiency of the Intel Core i5-1350P vPro (12 cores, 16 threads) in our review machine is undeniable.
Getac can supply this machine with a lower spec Core i5-1340P and also higher rated i7-1360P and i7-1370P vPro processors for those that want them.
The Core i5-1350P vPro is the sweet spot, where the combination of cores and clock speed is high enough for nimble performance but doesn't intrude on overall battery life.
The DDR5 memory this platform uses can easily be upgraded to 128GB if required, and the default NVMe storage is up to 2TB, and a SATA drive is 1TB.
Why the review machine had a 512GB NVMe with a 256GB SATA SSD is a mystery, as it's hard to imagine anyone picking that exact combination. Perhaps in the G6, offering two NVMe drive slots would be a better plan.
As for other features, the Intel Core i5-1350P vPro comes with 28 PCIe lanes, with PCIe 5.0 on the processor and PCIe 3.0 on the chipset, providing a massive amount of bandwidth for peripheral items.
Making full use of PCI Express connectivity, the review machine had numerous USB ports, Thunderbolt 4, a MicroSD card slot, HDMI 2.0, a serial port (yes, someone still uses these), and an RJ45 LAN port.
A section along the rear is a modular I/O panel that can be swapped for four different options with additional video out, LAN ports and DisplayPort outlets among the options.
There are also options for mobile comms, external WAN and GPS antenna, smart card readers and fingerprint sensors.
However, in this cornucopia of I/O, a few things irked us. One was that the Windows Hello-compliant webcam is only 720p, which seems like a low specification given the cost of this hardware. And that is an option, as the standard 5MP webcam isn't Windows Hello capable.
The other is that the Ethernet port is only gigabit, whereas the majority of business networks are transitioning to 2.5GbE or better speeds. The port should have been faster than 1GbE, or the optional modular port should have offered this performance level.
Ironically, you could easily add this functionality using a USB port or Thunderbolt, but it should have been included.
Getac S410 G5: Performance
Powerful i5
Iris Xe 80EU
Great battery life
Swipe to scroll horizontally
| Benchmark | Test | Score |
| --- | --- | --- |
| 3DMark: | WildLife: | 11224 |
| | Fire Strike: | 4582 |
| | Time Spy: | 1677 |
| Cinebench R23: | Single core: | 1649 |
| | Multi core: | 8026 |
| | Ratio: | 4.87 |
| GeekBench 5: | Single core: | 1656 |
| | Multi core: | 8708 |
| | OpenCL: | 17036 |
| | Vulkan: | 15907 |
| CrystalDiskM.: | Sequential Read: | 3738 MB/s |
| | Sequential Write: | 2169MB/s |
| PC Mark 10: | Office Test: | 5724 |
| | Battery Test: | 27hr 44m |
| WEI: | Score: | 8.4 |
The benchmark results for the G5 provide an exciting insight into how Intel tries to adjust the relative performance of its silicon to encourage customers to buy more expensive and more profitable chips and occasionally gets those corrections wrong.
The Intel Core i5-1350P in our review G5 is a classic example because it has the same P-cores (performance) and E-cores (efficiency) as the Core i7-1360P above it. The only differences are that the base clock of the i5 is 1.9GHz, whereas the i7 is 2.2GHz, Smart cache is up 24MB from 18MB, and it also has 96 Execution units in its Iris Xe over 80 EU in the Core i5.
But, and this is the leveller, all these chips have a power budget of 28W with a maximum of 64W in Turbo mode. Therefore, the faster-clocked chips will sprint better to begin, but they'll hit the thermal limits of their design quicker and then throttle.
We'd argue that in many scenarios, the difference between the Core i5-1350P and faster chips is minimal, and our data also shows that it's about 10% better than the previous generation Core i7-1260P in raw processing tasks.
The reduction in Execution Units for the GPU does have a more significant impact, but it still manages to deliver most of the performance expected of the better Iris Xe, probably due to the DDR5 memory bandwidth that it can utilise.
Compared to the 12th-generation mobile parts like the Core i5-1240U, the Core i5-1350P is at least 50% faster at most things.
That's a significant improvement, and these enhancements also contribute to the system's power efficiency, delivering much-improved battery life.
If the S410 G5 has a stand-out result, it's the PCMark battery test, where it ran for 27 hours and 44 minutes, beating our previous record-setting rugged system, the Getac B360 Pro, by 33 minutes.
And, it fully charged both batteries within 2 hours and 30 minutes.
Getac S410 G5: Verdict
The good thing about this design is that Getac built a tough and flexible platform that can handle the abuse of outdoor work admirably, and with Intel Raptor Lake-P silicon, it has good performance without the need for Core i7-rated chips.
That delivers a system with plenty of punch and excellent battery life, features which are often mutually exclusive.
It could also do with a better keyboard and touchpad, aspects that seemed unchanged from the G4. And, given its high mass, this is also a heavy machine to carry, and Getac doesn't appear keen to make it any lighter.
But the heaviest part of the S410 G5 is the cost, which, depending on the chosen features, can be high. For those who want this very specialist hardware for a particular project or employee, it would be a good idea to do some research and get a quote from a Getac reseller in preparation for the inevitable backlash to the expenditure from accounts to this equipment.
Should you buy a Getac S410 G5?
Swipe to scroll horizontally
| | | |
| --- | --- | --- |
| Value | Quote-only pricing is never a positive thing. | 3 / 5 |
| Design | The outside isn't substantially changed from the G4, and it is not any lighter, but the modular design is clever. | 4 / 5 |
| Features | It features a solid processor with plenty of I/O, but it lacks better than 1GbE Ethernet and has only one NVMe slot. | 4 / 5 |
| Performance | A powerhouse with impressive battery life. | 4.5 / 5 |
| Overall | Lots of power, tons of I/O and excellent battery life, all wrapped in an abuse-resistant shell. If only it wasn't so heavy. | 4.5 / 5 |
Buy it if...
You work outdoors in all weather conditions
A few machines claim to be resistant to the environment and clumsy owners, but the S410 G5 is the real deal. It's MIL-STD-810H and IP53 certified, although that doesn't rate it for water submersion.
Battery life is important
With two hot-swappable 75WH batteries onboard and an external charging solution that can have others ready to go, this machine potentially offered unlimited running time. You can also use another 4200mAh third battery to extend without replacement, should you need it.
Don't buy it if...
You like to travel light
The weight of this system is a major hindrance if you intend to hike to a location to capture data. And, if you carry extra batteries or other equipment, things only get worse.
Your budget is modest
Equipment this specialised is rarely cheap, and the Getac S410 G5 is significantly more expensive than a standard laptop built around the same Intel processor, memory and storage. Once you factor in accessories and extra batteries, this could be a costly purchase.
Also consider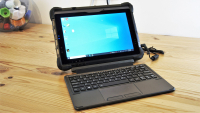 DT Research DT301Y-TR
An Intel 11th-Gen machine from DT Research, the DT301Y-TR is a tablet design where the keyboard is detachable for 2-in-1 functionality. What it lacks is modularity, but the unit is IP65-rated, MILSTD-810G and MIL-STD-461F compliant, making it ideal for tough environments.
It's not a cheap option, and the technology inside has been superseded, but the DT301Y-TR is a more practical choice for hand-held computing tasks.
Check out our DT Research DT301Y-TR review.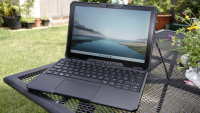 Dell Latitude 7230 Rugged Extreme
A cheaper alternative from Dell with an even better IP rating, the Latitude 7230 also sports dual batteries. However, the two batteries in this laptop, when combined, are only the capacity of a single battery in the S410 G5, and the screen is smaller. But at just 1.3 kg, it is substantially lighter.
Read our Dell Latitude 7230 Rugged Extreme review for more information.
For more rugged laptops check out our best collection.
Mark is an expert on 3D printers, drones and phones. He also covers storage, including SSDs, NAS drives and portable hard drives. He started writing in 1986 and has contributed to MicroMart, PC Format, 3D World, among others.