There isn't much that's elegant about this design, though it will handle plenty of abuse. The bigger issues here are how heavy it is and how long it takes to recharge. That last aspect makes having spare batteries a necessity, increasing the cost.
Pros
+

Excellent 12th Gen performance

+

Multiple batteries

+

Tons of options
Cons
-

Heavy

-

Awkward keyboard interface

-

Small battery capacity

-

Rubber port covers that don't lock
Why you can trust TechRadar We spend hours testing every product or service we review, so you can be sure you're buying the best. Find out more about how we test.
Dell Latitude 7230: 30 second review
Dell Latitude 7230 Specs
The Dell Latitude 7230 Rugged Extreme that was sent to us for review came with the following hardware:
Model: Latitude 7230 Rugged Extreme
CPU: Intel Core i5-1240U (10 cores, 12 threads)
GPU: Irix Xe (80EU)
RAM: 8GB (2 X 4 GB), LPDDR5, 5200MHz, Integrated
Storage: 256GB, M.2, PCIe 4.0 NVMe
Screen: 12" Touch 1200 nits WVA FHD (1920x1200)
SIM: u-SIM
Weight: 1.31kgs (2.8 lbs) without keyboard or accessories
Dimensions: 203 mm x 296 mm x 23.90 mm
Camera: 5MP front, 11MP rear
Networking: Intel AX211, 2x2 MIMO, Bluetooth 5.2
Ports: 2x USB 3.1 Gen 1 Type-A, 1x microSD-card slot, 2x Thunderbolt4/USB 3.2 Gen 2 Type-C, Universal headphone/microphone combo jack
OS: Windows 11 Pro Licence
Battery: 2 cell single 35.6Whr Li-ion battery
PSU: 65W AC adapter, USB Type-C
When computers are placed in challenging environments and are expected to keep working, some effort must go into protecting them.
The Dell Latitude 7230 Rugged Extreme is built for places that would kill other hardware. It's been drop-tested to 4ft (1.2m), temperatures up to 63C, and is IP-65 rated against ingress from dust and water.
Designed to be operated either as a tablet or with a laptop via an attachable keyboard, the Latitude 7230 has a 1200 nits bright 12-inch touch display that can be seen in direct sunlight.
For this model, Dell makes an extensive selection of accessories that include extra batteries, stands and mounts, and a passive pen stylus.
This system with a Core i3 processor and 8GB of RAM starts at around £2,473.82, but once extra batteries, more storage, a better processor, more memory and the accessories needed are added, you might end up spending twice that amount.
The best aspects of this design are the work-anywhere screen, the dual battery configuration and the excellent 12th-generation Intel mobile platform. And the worst ones are an awkward keyboard connection, port covers that will wear out and limited storage options.
This machine is built to take abuse, but it's also likely to see that in abundance. The question is will the port covers or the batteries be the feature that ultimately puts this out of service? Because the Dell Latitude 7230 is dependent on both to keep working.
Dell Latitude 7230: Price and availability
How much does it cost? From $3000/£2,500
When is it out? It is available now
Where can you get it? You can get it in most regions direct from Dell.
The logic of the different model SKUs Dell offers for practically identical machines in different regions makes little sense to this reviewer. And as if to prove this point, the Latitude 7230 is a prime example of Dell's international price contortions.
Currently, US customers are only offered a Core i5 model with 16GB of RAM for $3,013.57, but that machine comes with a single battery.
Europeans get the choice of a i3, i5 and i7 processor with the cost starting at £2,473.82 in the UK, but that's with only 8GB of RAM and still a single battery.
Moving up to Core i5 adds only £92.82, and the Core i7 is £277.68 more than the base price.
When you consider that both the higher-rated processors come with 16GB, not 8GB of memory, the i3 model looks somewhat pointless and overpriced.
None of the SKUs looked at included, by default, a second battery or the keyboard covered in this review. It's entirely possible that in accessories, the base price of this machine might be increased by 50% or more by the addons needed to make it suitable for a project.
Dell Latitude 7230: Design
Chunky monkey
Awkward keyboard
Rubber plugs
Before we get into the uniquely functional styling of the design, let's first talk about weight. Dell quotes 1.4 kg for the tablet, but that number assumes both batteries are installed, as our single battery review model weighed just 1.31kg.
However, once the optional keyboard was connected, that weight grew to 2.36kg, and we estimate with both batteries installed, it would be 2.52kg or 5.56 lbs.
That's a substantial amount to hold for anyone who doesn't have strong wrists, especially when you consider how that weight is distributed.
Because the Dell Latitude 7230 Rugged Extreme is intrinsically a tablet, all the computing power and functionality is located behind the screen, making it decidedly top-heavy.
To combat that uneven weight distribution, the keyboard hinge is remarkably stiff and requires a degree of brute force to move. It also won't move past a certain angle to allow the keyboard to go underneath the tablet, forcing the removal of the keyboard if you want to use it that way.
Getting the keyboard and tablet separated isn't easy, as it requires an unlock slider to be set into a specific position and then two sprung sliders to be pressed together simultaneously. In many of our attempts, one side would unlock, but not the other, frustratingly.
While the keyboard does provide some additional USB 3.2 Gen 1 ports on the left and right sides, this accessory isn't well-engineered or designed, and those responsible for it need to try harder.
Another area for improvement is the ports or, rather, the port covers.
While it wasn't perfect, one of the features we liked so much on the DT Research DT301Y-TR was that it had neatly locking and opening port covers that resealed easily.
Dell instead just went with rubberised plugs that are difficult to extract without breaking fingernails. They get in the way of trying to insert cables, and they're unlikely to be as secure with repeated use.
That's a shame because this machine has an excellent selection of ports, and there is even an option at purchase to choose between having HDMI out or an extra USB port.
Overall, the tablet part of this hardware is well made except for the keyboard interface, with a texture on the screen that makes it easy to see outdoors and provides good fingertip control.
Dell has a passive stylus that they included for our review, and that has a receptacle in the unit so that it is much less likely to get lost.
But, the standout feature for us was the top of the machine, or bottom depending how you view it, the Dell Latitude 7230 has both an access panel to the storage and two battery bays.
In our review machine, only one battery was installed, but it does offer the possibility of extended operations if you are willing to buy and carry additional battery modules.
We'll talk more about the batteries in the performance section, but compared to the keyboard, it is very easy to detach the batteries and replace them while running.
On the rear of the machine is a rubber webbing that is meant to be a way to hold the tablet with one hand while using the touch screen with the other. Or it would be if you possess the physical strength to do this. While it makes the machine easier to handle, the rubber webbing makes changing the removable battery pack more difficult.
With the webbing partly detached, a sliding lock enables the battery to be detached, and there is some capacitor power in the DT301Y-TR that enables a hot swap to be successfully achieved. Exactly how long the machine will remain operational without a battery isn't documented, so we'd be smart about doing the swap.
On the front and rear are two cameras, neither of which is better than the cheapest smartphone model, but they work.
The edge connector used to connect to the keyboard was designed with other items in mind, and an alternative docking keyboard accessory is available that uses it. But oddly, no docking station.
If this design has a major weakness, it's the lack of USB ports, with only two USB ports, one each of Type-A and Type-C. The good news is that both of these ports, contrary to the datasheet, which describes them as USB 3.0, are USB 3.2 Gen 2 specifications, allowing for 1,000Mb/s file transfers.
Its standout feature is the screen, which with 800 nits of brightness in such a small panel, is remarkably strong and easily visible in direct sunlight. It was so bright that when photographing this device, we turned it down from peak brightness to get better-exposed results.
Dell Latitude 7230: Hardware
12th Gen CPU
Only storage upgrades
Mediocre Gen 4 SSD
Our review machine was the middle-order Core i5 processor, and it was fascinating to see how this compared with the 11th Gen Core i7 we saw recently in the DT Research DT301Y-TR.
The processor used is the Intel Core i5-1240U, which has eight cores and can process twelve threads. It only has two performance cores and eight efficiency, but the two performance cores can hyperthread to make them more effective.
What's interesting about this CPU is that it's Core i7 counterpart, the i7-1260U, doesn't have any more cores, cache or even a bigger power budget. It just clocks a little higher and has a slightly better GPU.
Even with a processor labelled Core i5, the platform in this laptop is potent and a marked improvement over previous generations.
In short, the Core i5 12th Gen is better than its Core i7 predecessor in almost every respect. It's more power efficient, better at multi-threading and can drive its Iris Xe integrated graphics very impressively when it only has 80 execution units over the 96 in the Core i7 GPU.
The Iris Xe isn't ideal for gaming or modelling in 3D, but it works well enough for typical computing tasks in this context.
While we support the choice of silicon in this machine, Dell also made some choices that are less worthy of applause.
Like so many of Dell's latest laptops, memory in this machine comes pre-soldered to the mainboard, negating the possibility of expanding the amount of RAM later.
What you can swap out is the storage, but that comes with another type of caveat.
A small removable panel on the underside of the tablet provides access to the installed NVMe drive, and this can be changed for another. However, this isn't a 2280-sized M.2 drive, but a much shorter 2230 design, limiting the potential capacities available to a maximum of 2TB.
Hilariously, Dell wants an extra £391.56 in the UK for swapping the tiny 256GB default module for a 2TB one. That is about double the retail price of a 2TB drive in this form factor and four times the cost of a typical 2TB in the 2280 layout.
The Dell Latitude 7230 Rugged Extreme isn't a small machine, so why it ended up with only a 2230-sized M.2 slot is a mystery, but it's a choice that was made that limits how much capacity and the speed of the drive you can use with it.
And, as you will discover in the next section, Dell also used a Gen 4 NVMe drive that only performs like a Gen 3 drive for good measure.
Dell Latitude 7230: Performance
Powerful CPU
Workable GPU
Disappointing NVMe drive
Dell Latitude 7230 Benchmarks
This is how the Dell Latitude 7230 Rugged Extreme performed in our suite of benchmark tests:
3DMark Wild Life: 8712; Fire Strike: 3231; Time Spy: 1132;
Cinebench R23 CPU pts: 1273 (single-core); 6665 (multi-core)
GeekBench 5: 1366(single-core); 6181 (multi-core), 10454 (OpenCL)
CrystalDiskMark: Sequential Read: 3547MB/s; Sequential Write: 2776 MB/s
PCMark 10 (Office Test): 4746
PCMark 10 (Battery Test): 5h 4m
Windows Experience Index: 8.2
Depending on what scores you look at, this machine is either wonderful or mildly depressing.
On the positive side of this coin is the terrific Intel Core i5-1240U CPU, a processor that sounds modest with just two performance cores but can deliver some impressive performance results.
With a base clock power of just 9W and a boosted demand of 29W, the performance or efficiency cores can't all run at their full clock potential for long.
But this Alder Lake design is dramatically better at multi-threaded tasks than the Tiger Lake models that it replaced. And, it can push the Iris Xe along nicely within the constraints of what an integrated GPU with only 80 execution units and no dedicated vRAM can achieve.
However, there are two aspects to these results that are less than wonderful, and we'll talk about the PCIe NVMe drive included first.
This isn't a cheap laptop where every choice is about cost reduction. So why did Dell put a Kioxia-made drive rated as being PCIe Gen 4, yet can't even generate the performance of a good PCIe 3.0 drive?
But more pointedly, why bother with a Kioxia BG5 256GB drive? There are drives available in this small form factor that can achieve more than 4800MB/s reading and writing.
The one used is a poor choice. It makes little sense to claim it is PCI e Gen 4 when it can't use that bandwidth, and swapping it for something better would boost reading and writing dramatically for just a few dollars in additional cost.
That's not good, and then we have painfully small batteries.
Even budget laptops come with more than the battery capacity of one battery on this machine, and even with the power efficiency of the 12th Gen CPU, lasting a little over 5 hours on a full charge isn't enough.
The logic might be that with two batteries, you should get twice that range, but many customers have reported that isn't the case, and they only saw a few extra hours out of the dual battery configuration.
But we noticed another issue, and that is Dell describing these batteries as 'hot-swap'. We suspect they are not. On designs like the DT Research DT301Y-TR it has a capacitor that allows the battery to be removed and another inserted without the system entirely shutting down.
While this machine might be technically able to do that, we think it's only if you swap the batteries one at a time. Our experience was that if you have one battery in it and remove that, the system will shut down and completely reboot once you replace it. So, you have 'hot-swapping' if you have two batteries where one can keep the system powered while you swap out the other, but that's not truly a hot-swap battery by our definition.
The only good thing about the batteries is that they're relatively cheap at around $40 each, but how many you might need to get a full working day from this system is another debate.
They also make 'ExpressCharge capable' packs and 'Long life cycle', but they're both only 35.6 Wh in size.
The Mobile battery charger can charge two batteries away from the unit and costs £183.53 in the UK, but we couldn't find US pricing for this device.
The processor, screen, general build quality and accessory options on this machine are all fantastic, even if the cost might get bumped up to greater than $4000 by the time it is fully specified.
However, the size of the batteries is insufficient and, like the DT Research DT301Y-TR, makes having extra batteries a necessity rather than an option.
Also, the port selection is good, but the rubberised plugs that cover them will wear or break off in time, making them largely pointless.
That Dell also proclaims that this machine takes PCIe Gen 4 NVMe drives and then puts one in it that can't achieve that performance level, ironically.
Are these reasons not to buy the Latitude 7230? Maybe. The team that designed this machine were reasonably close to making an excellent ultra-rugged system, but a few poor choices that were invariably cost related undermined their vision.
It's better than some other options, specifically those based on 10th and 11th Generation Intel silicon, but the Latitude 7230 could have been exceptional, and it ended up not reaching the required standard in a few respects.
Dell Latitude 7230: Report card
Swipe to scroll horizontally
| | | |
| --- | --- | --- |
| Value | The initial cost doesn't reflect all the extras you will need to make this machine deployable. | 3.5 / 5 |
| Design | A robust tablet that is undermined by an awkward keyboard and rubber plugs protecting the ports | 3.5 / 5 |
| Hardware | Good 12th Gen CPU with plenty of cores, but the 2230 NVMe drive limits the total storage capacity | 4 / 5 |
| Performance | Powerful processor and excellent power efficiency, but a slow NVMe and inadequately sized batteries | 4 / 5 |
| Total | A heavy machine that needs strong wrists to hold. It could be a heavy investment to properly specify this machine for duty. | 4/ 5 |
Should I buy a Dell Latitude 7230?
Buy it if...
You need a powerful and robust machine
The performance of even the Core i5 of this processor generation is great, and it breezes through many computational tasks. A major improvement over 10th and 11th gen hardware.
Mains power isn't guaranteed
The ability to cycle batteries is remarkably useful if you often experience power loss or are away from mains power.
Don't buy it if...
Expect to work all day without a recharge or battery replacement
The stock battery won't get you through an 8-hour shift even if you turn the brightness down on the screen. You can mitigate this with a battery charger and extra batteries if you can be organised enough to make sure they're all kept charged.
Your budget is for a typical laptop
The starting price of this machine is about the same as a premium laptop, but that's with a Core i5 processor, 8GB of RAM and just 256GB of storage. Getting this machine ready for deployment might double that outlay.
Also consider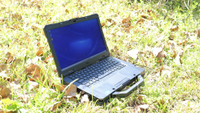 Dell Latitude 5430 Rugged Laptop
Based on the Intel 11th Gen platform, this design has a Thunderbolt port and HDMI out, allowing for external displays. What it lacks is full ruggedisation and the ability to swap batteries, but it does have some discrete graphics upgrades that the 7230 lacks.
Read our Dell Latitude 5430 review for more information.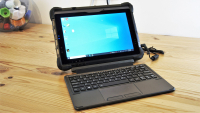 DT Research DT301Y-TR Rugged Tablet
A similar machine in some respects, the DT301Y-TR has a single battery but the ability to hot swap to pre-charged replacements. It also has superior port covers. However, the 11th Gen platform is a slight weakness of this design, and it has the same issue with needing lots of accessories for deployment, pushing up the cost of ownership.
Read our DT Research DT301Y-TR Rugged Tablet review for more information.
Mark is an expert on 3D printers, drones and phones. He also covers storage, including SSDs, NAS drives and portable hard drives. He started writing in 1986 and has contributed to MicroMart, PC Format, 3D World, among others.