For the second time, the Overwatch 2 beta has come and gone, having given us another chance to play Blizzard's hotly anticipated sequel before it launches later this year.
Rather than wait until the PvE side of Overwatch 2 is finished, Blizzard has let players try out the PvP content ahead of the game's full release. The big change from the original Overwatch is that it's now 5v5 instead of 6v6 with teams made up of one tank, two damage, and two support players.
The Overwatch 2 beta was packed with content and we put together this one-stop-shop of all the important information you need to know – like which characters received reworks and what new maps, heroes, and game modes were included.
We now know that there won't be a third beta, with Blizzard confirming that there will be no more public tests and that the studio will be using the feedback gained from the tests to make Overwatch 2 the best it can be on launch in October.
While we wait for launch, you can check out everything that was included in the second Overwatch 2 beta below.
Overwatch 2 beta: cut to the chase
What is it? Our second chance to play Overwatch 2
When was it? June 28 - July 18
What was it played on? PC, Xbox One, Xbox Series X, PS4, PS5
Overwatch 2 beta: release date and platforms
The Overwatch 2 beta returned on June 28 as a closed beta and ran until July 18. It was playable on PC and consoles.
How long did the Overwatch 2 beta run?
The second Overwatch 2 beta launched on June 28 until July 18, giving players a couple weeks to play with the title and try out the new feeling 5v5 format, as well as the new heroes and maps.
Overwatch 1 had extended alpha and beta periods where Blizzard incorporated feedback from players to change the game. Overwatch's first beta ran from October 27, 2015, to January 21. A second beta ran from February 9 until May 9, before the game's May 24 release.
Similar testing has been employed for Overwatch 2, giving players a lot of time to mess around with the game.
Was the Overwatch 2 beta on consoles?
For the second Overwatch 2 beta, console players were invited for the first time, as part of an extensive test of the game's crossplay capabilities. The game was available on PC, Xbox Series X|S, Xbox One, PS5, and PS4. That did however mean that Nintendo Switch users missed out.
In a blog post (opens in new tab) going over the beta, Blizzard spoke about console players getting their chance, saying: "For the upcoming beta, our main goal is to test our console and cross-play capabilities as we scale up server testing slowly. Because of this, we need to select players based in part on their platform choice, so we're launching a new opt-in process which tracks player platform preference. "
Overwatch 2 beta: new game modes
The Overwatch 2 PvP beta included a new game mode called Push. While this was the first time to play Push, the mode was actually revealed way back in 2019.
The rules of Push are easy to grasp: it's basically reverse Tug Of war… with a robot. In the middle of the map, there is a robot named T.W.O. who you're fighting to control. If your team takes possession of T.W.O. the machine starts pushing a barricade toward your opponents' spawn. If they take control of T.W.O. then the robot will push a different barricade towards your spawn.
In order to control T.W.O., you need to have more players in its vicinity than your opponents. If you lose control of T.W.O. the robot will move quickly to your barricade and start pushing it towards your spawn. There are checkpoints along the route that open up new spawn points for teams so they can return to the action faster.
If you can get T.W.O. to push your opponents' barricade all the way to the endpoint on their side of the map then it's an instant win (and vice versa). Otherwise, whoever's barricade is closest to their endpoint when the clock runs out loses.
If you'd like to see this mode in action, here's a showcase match from last year's Overwatch League final.
Overwatch 2 beta: characters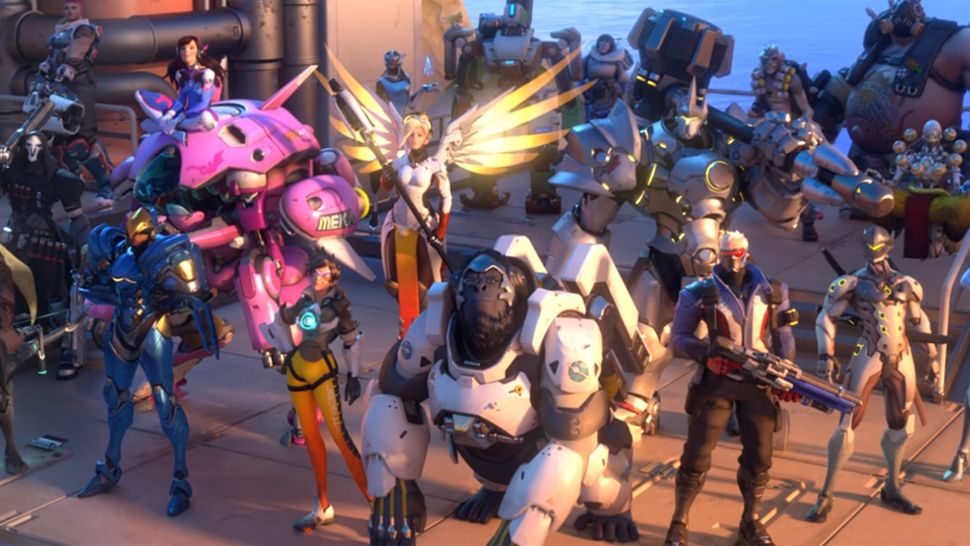 The Overwatch 2 beta featured all 32 Overwatch characters, as well as new heroes Sojourn and Junker Queen.
However, with Overwatch 2 moving from 6v6 to 5v5, Blizzard has tweaked every character, changing their damage, health regen, and health pool. Blizzard has reworked some heroes entirely too, including Sombra, Doomfist, Bastion, and Orisa.
Here is a list of every hero coming to Overwatch 2.
Ana
Ashe
Baptiste
Bastion
Brigitte
Cassidy
D.VA
Doomfist
Echo
Genji
Hanzo
Junker Queen
Junkrat
Lucio
Mei
Mercy
Moira
Orisa
Pharah
Reaper
Reinhardt
Roadhog
Sigma
Sojurn
Soldier 76
Sombra
Symmetra
Torbjorn
Tracer
Widowmaker
Winston
Wrecking Ball
Zarya
Zenyatta
Overwatch 2 beta: new characters
Sojourn
Revealed back at BlizzCon 2019, new hero Sojourn made her debut in this first Overwatch 2 beta.
Sojourn is the game's first Canadian hero and one of the original members of Overwatch before the group was disbanded. She's a noted leader of the group and featured as an overseer in the Storm Rising Archives event. She's now ready to join the reformed Overwatch and take on Talon.
Blizzard has released this story trailer for the character ahead of the beta's release:
Blizzard has also detailed Sojourn's kit, which looks pretty fun, with both mobility and damage in spades.
Railgun (Primary Fire) – Rapid firing projectiles that generate energy on impact.
Railgun (Secondary Fire) – High impact shot that consumes stored energy.
Power Slide – Ground slide that can cancel into a high jump.
Disruptor Shot – Launch an energy shot that slows and deals damage to enemies within it
Overclock (Ultimate) – Railgun energy auto-charges for a short duration and charged shots pierce enemies.
To see it all in action, be sure to check out the latest Sojourn gameplay trailer.
We have compiled some information on how best to utilize the character and everything you'd ever need to know in our Overwatch 2 Sojourn guide. Check it out if you want an early leg up on the competition.
Junker Queen
Junker Queen has been around in the Overwatch lore since 2017, as her voice appeared on the Junkertown map. However, it seems she's had enough being on the PA and is ready to join the fight.
Junker Queen looks to be an aggressive tank, that benefits greatly by being brave and getting into the brawl for her team. With a mix of status effects, she can cause a lot of trouble for the enemy team with Wound and Anti-Healing abilities.
To learn a little more about her, here is the cinematic all about who she is and where she came from.
For a deep dive on her abilities and what she can do, check out this deep dive from the development team about what's she's capable of. She looks like she will be trouble for the enemy team.
Overwatch 2 beta: maps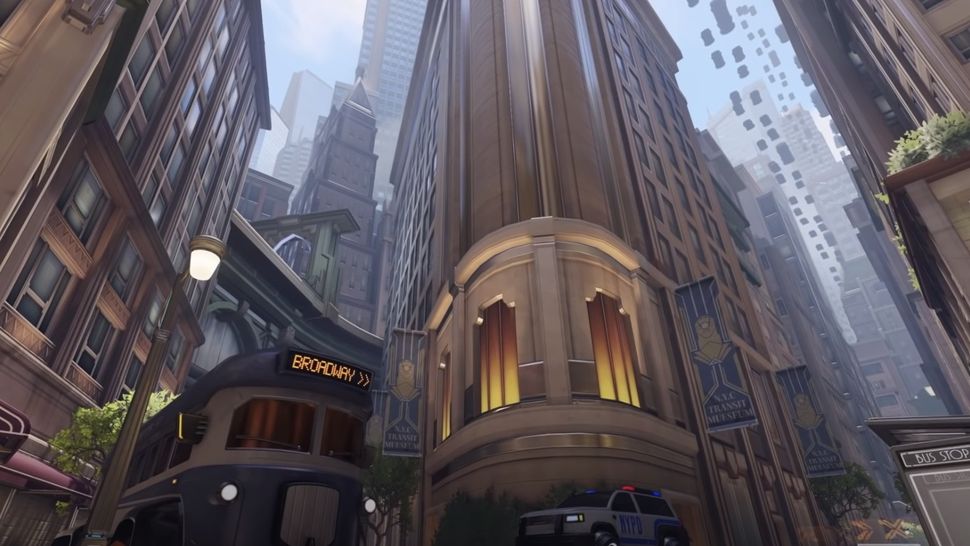 Like the heroes in Overwatch, all of the maps from the first game will be making an appearance in Overwatch 2 except for Assault maps.
Assault maps have been a problem since the launch of Overwatch, as they can either snowball quickly with one side earning an easy win, or become increasingly difficult to capture checkpoints the longer times go on.
In the second beta, the development team added Rio, a new Hybrid map that explores Lucios' origins. It looks very colourful, and could become a fan favorite.
Like the first beta, there was a focus on Push, with two maps in that mode. There were two other new maps too, namely the New York-based Midtown which is a Hybrid map, and the Monte Carlo-themed Circuit Royal Escort map.
Not every map that will be out in Overwatch 2 was part of the beta, with maps like Hollywood, Rialto, Numbani and Busan all absent, though they are expected to return in the future.
Here's a full list of included maps in the beta:
Control
Escort
Dorado
Route 66
Watchpoint: Gibraltar
Circuit Royal
Junkertown
Hybrid
Eichenwalde
King's Row
Midtown
Rio
Push
Maps not returning
Hanamura
Horizon Lunar Colony
Paris
Temple of Anubis
Volskaya Industries
Overwatch 2 beta: recommended specs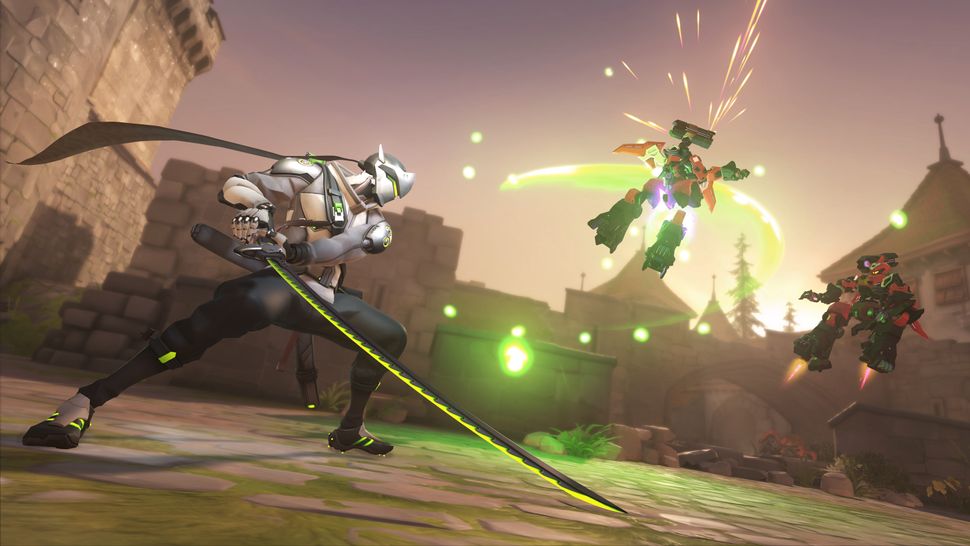 The second Overwatch 2 beta was on consoles, but also remained central to PC. While some might be worried their machines can't handle the game, there might be a chance as the game is not asking too much.
In a post on the Battle.net website (opens in new tab), Blizzard released the specifications for the PvP beta and they're not very demanding. Even the recommended specs are very modest, and the bar for minimum requirements is even lower.
If you have an older PC that you are convinced can't play games, it may still be worth checking over the specs. It may surprise you.
Minimum Requirements
Operating System: Windows 7 / Windows 8 / Windows 10 64-bit
Processor: Intel Core i3 or AMD Phenom™ X3 8650
Video card: NVIDIA GeForce GTX 600 series, AMD Radeon™ HD 7000 series
Memory: 6 GB RAM
Storage: 50 GB available hard drive space
Recommended Specs
Operating System: Windows® 10 64-bit (latest Service Pack
Processor: Intel Core i7 or AMD Ryzen 5
Video card: NVIDIA GeForce GTX 1060 or AMD R9 380
Memory: 8 GB RAM
Storage: 50 GB available hard drive space
---