The best card games cram a world of possibilities into a small box filled with cardboard. That's what gives them enduring appeal – they feel different every time you play them.
A great card game is as quick to learn as it is to set up and play, and it allows your imagination and that of your friends to take you many different places. Since this is a list of card games for adults, that can lead to some fun that's inappropriate for children and polite conversation – which is very much the point.
Our list aims at showing you the breadth of options you have for fun and affordable card games. You will think about card games differently afterwards, if you're not a fan already.
If you are looking for some more involved tabletop fun, we also have a list of the best board games across a wide range of themes. Just like there are many great card games for PC, you don't have to without board games if you don't have the space for large boxes – simply try the best digital board games.
Best card games
Why you can trust TechRadar We spend hours testing every product or service we review, so you can be sure you're buying the best. Find out more about how we test.
Sushi Go is an affordable classic for all ages, a game that's as quick to learn as it is to play, a number-cruncher's dream for raw fish foodies. It's a draft-based scoring game where you take turns picking one card from your hand, and then pass your hand to the left. Whether you go for the high-risk high-reward cards like Sashimi or prefer to chase after lower-value cards shall depend upon the hand you are dealt and the players around you, meaning no two games are the same.
If you're just starting off your card game collection, this is one of the best card games for beginners. It's also great for all the reasons we often associate with card games, whether that's a standard deck of cards or something more involved – you can play it wherever, just to pass the time, and it neither takes a lot of effort nor space.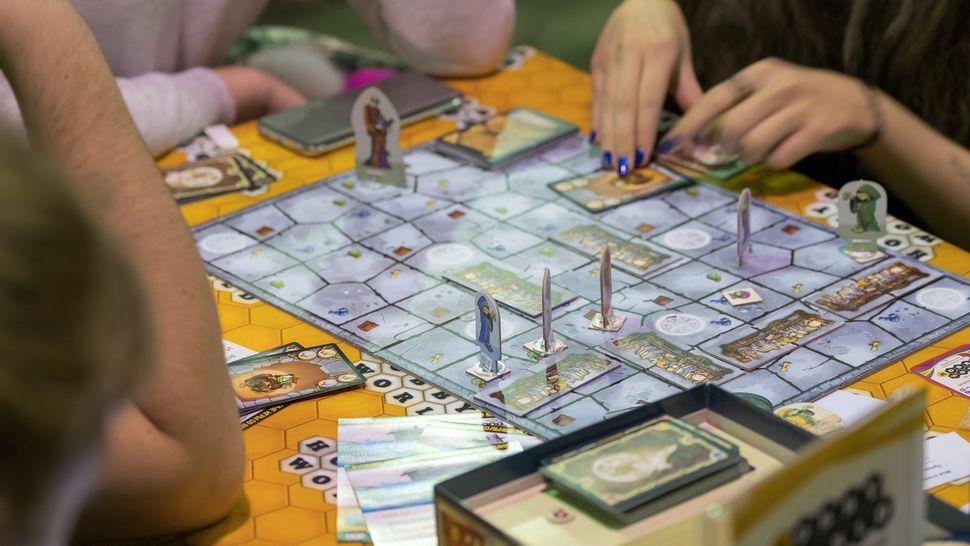 Munchkin is undoubtedly some of the most fun you can have with a bit of cardboard, assuming you're neither a toddler nor a cat. It's a bit like Dungeons and Dragons lite in that your aim is to get stronger, fight your way through enemies, and come out the other side victorious. This is a game that shows how well concept you may know from other forms of games translate to card games, beautifully capturing the feeling of a good dungeon crawl.
The main aim of Munchkin is to get to level 10 and, to do so, you have to beat monsters. Easy enough, right? Before you reach for your Witcher blade and go full Geralt on your family and friends, you might want to think twice about decimating them completely. Alliances will be formed, friendships will develop complicated new layers, and you'll all start to wonder why you keep letting the same person win each time. Not only is Munchkin one of the best card games for PC and console players, but it will also appeal to all lovers of classic fantasy RPGs.
Your aim in this silly card game is to build up an army of monstrous, hideously mutated bears to take down an evil baby menace attacking by air, land and sea with corresponding weaponry. There are babies riding jet-skis, missile babies, just really large babies – basically the kind of babies you will absolutely not feel sorry for defeating.The person who takes down the most babies is the winner, so it's time to be red in tooth (or gums) and claw if you want to reign victorious.
As you can see from the premise, the humor is a bit crass, and Bears VS Babies is arguably the most fun when you're initially discovering all of its wacky cards, but it's truly a game like no other. A premise like this wouldn't work in another medium, and it's simply fun to adopt Bears VS Babies logic – of course a shark baby can only be taken down by giant lobster claws, how else would you do it?
This card game takes everything you know about classic video games in the vein of Castlevania, and turns it on its head. In Boss Monster, the monster is you – a hero is coming to attack your dungeon, so you better put in the right monsters to stop their advance.
Boss Monster is an imaginative game with a great love for detail. From the box looking like a NES game box to beautiful cards sporting pixelated monsters, this is a game designed for nostalgia. However, even if you're not the biggest fan of oldschool video game references, Boss Monster is a romp, thanks to the many different cards and options to stop heroes. It's a game for a specific audience, but one that has the power to convince even the most hardcore video game fan to pick up a card game. If you're looking for actual video games like the ones Boss Monster was inspired by, we can recommend some hard, unforgiving games.
Adult card games largely play on the odd sense of relief that comes with saying something inappropriate with only your friends as your audience and willing participants. Games like Cards against Humanity popularised this genre, and Joking hazard is a perfect example of how much much fun being bad can be.
The premise of Joking Hazard couldn't be easier – you and your friends make an inappropriate three-panel comic strip from the cards in your hand. The inidividual panels on each card are random enough that they fit together in a myriad of situations, and the goal couldn't be simpler: just have a good time.
Most of the games on our list of best card games are quick and simple – games for a lunch break, a boring car ride or something similar. even But if you want a game to really sink your teeth into, something more involved than a quick round of Marvel Snap, Marvel Champions is the game for you. Marvel Champions is full of playful nods to its loyal base of long-time fans, as well as brimming with the kind of charm that is sure to garner plenty of new ones. It's not only a big game, it also takes quite a bit of time to play through villain encounters, either all by yourself (!) or in co-op with friends.
Marvel Champions is what publisher Fantasy Flight calls a 'living card game' (LCG). A living card game is a trading card game without the trading, meaning you can buy new cards and know what you get. Your goal in Marvel Champions is to build a deck that lets you take down the evil villains of the Marvel universe, and you get to do it all while playing as its greatest heroes: The Avengers. as a living card game, Marvel Champions can grow, so you can keep buying new heroes and villains and let your game evolve.
Bucket of Doom gives you a scenario and then tasks you with building a convincing escape plan using the things depicted on the item cards in your hand. This means you might be trying to escape from an army of flowerpot men using only an apron and a pair of tights. Makeshift slingshot, anyone?
It's one of the more inventive ones on the list, and it's incredibly good fun for those who aren't afraid to dream a little bigger and really unleash their improv potential. It's the escape scenarios that make this card game scrictly for adults – you may become part of a human centipede, or your partner's dad may come on to you. Bucket of Doom clearly tries to prepare you for any eventuality.
As the name suggests, this one involves your smartphone – you'll even need it to play, making Game of Phones more than a card game. Game of Phones describes itself as a sort of digital scavenger hunt, as you respond to a number of different prompts by pulling up images on your phone, taking selfies or generally finding the most creative solution.
Game of Phones is quite similar to Bucket of Doom in the way that no two sessions will be the same and that you need to flex your improv muscles to satisfy the game's often ridiculous demands. The fact that you need to be pop culture-savy and have a smartphone on you does make it a game for a certain age group, but in its niche it's definitely one of the best card games.
Cats can be a little bit dangerous. Everyone who owns one knows that they're prone to absurdly random fits of excitement and energy, often occurring at 4am as you're trying to sleep. Well, did you also know that they can explode? That's basically the premise of one of the best card games around, Exploding Kittens.
Exploding Kittens has been described as a more violent version of Uno. Your aim is to trick another player into drawing an exploding kitten from a pile of cards so that they lose. Certain cards can save a player from exploding, while others make it more difficult to avoid the exploding kitten in the long run. It's a very simple premise, and it's also one of the easiest card games to get through on this list thanks to its short playtime.
Gloom is all about with a Victorian family and gleaning pleasure from their misfortune. The whole point is to make your family as sad as possible before they eventually die out, one by one.
It's a very mean game and not one we recommend replicating in real life. The trouble is, all of the other players will be trying to make your family happier, so you need to try and balance their misery with offsetting the potential joy your real-life friends are causing them. Gloom's combination of dark humor with a totally unique setting makes it one of the best card games for adults available today.