Abu Dhabi Global Market launches "Digital Sandbox" to encourage more digital banks
Framework facilitates and encourages the development of fintechs in a safe, measured and pragmatic manner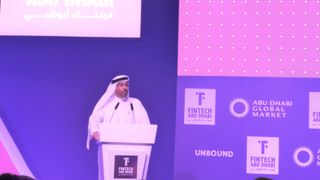 (Image credit: Future)
Abu Dhabi Global Market (ADGM) has launched "Digital Sandbox" in a bid to establish more digital banks as many conventional banks are closing branches.
Digital Sandbox is a cloud-based environment for fintechs, banks and others to co-create and test products with regulators' guidance to deliver better services to clients.
Speaking at the Fintech Abu Dhabi event, Ahmed Al Sayegh, UAE minister of state and executive chairman of ADGM, said the digital platform will replace the current regular programme which is running for three years as part of a move from analogue.
Financial Services Regulatory Authority (FSRA) introduced a regulatory lab (Abu Dhabi Global Market RegLab) in 2016. 26 Fintech startups have been accepted into the ADGM RegLab in three cohorts.
"ADGM has established market-oriented regulations to transform Abu Dhabi's landscape. ADGM was the first to launch a digital banking framework in the region and introduced one of the world's most comprehensive regulatory frameworks for crypto assets, digital securities and payments," he said.
Founding corporate partners
The founding corporate partners include Abu Dhabi Commercial Bank, Abu Dhabi Islamic Bank, Abu Dhabi First Bank, Anglo-Gulf Trade Bank, Etihad Credit Insurance, Etisalat, OneConnect Financial Technology.
More applicants are welcomed to join the bandwagon, Al Sayegh said.
As the demand for collaboration between banks, financial technology (Fintechs) and regulators continue to grow, Riyad Abou Jaoudeh, managing director at Middle East Venture Partners, said that sandbox is an important aspect to let Fintechs operate in a safe environment and grow to big businesses in the end.
A regulatory sandbox is a framework and process that facilitates and encourages the development of the fintechs in a safe, measured and pragmatic manner.
"Sandbox is very important as Fintechs can operate in a safe environment. Today, if you want to do cryptocurrency trading, instead of opening it to the entire public and let potential people make mistakes or fraud in the system, they can test it in a sandbox where the environment is controlled. You limit it to a certain number of participants and know what is happening," he said.
However, he said that four groups of stakeholders - fintech startups, regulators, financial institutions, and investors (VCs / accelerators) - needed to be involved in the sandbox.
Teamwork is essential
Moreover, Jaoudeh said that fintechs can do a lot these days such as banking, payments, savings, investment and treasuries and banks should potentially use sandboxes to learn and integrate with some fintech providers.
"Not every fintech firms are competing with the banks. Fintechs can help banks increase the customer base and they can integrate through APIs (Application protocol interfaces) to talk to each other.
To stay globally relevant, Al Sayegh said: "We need to listen and learn from the industry as regulators. Our region and country need to act now with other regulators locally and globally to enable this industry to flourish," he said.
Managing the benefits and risks of financial technology through the global regulatory framework is essential, he said and added that disruption is at our doors and "we have to act now and we have to act together".
Are you a pro? Subscribe to our newsletter
Sign up to the TechRadar Pro newsletter to get all the top news, opinion, features and guidance your business needs to succeed!