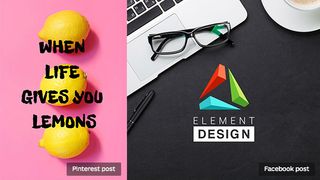 Whether you're putting together a print design, building a website or creating an app, high quality stock photography is there to make your life easier. But there are always ways it could be easier still.
That's why leading library iStock by Getty Images has teamed up with some of the industry's finest minds to create some great tools which make finding and using the perfect stock photo, illustration or video simpler than ever.
Read on to discover how these four great apps can make you more productive, giving you more time and energy to focus on the creative stuff.
If you routinely work with Adobe Creative Cloud on either Mac or Windows, then here's an excellent plugin. It allows you to find and work with great images without ever leaving Photoshop, InDesign or Illustrator.
This powerful and free plugin fits seamlessly into Adobe Creative Cloud, so you never need to interrupt your creative workflow. See it in action in the video below:
With the plugin you'll be able to access the entire iStock library, using the same powerful search tools you can find on its website, right within the Adobe suite. Once you've found the images you're looking for, you can save them to special Boards, then drag and drop them to your Adobe tools, all without ever having to log out or open a new tab.
You can even tweak your preferences to tailor the plugin experience to your own needs. All this adds up to an easy and seamless way to work with images in Photoshop, Illustrator and InDesign CC 2016 and above.
Craft Stock is a free plugin from Invision and Getty Images that gives you instant access to millions of iStock and Getty images right inside both Bohemian Coding's Sketch and Adobe's Photoshop.
Once you've found the perfect image, it takes just one click to comp it into your design, enabling you to explore visual ideas quickly and easily. See the plugin in action in the video below:
With this free plugin, you can try out any image, right inside your design in Sketch or Photoshop. When you log in with your iStock or Getty account, you'll be able to access images you've already bought automatically, and you can buy new images without ever leaving Sketch or Photoshop.
Inspiration can strike anywhere, but how do you take advantage of it if you're not at your desk? That's precisely the problem that the iStock app was created to solve. Download this free app to your mobile device, and when you get your next 'lightbulb moment', you'll be able to find the best images to fit your idea – wherever you are.
The free app for iOS and Android enables you to search for imagery and video while on the move. You can then save your files and collaborate using special Boards, which can be accessed on your phone, tablet or desktop.
You can also access anything you've bought previously from iStock, and examine high-quality preview images in detail using pinch and zoom. Plus you can share links to individual images with anyone, making creative collaboration a doddle.
The first and second tools on our list integrate the iStock library into existing design software. But what if you don't have Photoshop or Sketch to begin with? Then this is the tool for you.
iStock Editor is a free design tool that lets you create simple designs which combine text, logos and images, without ever leaving iStock. See it in action in the video below:
The tool lets you try before you buy, so you don't need to purchase an image until you're fully happy with your design. Take a look at our step-by-step guide to using iStock Editor.
Discount code for TechRadar readers
So we've already shown you four different tools that can make your creative work easier when it comes to using iStock's awesome royalty-free photographs, illustrations and vectors. And now here's something else to help you… a special discount code for TechRadar readers. Simply use ZKFPC46N at checkout to get an amazing 10% off iStock credits.
So what are you waiting for? Sign up for a free account at iStock today and see what's on offer!
Are you a pro? Subscribe to our newsletter
Sign up to the TechRadar Pro newsletter to get all the top news, opinion, features and guidance your business needs to succeed!