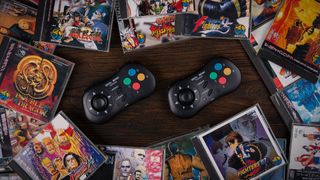 (Image credit: 8BitDo / SNK)
One of my favorite controllers to release in recent years has to be the 8BitDo NeoGeo Wireless Controller. An updated version of the excellent NeoGeo CD gamepad, 8BitDo's version adds quality-of-life flourishes like shoulder buttons, wireless connectivity, and compatibility with PC and Android devices.
However, even with these extras, the gamepad retains what made that 1994 original so special, from its pleasing simplicity and lightweight design to the phenomenal eight-way joystick. It's pretty affordable as controllers go, too, coming in at just $34.99 / £29.99.
The purpose of the controller is clear: to provide a delightfully retro - and high-quality - means of playing classic games; but to also be compatible with more modern titles that don't rely on four shoulder buttons or two analog sticks. Below I've outlined a range of games that are absolutely worth revisiting - or playing for the first time - with the 8BitDo NeoGeo Wireless Controller.
Teenage Mutant Ninja Turtles: Shredder's Revenge
Teenage Mutant Ninja Turtles: Shredder's Revenge, is far and away one of the best TMNT games ever made. And that's really saying something, considering the popular series already has some of the greatest beat 'em ups of all time under its belt.
Shredder's Revenge relies on a simple, intuitive control scheme that feels right at home with 8BitDo's gamepad. Going so far as to mimic the layout of Turtles in Time and 1989's legendary Teenage Mutant Ninja Turtles: The Arcade Game before it, Shredder's Revenge is super accessible on a retro pad with only a small array of simple punch, pick-up, and jump actions needed.
If you want to experience Tribute Games' labor of love, it's purchasable on Steam for $24.99 / £22.49. For your money, you're getting one of the best beat 'em ups to release in years, along with gorgeous pixel art, high replay value, and a marvelously chipper soundtrack by Sonic Mania composer Tee Lopes.
Streets of Rage 4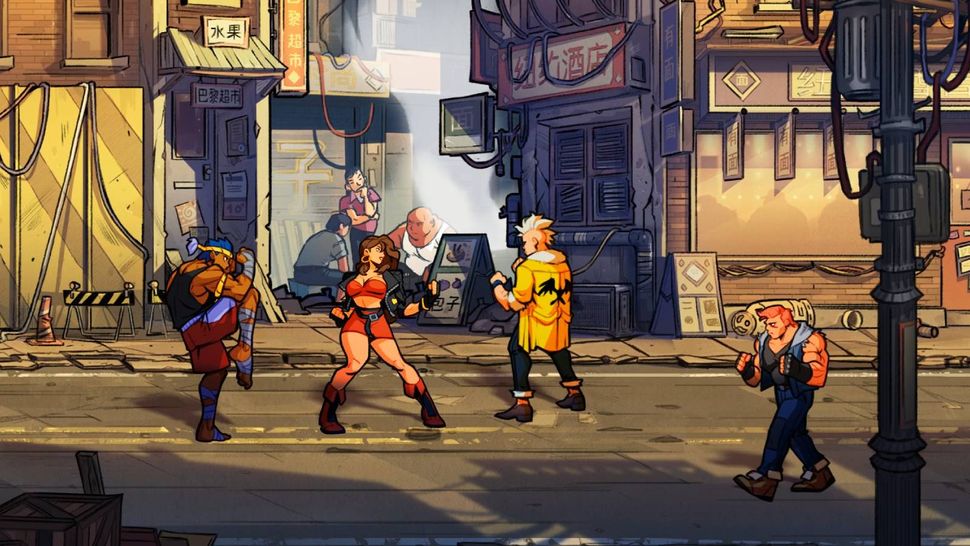 Arriving 26 years after the legendary Mega Drive trilogy wrapped up, Streets of Rage 4 hasn't lost a step, managing to replicate the originals' slick and simple feel while adding extra polish, all-new characters, gorgeous 2D environments, and - most importantly - an unbelievable soundtrack.
From a control perspective, what's especially notable about Streets of Rage 4 is that it offers an optional 'classic' mode control scheme that allows it to be compatible with retro-style controllers like the 8BitDo's NeoGeo gamepad. It does so by combining multiple button presses for additional commands, such as picking up items, activating special moves, and more.
Streets of Rage 4 can be bought on Steam for $24.99 / £22.49. And if you've got a hankering for even more best-in-class beat 'em ups, you can find ports of the original trilogy on Steam for less than a buck each.
Sonic Origins Plus
While originally released in 2022 in a suboptimal state, the more refined Sonic Origins Plus that came out in 2023 places the classic Genesis / Mega Drive game collection in a far more palatable light. It's done so by adding Amy as a playable character, a suite of Game Gear titles to enjoy, and a new option for 'nearest neighbor' pixel rendering for a more accurate emulation on modern displays.
The ultra-streamlined controls for Sonic the Hedgehog and its sequels are perfect for the 8BitDo NeoGeo Wireless Controller. Sonic's speed and momentum often require quick reflexes and responsive controls, which this controller is able to facilitate face buttons and joystick that have extremely short travel times. I found it to be a much more enjoyable control method than using the D-pad or analog sticks on more modern pads.
Sonic Origins Plus is available on Steam for $39.99 / £34.99. The updated collection, along with the improvements it's received over the past year, places it among our best Sonic games list. It's also worth keeping an eye on Sonic Superstars, which features similarly simple controls that the 8BitDo NeoGeo controller should get along well with.
Metal Slug 3
Of course, this list wouldn't be complete without a couple of games developed by the NeoGeo's manufacturer: SNK. So let's start with Metal Slug 3, the iconic run n' gun shooter that boasts timeless, intricately detailed 2D sprite work, a banging soundtrack, and a simple pick-up-and-play feel that's perfect for the 8BitDo NeoGeo pad.
Metal Slug 3's controls are the definition of simple; you shoot, jump, throw grenades, enter and exit vehicles, and that's about it. It's a simplicity the series is known for and is extremely welcome considering how brutally difficult these games are.
Metal Slug 3 is on Steam for $7.99 / £5.99. Other games in the series are on Valve's PC platform, too, so there's plenty more action if you've got the taste for blasting Nazis, aliens, and abominable snow creatures into next week.
The King of Fighters '98
Lastly, another SNK-developed title and this one is what many fans consider to be the pinnacle of the developers' storied fighting game pedigree. The King of Fighters '98 features an enormous roster of nearly 40 fighters, one of the largest of its day. This was unbelievably impressive, considering the game also boasted some of the finest 2D sprite work of the 90s and an ultra-responsive feel with a high skill ceiling.
The King of Fighters '98 is a perfect match for the 8BitDo NeoGeo Wireless Controller, too, as the original was released on the Neo Geo CD console, the gamepad on which 8BitDo has based its version on. As a result, you won't miss a beat hopping into the more modern Steam port; The King of Fighters '98 Ultimate Match Final Edition, which ups the playable roster to a staggering 64 and features rollback netcode for near-seamless online play.
The King of Fighters '98 Ultimate Match Final Edition is available to buy on Steam for $14.99 / £10.99. There's also an option to purchase a second copy for a friend at a reduced price. So if you've managed to convince a buddy to pick up the 8BitDo NeoGeo Controller too, then you're both in for a fantastic, classic fighting game experience.
Some entries in our list of the best fighting games will also be compatible with the 8BitDo NeoGeo Wireless controller. Or if you'd prefer a more modern application, the 8BitDo Ultimate is also one of the best Nintendo Switch controllers around.
Get daily insight, inspiration and deals in your inbox
Get the hottest deals available in your inbox plus news, reviews, opinion, analysis and more from the TechRadar team.

Rhys is TRG's Hardware Editor, and has been part of the TechRadar team for more than two years. Particularly passionate about high-quality third-party controllers and headsets, as well as the latest and greatest in fight sticks and VR, Rhys strives to provide easy-to-read, informative coverage on gaming hardware of all kinds. As for the games themselves, Rhys is especially keen on fighting and racing games, as well as soulslikes and RPGs.