Fallout makes its Magic: The Gathering debut in March 2024
Pre-orders for Magic: The Gathering's Fallout set are now available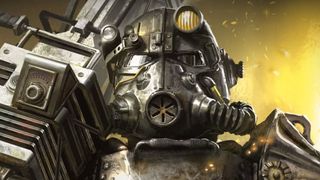 (Image credit: Wizards of the Coast / Bethesda)
Wizards of the Coast has announced that Magic: The Gathering's Fallout crossover will officially launch on March 8, 2024.
Magic: The Gathering - Fallout is part of Magic's Universes Beyond collection and will celebrate elements of every title since 1997, representing "the first 'modern view' of some of the classic Fallout games, including updates to characters and settings from Fallout and Fallout 2.
"We hope to pay homage to Fallout's high-energy, high-action, post-nuclear RPG roots. Whether you join the side of some of Fallout's most infamous characters or choose to play as a Vault survivor fighting gangs of raiders, super-mutants, irradiated monsters, and pre-war robots, life in the wastes won't be easy," Wizards of the Coast said.
There will be four Commander decks on release, each themed to key elements of the Fallout series - Survival, Technology, Military, and Mutants - and each deck features a face card of an iconic character representative of their respective theme -Dogmeat, Dr. Madison Li, Caesar, and Mothman. The four decks on offer are known as Scrappy Survivors, Science!, Hail, Ceasar, and Mutant Menace.
Commander is a popular and accessible Magic: The Gathering format, where players face off in large-scale multiplayer duels.
As the name implies, Scrappy Survivors has you build up a collection of useful Junk cards, while Science! has you build up reserves of energy to power game-changing abilities. Meanwhile, Hail, Ceasar builds an expendable army of soldiers who can be sacrificed for additional benefits under the watchful eye of neo-Roman dictator Ceasar from Fallout: New Vegas. Lastly, Mutant Menace boasts a range of horrors, all of which benefit from a radiation effect that the deck can inflict.
Additionally, there will also be Saga cards available which "tell the stories of the atom-punk, alternate reality America" as well as Pip-Boy framed cards which can be collected in the main Commander decks. There's also a collection of borderless Vault Boy cards in the Fallout art style that can be found in Collector Boosters.
Pre-orders for Magic: The Gathering - Fallout are now available.
Magic: The Gathering is a widely popular tabletop card game, and even has its own PC and mobile spin-off called MTG: Arena which can be played solo or against others online.
Back in August, musician Post Malone bought an incredibly rare Lord of the Rings card depicting the One Ring for $2 million - the only one made in the world.
For more, check out our list of the best card games you can play in 2023, along with our picks for the best RPGs.
Get daily insight, inspiration and deals in your inbox
Get the hottest deals available in your inbox plus news, reviews, opinion, analysis and more from the TechRadar team.