Armored Core 6 PC players should not let their PC go into sleep mode - here's why
"We apologise for any inconvenience caused to our customers"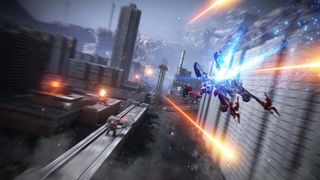 (Image credit: FromSoftware)
Playing Armored Core 6: Fire of Rubicon on PC? You may want to ensure you've saved and closed your game before your PC slips into sleep mode.
That's according to developer FromSoftware, which confirmed yesterday that it was looking into an issue that was affecting PC saves of Armored Core 6.
While the team didn't detail what the issue specifically was or when it hopes to fix it, it did recommend that as a precautionary measure, players should avoid leaving the game open when putting their PCs to sleep otherwise, "save data is not saved properly".
『ARMORED CORE VI FIRES OF RUBICON』PC版にて、特定の環境下においてセーブデータが正常に保存されない不具合が発生しています。現在、原因を調査しておりますが、PCのスリープを実施する前にゲームを終了いただくようお願いいたします。ご利用のお客様にはご迷惑をおかけし大変申し訳ございません。August 31, 2023
"In the PC version of 'Armored Core 6: Fires of Rubicon', there is a problem that save data is not saved properly under certain circumstances," the studio said in a statement uploaded to its Japanese-language player support X/Twitter account.
"We are currently investigating the cause, but please end the game before putting your PC to sleep," explains the team, as translated by my very rusty GCSE Japanese and not inconsiderate help from Google Translate. "We apologize for any inconvenience caused to our customers."
At the time of writing, there's no word on when the issue may be resolved.
Armored Core 6: Fire of Rubicon is off to a mechtastic start, racking up over 156,000 concurrent players on PC in its debut weekend, making it the fifth biggest launch of 2023 and FromSoftware's best launch weekend ever, second only to the mighty Elden Ring.
Not sure if Armored Core 6 is for you? We gave the mechtastic Armored Core 6 three out of five stars, praising its responsive and satisfying combat, deep mech customization, and exciting and varied missions. However, our Armored Core 6 review says the mech game falls short with unsatisfying set piece boss encounters and the "jarring inclusion of soulsborne mechanics".
"Armored Core 6: Fire of Rubicon offers slick and well-polished mech battling fundamentals, diluted by the inclusion of ill-fitting soulsborne mechanics that don't compliment the mech pilot fantasy," we wrote in the review.
"Though there's much to enjoy for fans of the series, newcomers will be met with a lopsided experience that doesn't quite capture the full potential of the Armored Core series."
Have a look for your next favorite game by reading over our lists of the very best PS5 games and best Xbox Series X games.
Sign up to receive daily breaking news, reviews, opinion, analysis, deals and more from the world of tech.