How AMD plans to beat Intel in one of its stronghold markets
An AMD executive talks us through the company's attempts to conquer the server market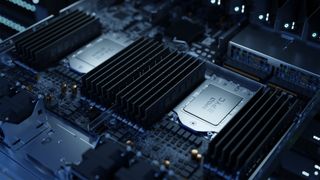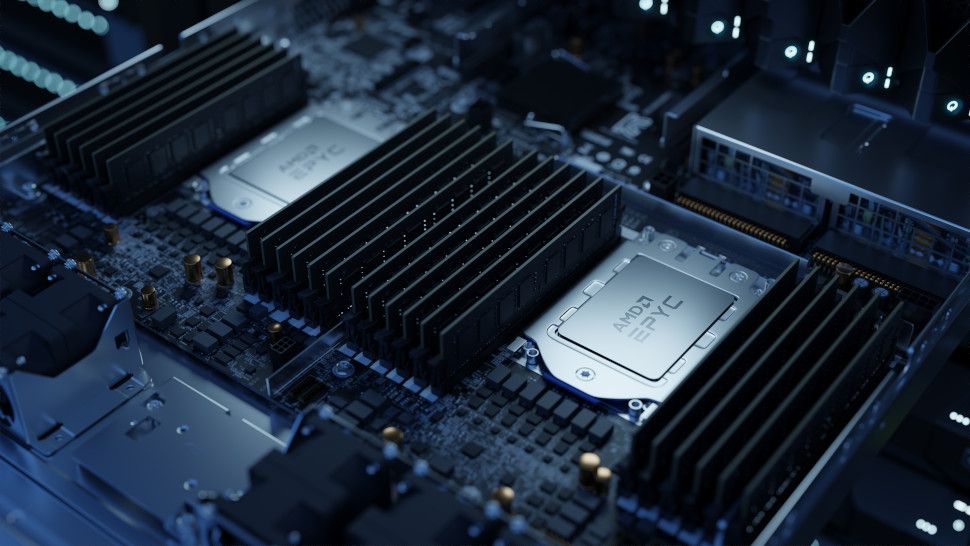 (Image credit: AMD)
The server CPU market has traditionally been dominated by one player: Intel. However, in recent years, the efforts of companies like AMD have eroded Intel's lead, particularly in the HPC space.
The imminent entrance into the market of Nvidia, as well as the rise of Arm-based server chips built by hyperscalers like AWS, will only ratchet up the level of competition among vendors.
To find out more, we spoke to Roger Benson, Senior Director of Commercial Sales, EMEA at AMD, who talked us through the company's data center roadmap, target markets and latest technologies.
---
Give us an overview of AMD's ambitions for the EPYC line and what differentiates these chips from the competition
Having successfully established AMD EPYC in HPC and cloud, we are now accelerating in mainstream enterprise IT and telecommunications.
In enterprise, we have seen customers embrace AMD EPYC servers for software defined storage and virtualization, and now we see customers increasingly using our products in database and analytics solutions.
And in telco, customers are certifying AMD EPYC servers for core network solutions, and going forward in the 5G era, we expect edge server solutions will come as well.
Our customers realize AMD products are leading with advantages in many areas. Regarding security features, for example, AMD Secure Encrypted Memory helps protect data even if memory is physically removed from the sever, and AMD Secure Encrypted Virtualization is designed to protect the confidentiality of your data on premises and in the cloud.
AMD is quickly gaining ground on Intel in the server chip space, and particularly at the top end of the HPC market? What factors have contributed to this rise?
AMD listened carefully to the needs of its customers, in HPC and other segments, and addressed those needs as it originally defined the AMD EPYC architecture and product roadmaps.
Specifically, HPC customers told us that they needed a balance of high compute performance, high memory bandwidth, and high I/O bandwidth. We designed AMD EPYC CPUs to be strong and balanced across all those requirements.
For performance, our latest 3rd Gen AMD EPYC CPUs are based the "Zen 3" core architecture with up to 64-cores, and up to 32MB of L3 cache per core on standard products, which helps to increase data analytic speed.
Finally, for I/O bandwidth, EPYC has 128 lanes of PCIe 4.0 to maximize I/O and help reduce data access bottlenecks. The combination of these capabilities has been highly valued by our customers.
In what ways will Genoa and Bergamo help AMD cement its position in key markets?
We are working with customers to provide the right compute engine for the right workload in their data center. You saw this recently with the launch of 3rd Gen EPYC processors with AMD 3D V-Cache, which are the industry leader for technical computing workloads.
AMD's 4th generation EPYC processers will continue this path for our next generation. These will use our "Zen 4" core that's designed to excel across a broad range of general-purpose data center workloads, from enterprise to HPC to the public cloud.
"Genoa" is designed to drive performance leadership for general purpose computing. We have also announced the "Zen 4c" core, which is specifically designed to maximize core density per socket for key workloads like cloud native computing. "Bergamo" will use the "Zen 4c" core to deliver a power-efficient server CPU tailor made for cloud native applications. 
What do you make of the entrance of AWS to the market, with its Graviton line? Do you expect Arm-based server chips to gain a foothold?
AWS is an important cloud partner of AMD's. They have had great success with EPYC and you can even see some of their customers' success using EPYC.
Arm-based processors for the data center are designed and apply to very specific workloads, while x86 is the predominant architecture in the data center industry. While the Arm architecture has made some progress with several launches, AMD's strategy with the AMD EPYC processor and the data center market is clear. We aim to gain market share by executing on our roadmap and providing our customers with the highest performance processors possible, running the vast majority of modern data center workloads.
We welcome continued diversification of the data center industry, including technology based on CPU, GPU, FPGAs, Arm and ASICs to deliver a heterogenous environment with workloads that are optimized for customers.
Are you a pro? Subscribe to our newsletter
Sign up to the TechRadar Pro newsletter to get all the top news, opinion, features and guidance your business needs to succeed!