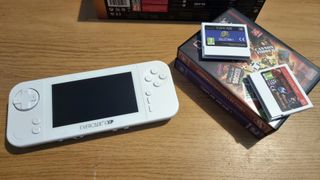 (Image credit: Future)
The Evercade EXP and Evercade VS consoles have shaken up the realm of retro game collecting. One is a compact handheld that's perfect for gaming on the go, while the other is strictly for home use, connecting to your TV via HDMI.
The great thing about the Evercade EXP and Evercade VS is the choice they present. The decision of which console to pick is clear depending on what kind of experience you're after. Even better, those collectible Evercade cartridges work across both devices regardless of which you pick.
But if you need more guidance on which Evercade console to buy, we've put together this handy guide. Below, we explain the strengths and weaknesses of each unit, helping to inform your purchasing decision when it comes to these excellent retro systems. Read on to learn which Evercade system is right for you.
Evercade EXP and Evercade VS: price and availability
The Evercade EXP is slightly pricier than the VS, sitting at $149 / £129 / AU$229.99. The higher cost is likely owing to its gorgeous 480p IPS screen and superb build quality, not to mention the portability factor it provides.
Meanwhile, the Evercade VS clocks in slightly cheaper at $99 / £89 / AU$158 for the Starter Pack. A premium option with more extras is available, too, for $129 / £109 / AU$203. More on what each option includes below.
If you're going all-in on Evercade, you'll probably want to pick up an extra cartridge or two to bolster your collection. Both EXP and VS consoles support the same Evercade cartridges, and they'll typically run you $19.99 / £17.99 / AU$35.99. Though prices can vary depending on availability.
Evercade EXP and Evercade VS: design
It's clear that the EXP and VS are two very different machines, achieving different things. The EXP, unshackled from the TV, has to prove itself in a handheld market where the Nintendo Switch and Steam Deck reign supreme. The EXP might not be as powerful or fully featured as those, but it does its own thing admirably, helped in no small part by its excellent build quality and high comfort factor.
In my Evercade EXP review, I praise design aspects like the wonderful circular D-pad and tactile shoulder buttons. I'm also a big fan of the toggleable 'TATE' mode, which shifts the screen to a portrait resolution, making it ideal for playing vertical shoot-em-ups.
The Evercade VS, being the cheaper of the two, isn't quite as well-built as its portable counterpart. The unit is impressive, with a bold retro look, RGB strip, and a dust cover that protects cartridges from wear and tear.
Its bespoke controller, meanwhile, doesn't share the same level of quality. With a noticeably cheap and chunky rectangular design, the VS' controller doesn't feel great to hold and even worse to play with due to its unsatisfyingly mushy buttons. Thankfully, the VS does support other pads, like the Xbox Wireless Controller, via USB connection. I'd highly recommend switching to one of the best Xbox controllers, then, if you have the option to do so.
Evercade EXP and Evercade VS: features
The EXP and VS both run on the same tailor-made operating system, with near-identical menus and settings between the two. Both, for example, support the same resolution options (original resolution, pixel perfect, and fit to screen). Each also offers a togglable scanline feature, which aims to emulate older CRT displays. I preferred to leave this feature off, however, as I found the display setting unconvincing on both the EXP's portable screen and the VS when plugged into a 1080p monitor.
The differences with each system largely boil down to the games included. The EXP features 18 Capcom games, including Street Fighter 2: Hyper Fighting and Mega Man X. An additional cartridge is included in the box, featuring six Toaplan arcade classics, including the infamous Zero Wing and its treasure of an opening cutscene.
The VS comes with a different selection of games, all via cartridge. The Starter Pack offers eight games via the Technos Arcade cartridge, including Double Dragon 2. The Premium Pack throws in an extra cartridge featuring ten Data East gems, including arcade classics Burger Time and Bad Dudes.
In its dual cartridge system, the VS does have an extra trick up its sleeve to make up for its lack of portability. Pop open that dust cover and you'll see that the console has two cartridge slots. At a surface level, this achieves the obvious: allowing you to access two cartridge libraries simultaneously. However, it enables another fantastic feature that may incentivize you to build your Evercade collection.
By inserting two specific cartridges into the VS, you can unlock hidden games. Often, these are homebrew games created by small indie developers, and many of them are wonderful. For example, pop in both Intellivision collections to unlock the secret Zombie Madness game. Evercade's info site lists all the combinations, as well as a few other easter eggs.
Evercade EXP and Evercade VS: cartridges and emulation
Evercade's unique selling point is its bespoke cartridge collections. All are officially licensed by various publishers and developers, including Arc System Works, Bandai Namco, Atari and many more. It's not all arcade games, as many cartridges are home to classic console and home computer games.
You needn't worry about emulation, as accuracy is impressive across the board. In my time with both systems, I found the emulation of classic games to be superb, with no apparent visual glitches or auditory oddities.
The largely 2D, sprite-based game library pops on the EXP's awesome 480p IPS screen. Colors appear vivid and that old-school, angular text is sharp, making the EXP an excellent choice for quick pick-up-and-play sessions with some of your favorite arcade classics.
The VS is no slouch, either. Games upscale nicely to 1080p resolution for most titles. And while I wouldn't recommend the 'fit-to-screen' option to avoid a blurry experience, original resolution and pixel-perfect settings keep the action sharp, detailed and readable on larger displays.
Evercade EXP and Evercade VS: verdict
Both the Evercade EXP and Evercade VS achieve what they set out to do, and we can recommend either based on your personal preferences. It really does come down to whether you're after a cozy home experience or a portable arcade powerhouse.
But let's say you're interested in the game libraries you can access from the jump, without needing to buy any extra cartridges. In this case, we'd recommend the EXP, which features in our best gaming handhelds buying guide. It's hard to argue with 18 mostly excellent Capcom games built right into the system, especially given these are exclusive to the EXP with no cartridge version. Oh, and the extra six Toaplan titles are a nice bonus.
The VS Premium Pack puts up a good fight with two included cartridges, but many of those 18 arcade titles haven't aged too well. If you'd prefer to own the VS, I recommend browsing Evercade's website for at least one or two other cartridges that suit your tastes. I personally can't say enough good things about the Codemasters Collection, which includes two childhood favorites of mine: Cannon Fodder and Sensible Soccer.
Do Evercade cartridges work on both systems?
Yes. Whether you own the Evercade EXP or Evercade VS, those officially licensed Evercade cartridges will work across both consoles. However, you'll only get to play the EXP's 18 Capcom games on that system as they're pre-installed with no cartridge alternative.
Which Evercade console is the best?
The EXP has a slight edge in terms of quality, with its excellent build and pre-installed library. But it largely depends on whether you'd prefer a portable system or a home arcade experience. In the latter case, we'd opt for the Evercade VS.
For more portable hardware recommendations, consider checking out our guides to the best Nintendo Switch controllers and best Nintendo Switch accessories.
Sign up for Black Friday email alerts!
Get the hottest deals available in your inbox plus news, reviews, opinion, analysis and more from the TechRadar team.

Rhys is TRG's Hardware Editor, and has been part of the TechRadar team for more than two years. Particularly passionate about high-quality third-party controllers and headsets, as well as the latest and greatest in fight sticks and VR, Rhys strives to provide easy-to-read, informative coverage on gaming hardware of all kinds. As for the games themselves, Rhys is especially keen on fighting and racing games, as well as soulslikes and RPGs.