The Evercade EXP's reliance on bespoke cartridges might seem like a novelty, but it's a genuinely impressive handheld. Its bright, sharp 480p display is just the right size to display games with pixel-perfect accuracy. Plus, the range of cartridges Evercade offers is vast, catering to a broad sweep of games, including arcade darlings and indie hidden gems.
Pros
+

Superb build quality

+

Gorgeous 480p screen

+

Comes with games preloaded

+

Relatively well-priced
Cons
-

Battery life could be better

-

No control customization
Why you can trust TechRadar We spend hours testing every product or service we review, so you can be sure you're buying the best. Find out more about how we test.
If the Evercade EXP succeeds on just one thing, it's in filling a fascinating – yet nonetheless gaping – hole in the handheld console market. Much like other Evercade devices, the EXP stores the vast majority of its retro-focused library on physical cartridges sold separately from the handheld itself.
The Evercade EXP is much more than its gimmick would suggest, though. Yes, its library and target audience is niche, but it's such an impressive piece of hardware that it demands to be in the conversation of what the best handheld consoles on the market are today.
The initial experience, fresh out of the box, is a fantastic introduction to the EXP. 18 Capcom games are pre-installed on the console, and there's a cartridge included which has a further six games from developer Irem. That means you're getting 24 mostly excellent titles right off the bat. And while there are some notable oversights I'd like to see addressed via future updates, you're getting a lot with the Evercade EXP before you've even bought any additional cartridges.
Evercade EXP: price and availability
The Evercade EXP is available to buy from the brand's official website and at several major online retailers, including Amazon. For $149 / £129 / AU$229.99, you're getting the EXP handheld and 24 games (18 pre-installed and six more via an included cartridge).
To bolster your Evercade library, you'll need to buy additional cartridges separately. There are a lot of cartridges available, most of which include compilations from a variety of publishers. Cartridges are subject to availability but will typically cost you $19.99 / £17.99 / AU$35.99 each.
Evercade EXP: design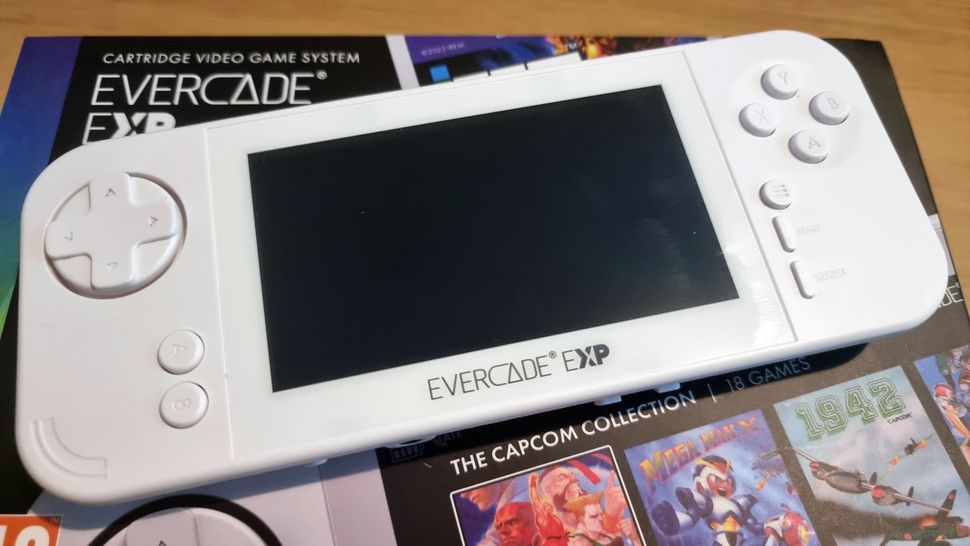 Smart design and comfy grip
Solid feeling buttons and triggers
Cartridges are sturdy, chunky, and charming
Before you've even turned it on, the Evercade EXP makes a great first impression. The delightful, aesthetically retro box opens up to reveal the EXP handheld inside, alongside an included cartridge and a gorgeous full-color manual detailing the 18 pre-installed Capcom games. Lastly, there's a USB-C cable for charging purposes.
It's the most fun I've had unboxing gaming hardware in ages, I became engrossed flipping through the manual – complete with move lists for every Street Fighter 2: Hyper Fighting character and eye-grabbing full-page screenshots – and almost forgot to finish unpacking the console.
The quality of the EXP is immediately apparent. The console is sturdy, yet lightweight; your hands will comfortably wrap around the handheld with your fingers resting easily on the marvelously tactile triggers. That same level of quality applies to the d-pad, which utilizes a circular design that rocks nicely under your thumb. It's a great d-pad for the games you'll play on the EXP.
The face buttons are less impressive, feeling mushy to press in, whereas a click quality would be more satisfying. That goes for the four face buttons and the two extra underneath the d-pad for use with the EXP's 'TATE' mode (more on that later). They get the job done, though, and are by no means of poor quality. The only gripes I have when it comes to button placement are for the volume buttons, which you need to stretch your thumb out to reach. The power button, I feel, could also have been placed ever so slightly closer to the right shoulder button, but that's a mild nitpick.
As for the Evercade cartridges, they feature a basic, universal aesthetic. They're not too dissimilar from something you'd find on Game Boy or Neo Geo Pocket Color, albeit with a sloped top that matches the curves on the handheld. Cartridges both slide into and out of place effortlessly, and I'll admit there's a childlike joy in swapping out the chunky physical cartridges. It made me feel a bit like a kid again, which is always nice.
Evercade EXP: features
Gorgeous IPS display
TATE mode makes vertical shooters a blast
Display options leave much to be desired
The star of the Evercade EXP is its stunning 800 x 480 IPS screen. And sure, that doesn't sound as impressive as the Nintendo Switch's 720p LCD on paper. In reality, the EXP's 480p screen is plenty to precisely and accurately render the kinds of games the handheld plays. Don't let that sub-HD pixel count fool you; the Evercade EXP features a gorgeously sharp screen that makes many of its supported games look better than ever.
You'll be playing many arcade games on the Evercade EXP, a good number of which are vertical shoot-em-ups. That might not seem like a good fit for the EXP's wide screen.
Thankfully, Evercade's thought ahead here and included a button for a togglable 'TATE' mode. This flips the on-screen display by 90 degrees to better facilitate the narrow resolution of vertical shooters, and it's a wonderful addition.
It's perhaps a little top-heavy, given you're now holding the EXP in a portrait position, and certainly not as comfortable to hold like this as it is vertically. But the trade-off is that games designed with a vertical resolution in mind, such as Capcom's 1943, look far better as a result.
The EXP also features a suite of display options that let you adjust visual presets to your liking. You can choose between original, pixel-perfect, and fullscreen resolutions, as well as apply a scanline filter should you wish. I'd recommend leaving scanlines off as I found them to be more of an intrusive overlay rather than a convincing effect.
Evercade EXP: performance and battery life
Top-notch emulation
Battery life is a letdown
Control customization omission is baffling
Emulation across the board is remarkably solid on the Evercade EXP. Across all the games I tested, I never once encountered any visual anomalies. Likewise, gameplay was nothing but responsive. And for games that haven't aged quite as well, the EXP still handled them accurately, and I'd argue the sharp IPS screen gives them a new lease of life.
I have some minor performance nitpicks, though. The EXP has a rather tinny pair of in-built speakers, meaning audio can sound flat and muddled. If you're playing for longer sessions, I recommend plugging in a pair of headphones via the 3.5mm jack on the bottom of the handheld.
Boot time is also strangely lengthy. It's ten seconds before the splash logos even appear on screen, and around 25 seconds before you reach the menu. Loading up a game, on average, takes between five and ten seconds, which isn't quite as bad but certainly still notable.
You'll get used to the long boot time, though. The bigger problem with the EXP is certainly its short battery life. Evercade's website states you'll get roughly four to five hours on a full charge. And this rang true in my testing, lasting just shy of five hours before the battery ran flat.
Lastly, the lack of customizable controls and button layouts is an odd omission. Sure, most of the Evercade EXP's supported titles only use a few buttons, but you cannot map actions to buttons that have no use. I'd love to see this added in a future firmware update.
Performance and battery life score: 3.5 / 5
Should I buy the Evercade EXP?
Buy it if...
You're a budding retro collector
Evercade's consoles provide hundreds of officially licensed games at very reasonable prices. The EXP is a great start for budding retro and arcade collectors.
You dig its unique selling point
No other handheld does what the EXP is doing. If you love the idea of collecting cartridges to play on a razor-sharp handheld display, this console is for you.
You're on a budget
At $149 / £129/ AU$229.99, the EXP is a reasonably affordable handheld and its cartridges don't cost the world.
Don't buy it if...
You're not into retro games
The Evercade EXP largely deals in old-school titles from the 80s and 90s. Some modern indies are supported, but the library by and large won't be for you.
You prefer digital
Aside from the games pre-installed on the EXP, your only option for more games is to buy those physical cartridges. There's no digital store on the console.

Rhys is TRG's Hardware Editor, and has been part of the TechRadar team for more than two years. Particularly passionate about high-quality third-party controllers and headsets, as well as the latest and greatest in fight sticks and VR, Rhys strives to provide easy-to-read, informative coverage on gaming hardware of all kinds. As for the games themselves, Rhys is especially keen on fighting and racing games, as well as soulslikes and RPGs.