​How to choose a web hosting service?
If you're starting a website you'll need to decide which web hosting service to use.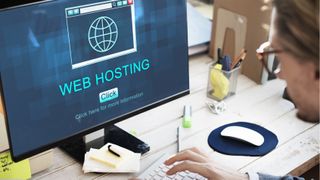 (Image credit: Shutterstock/Rawpixel.com)
When you are starting a new website, one of the first things you need to do is choose a web hosting service. This can be daunting, especially if you don't know what to look for.
A web hosting service is what allows your website to be accessible online. When you type in the web address, the hosting service directs traffic to your website. There are many different types of hosting services available, so it's important to choose the right one for your business.
Below are some of the points you need to consider when choosing a web hosting service, as well as some tips on finding the best provider for your needs.
Type of web hosting offered
Virtual private server hosting
VPS hosting, also known as Virtual Private Server web hosting, is a type of web hosting that uses virtualization technology to provide you with your own private server.
This type of web hosting service is a great option for businesses looking for a more affordable and scalable solution than traditional web hosting. A VPS allows you to have your private server, which can be used to host websites, applications, and databases. The main benefit of using a VPS is that it allows you to customize your server environment according to your specific needs.
Another great thing about VPS hosting is that it is much more secure than shared hosting. With a VPS, all your data is stored on a private server, which means only you have access to it. This makes it much less likely for your data to be hacked or stolen.
Cloud web hosting service
A cloud hosting service is a type of internet hosting service that allows individuals and organizations to access web-based applications and services via the Internet. Cloud web hosting services are typically delivered through a network of servers connected over the internet. These services often provide online storage, application, and file sharing services.
Cloud web hosting services can host websites, applications, and databases. It can also be used to store files and data. Businesses and organizations often use cloud web hosting services to provide online backup and disaster recovery solutions. Cloud web hosting services can also provide high-availability cluster computing solutions.
Managed hosting service
Managed web hosting services look after the servers for you, taking care of all the technical aspects of running a server, such as security, performance, and updates. This allows you to focus on your website or business instead of worrying about the server.
Dedicated hosting service
A dedicated server hosting service is Internet hosting in which the client leases an entire server not shared with anyone else. This is more flexible than shared hosting, as organizations have full control over the server(s), including choice of the operating system, hardware, etc. The hosting company can usually provide server administration as an add-on service for an additional charge.
Shared web hosting service
Many websites are hosted on a single server in this hosting web service. All these websites share the same server resources such as CPU, memory, and storage space. This can be a great option for small businesses or personal websites that do not need the power or resources of a dedicated server. Shared hosting services are also generally more affordable than other types of web hosting services.
Colocation hosting service
A colocation hosting service is a type of internet hosting in which the client leases space from a colocation provider. The client provides their server, storage, and networking equipment, and the colocation provider offers power, cooling, and physical security for the equipment. This arrangement can be beneficial for businesses that have high-bandwidth or CPU-intensive applications or those that want to avoid the expense of maintaining their own data center.
Features and support
VPS hosting
There are many features of VPS web hosting that make it an attractive option for businesses and individuals alike. One of the most appealing aspects of VPS web hosting is the fact that it is highly configurable. This means that you can tailor the server to meet your specific needs and requirements. Additionally, VPS web hosting is also very scalable. This means that you can easily increase or decrease the resources that your server uses as your needs change.
Another great feature of VPS hosting is the high level of security that it offers, because each virtual private server is isolated from the others on the same physical server, there is no risk of one account being hacked into and affecting the others. Additionally, all data on a VPS is stored on a secure, isolated server, so you can be sure that your information is safe.
Finally, VPS hosting is also very affordable, which makes it an attractive option for businesses and individuals who are on a budget.
Cloud web hosting service
One of the main features of hosting is its scalability. This means that you can easily scale up or down your resources as per your requirement. For instance, if you are expecting a sudden spike in traffic, you can simply scale up your resources to accommodate the increased traffic. Similarly, if there is a dip in traffic, you can scale down your resources and save on costs.
Another feature of cloud hosting is its flexibility. This means that you can choose from a wide range of configurations as per your needs. You can also change these configurations at any time without affecting your website's uptime.
Cloud hosting is also known for its reliability. This means that your website will almost always be online and accessible to your visitors. Even if there is a power outage or some other unforeseen event, your website will still be up and running.
Colocation hosting service
One of the biggest features of colocation hosting is that it can provide increased uptime for your website or application. By housing your servers in a data center with redundant power and internet connections, you can be sure that your site will stay up and running even if one connection goes down. Another feature of colocation web hosting is improved performance. Data centers have high-speed internet connections and often use a content delivery network (CDN) to deliver content more quickly.
Additionally, colocation hosting can provide increased security for your servers. Data centers have security measures in place to deter and detect intruders, and they usually have on-site staff to monitor the facilities 24/seven. Many data centers also offer additional security features like biometric entry and CCTV surveillance.
Managed hosting service
There are plenty of features to like about a managed hosting service. One is that it can take care of all the technical aspects of running a website for you. This can include everything from ensuring that your site is up and running smoothly to keeping it secure from hackers.
Another great feature of a managed hosting service is that it can provide you with expert support whenever you need it. This means that if you ever run into any problems with your website, you can simply contact your hosting provider and they will be able to help you resolve the issue quickly and efficiently.
Overall, a managed hosting service can offer many benefits for those who want to have a hassle-free experience when it comes to running their own website.
Dedicated hosting service
Dedicated hosting services provide many features that are not always available with other types of hosting services. One feature that is often included with dedicated hosting is the ability to customize your server environment to meet your specific needs.
This can include installing custom software, configuring server settings, and more. Dedicated hosting services also usually offer higher levels of security and performance than other types of hosting services.
Another common feature of dedicated hosting services is a managed service level. With a managed service level, the provider will take care of all the technical details of running your server for you.
This can free up your time to focus on other aspects of your business. Managed service levels can also include things like monitoring your server for uptime and performance, and providing customer support.
Shared hosting service
Shared hosting service comes with unlimited disk space and bandwidth. This means that you will never have to worry about your website running out of space or being unable to handle traffic spikes.
Another feature of shared hosting service is that it offers flexible plans that can be customized to fit your specific needs. You can choose from a variety of different plan options, including monthly, yearly, or even pay-as-you-go plans.
Additionally, shared web hosting usually comes with a free domain name. This means that you will not have to pay for a separate domain name. Some also come with website builder services, which allows you to create a professional-looking website without having to hire a web designer or paying for website design services.
Server locations
If the answer is yes to any of these questions you may want to look into the location of your servers. Some web hosting providers even allow you to choose your data center location. The benefit of selecting your data center is speed and performance.
Resource heavy websites, large scripts and even WordPress themes all influence how fast a site can load. These factors play an important role in website performance and load times as well. And for the environmentally friendly, a few providers off green data centers.
VPS hosting
There are three server locations for Virtual private servers: North America, Europe, and Asia. Each continent has its own data center with multiple facilities. The specific location of each facility is not made public for security reasons.
However, we can say that the North American data center is located in Dallas, Texas; the European data center is in Frankfurt, Germany; and the Asian data center is in Singapore.
Cloud hosting
The cloud web hosting service has servers in different parts of the world. The server locations are:
- North America
- Europe
- Asia Pacific
- South America
- Africa
- Middle East
Colocation hosting
Colocation hosting services are usually offered in multiple server locations. This allows businesses to choose the location closest to their target market or customers. It also provides a certain level of redundancy in case one location experiences an issue.
The most common server locations for colocation web hosting services are North America, Europe, and the Asia Pacific. However, some providers also offer servers in other parts of the world.
Managed hosting
Server locations are important for managed hosting services. The closer the servers are to your location, the better the performance of your website will be. Here are some of the server locations for managed hosting services:
- USA
- Canada
- Europe
- Australia
- Asia
Dedicated hosting
There are various server locations for Dedicated hosting services. Different companies offer servers in different locations. Some of the most popular server locations are:
- USA
- Europe
- Australia
- Asia
Shared hosting service
Popular server locations for shared web hosting services include, USA, Canada, the UK, Australia, Germany, and France.
5. Areas of specialization
By far and away WordPress dominates the internet. Several hosting providers have packages and plans dedicated to WordPress hosting. If your website's content management system is WordPress then you should look closely at managed WordPress hosting plans. That said, there are several other content management systems (CMS) besides WordPress and if you'd like to keep your options open look for hosts that offer more than one CMS.
Cloud hosting
- WordPress
- ecommerce
- Business
Colocation hosting
- Server housing
- Rack space
- Power connectivity and cooling
- Bandwidth connection
- Security
VPS hosting
- Web hosting
- Application hosting
- Database hosting
- Storage hosting
Security
Similarly, just because you may not have to meet regulated standards doesn't mean security shouldn't be a factor in your decision.
The internet is a rough neighborhood and you should make sure your hosting company has appropriate measures in place to protect your server and website. At the end of the day, it may be you who is accountable should anything go wrong.
Also, while the Let's Encrypt project(opens in new tab) dishes out SSL certificates for free, it'll be a lot more convenient if your web host let's you add one to your website without much effort.
7. Price & general feedback online
Since you don't switch web hosts everyday, some shrewd hosting providers offer their plans for unbelievably low prices in a bid to lure you in. More often than not, they make up by charging you a considerably high renewable price. So make sure you not only look at the upfront cost but also the cost of subsequent renewals.
Also, while feedback from users with similar requirements to yours is definitely ideal, lots of general negative feedback from users can be just as revealing.
Research the company itself and the services they provide. While you are more likely to find negative reviews about a company, what previous users have issue with may give indication as to whether you want to trust the hosting company with your website.
Pick a web host
There are many things to consider when choosing a hosting web service. However, keeping these features in mind allows you to narrow your options and find the best provider for your needs.
Whether you need increased security, improved performance, or dedicated support, a web hosting service can meet your needs.
Are you a pro? Subscribe to our newsletter
Sign up to the TechRadar Pro newsletter to get all the top news, opinion, features and guidance your business needs to succeed!
Ruby has been a freelance technology writer for over four years and has a passion for information technology and the Internet in its entirety. She has a wide range of specialities including web hosting, streaming (Firestick, Kodi, and APKs), VPN, information technology, and affiliate marketing. Ruby is a graduate of Bachelor of Science in Commerce from the University of the Philippines, and regularly codes in her free time.