Mac Studio M1 Max (2022) vs Mac Studio M2 Max (2023): which is better?
Is now the time to upgrade your Mac Studio?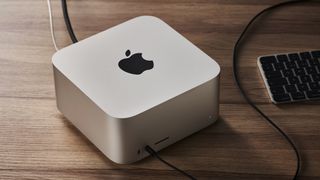 (Image credit: Future)
Since the advent of the 'M' series of chips, Apple users have been enjoying blisteringly fast computing speeds on devices.
The Mac Studio first smashed onto the scene on 8th March 2022. Apple's intent seemed to be to offer a mid-range machine more powerful than the Mac Mini but with lower specs (and cost) than the heavyweight Mac Pro. Both the 'Max' and 'Ultra' Mac Studio models were and are both capable of high-performance tasks, mainly due to the integrated M1 chip.
The Studio proved to be so popular it's little wonder that in June 2023, Apple announced an M2-powered Mac Studio at the Worldwide Designers' Conference. This new Studio is also available in both 'Max' and 'Ultra' and is capable of some colossal computing feats.
Still, if you bought your Mac Studio last year, is now really the time to upgrade? If you can gain similar performance by staying with what you have or buying a less expensive refurbished Mac, wouldn't that make more sense?
In this guide, we'll lay out the facts before you to help you make the very best decision for your needs and budget.
Mac Studio 2022 vs Mac Studio 2023 : Price and Availability
If you don't yet own a Mac Studio, then it's too late to buy a brand new 2022 model directly from Apple. Luckily Apple has its very own 'Certified Refurbished' program, which offers used Macs which have been thoroughly cleared, tested and repackaged. Prices for the M1-series of Mac Studio start at $1529 though naturally, this increases along with your chosen specs.
The Mac Studio M2 Max went on sale on 13th June 2023. The base model starts at $1,999. As we're writing on the day of release, Apple may offer one of its signature discounts on more expensive equipment, so this number may come down further.
On checking the Apple website we found that the Mac Studio M2 is available in store in the USA and for online order, though we encourage you to check with your local Apple retailer if you're in another country. Naturally, the number of refurbished Mac Studio models Apple has to sell is limited, so you should check the website before deciding to buy.
Mac Studio 2022 vs Mac 2023 : Dimensions
Although the 2022 and 2023 versions of the Mac Studio were released in different years, there's been no major design overhaul. The chassis is the same for both.
The dimensions of both models of Mac Studio are square: 7.75 x 7.75 inches (19.7cm x 19.7cm). The height is 3.7 inches (9.5cm).
Both the 2022 and 2023 versions of the 'Max' Studio also weigh the same: 5.9 pounds (2.7 kg). The 'Ultra' models are two pounds (0.9kg) heavier for some reason.
Mac Studio 2022 vs Mac Studio 2023 : Specs
The crucial difference between the 2022 and 2023 version of the Mac Studio is that the older version contains the M1-chip. As we're comapring the 'Max' models, this means a 10-core CPU with 8 performance cores and 2 efficiency cores and a 24-core GPU.
The more modern M2-chip in the latest Mac Studio has a 12-core CPU with 8 performance cores and 4 efficiency cores, as well as a 30-core GPU.
Apple has made a number of claims about the new M2 series. Specifically, they've stated:
"M2 takes the industry-leading performance per watt of M1 even further with an 18 percent faster CPU, a 35 percent more powerful GPU, and a 40 percent faster Neural Engine.1 It also delivers 50 percent more memory bandwidth compared to M1, and up to 24GB of fast unified memory."
Websites like GeekBench that keep track of such scores show that these numbers are fairly spot on, though naturally, this depends on the specific chip. For instance, the Mac Studio M2 Ultra has up to a 20% faster CPU and 30% faster GPU than the Mac Studio M1 Ultra.
Both models have a 16-core neural engine and 400GB/s memory bandwidth.
The default configuration for both models also includes 32GB of Unified Memory, although the Mac Studio M2 Max has better upgrade options (see below).
Both models also come with a 512GB SSD.
In terms of what's "In the Box", whether you buy a brand new or slightly older Mac Studio, you'll receive the Mac itself and a power cable. Since you're spending so much, it would be good if Apple could throw in a magic keyboard and mouse to sweeten the deal instead of making you pay an extra $300. Still, if you want these freebies, you can get them by buying a Mac Pro instead.
Mac Studio 2022 vs Mac Studio 2023 : Ports & Connectivity
As these are both desktop devices, and some of the best workstations available, we have high expectations regarding ports.
At the front of both the 2022 and 2023 Mac Studio Max, you'll find two USB-C ports and a SDXC card slot. On the back, there's no fewer than four Thunderbolt 4 ports, two USB-A ports, one HDMI port, a 3.5 mm headphone jack, and a single 10Gb Ethernet port. We were especially pleased to see that the 10Gb Ethernet Port is included, as anyone ordering a Mac Mini has to pay extra for the privilege.
Both Macs also support Wi-Fi 6 (802.11ax), although the 2023 Mac Studio also supports Wi-Fi 6E, which means increased spectrum and wider data channels, provided you've got a compatible router.
The Mac Studio M2 Max supports Bluetooth 5.3 out of the box, whereas the 2022 model supports Bluetooth 5.0. (In reality, it's unlikely this will cause many compatibility issues with modern Bluetooth devices though.)
Mac Mini vs Mac Studio : Performance
Apple is at pains to point out that the Mac Studio was designed specifically to work with their 27" 5K 'Studio Display', which also boasts a 12MP ultra-wide camera, 3 microphones, and a six-speaker sound system.
Naturally, you'll need an external monitor, whichever Mac you buy, but you'll have to decide if you can justify $1599 and upwards for the Studio Display.
If you decide this isn't for you, you can connect up to 5 other kinds of external displays with the Mac Studio M2 Ultra. Apple states this can be made up of either:
Four displays with 6K resolution at 60Hz over Thunderbolt and one display with 4K resolution at 60Hz over HDMI
Two displays with 6K resolution at 60Hz over Thunderbolt and one display with 8K resolution at 60Hz or 4K resolution at up to 240Hz over HDMI
Each HDMI port on the 2023 Mac Studio Max supports one display with up to 8K resolution at 60Hz or 4K resolution at 240Hz. It also supports variable refresh rate (VRR), HDR, and multichannel audio.
The 2022 Mac Studio Max also supports up to five displays. This includes up to four Pro Display XDRs (6K resolution at 60Hz and over a billion colors) over USB-C and one 4K display (4K resolution at 60Hz and over a billion colors) over HDMI.
Both Macs also support native DisplayPort output over USB‑C.
Mac Studio 2022 vs Mac Studio 2023 : Performance
Apple as always is happy to sing the praises of their new machine posting a helpful diagram showing how much faster it is, as you've seen from their claims about the newer M2 series of chips versus the older M1.
The main page for the latest Mac Studio boasts up to 1.8x faster CPU performance, up to 3.6x faster GPU performance, and up to 4.4x faster machine learning. On delving into the small print, you can see these tests are done using a Mac Studio M2 Max versus a Mac Studio M1 Max as well as the ultra models, so this is a fair comparison.
Both the Mac Studio M1 and M2 Max have one video decode engine, two videos encode engines, and two ProRes encode and decode engines, so they're likely to perform similarly when handling high-definition files.
Mac Studio 2022 vs Mac Studio 2023 : Upgrades
If you already own a 2022 Mac Studio or are thinking of buying one, then upgrading may be tricky. While this is limited support for swapping out SSDs, most chips are soldered to the logic board, making it virtually impossible to upgrade your RAM or CPU.
If you haven't yet bought a Mac Studio, remember that the best M1 Max model CPU is a 10-core chip with a 32-core GPU and a 16-core Neural Engine.
Compare and contrast this with the current Mac Studio, which allows you to upgrade to the latest M2 Ultra with a 24‑core CPU, 76‑core GPU, and 32‑core Neural Engine for an extra $2,400.
The latest Mac Studio M2 series is also more flexible regarding Unified Memory. Assuming you choose the M2 Ultra chip, you can also max out your RAM to 192GB for an extra $1600. Even with an ultra chip, the older M1 version only allows up to 128GB of Unified Memory.
Both models allow a maximum of 8TB of storage via a handy SSD, though this will set you back an extra $2,400 for the 2023 M2 Mac Studio.
A fully maxed-out 2023 Mac Studio comes to $8,799. Compare and contrast this to a certified refurbished Mac Studio Apple M1 Ultra Chip with 20‑Core CPU and 64‑Core GPU, 128GB of Unified Memory, and an 8TB SSD for over two thousand dollars less at $6659.
Mac Studio 2022 vs Mac Studio 2023 : Support
Both these Mac models run identical versions of macOS, and there's extensive online documentation on Apple's website in case you get stuck. You also benefit from 90 days of free Technical Support and a 1-year limited hardware warranty if you buy a new Mac or via the certified refurbished program. Refurbished items bought from Apple also have a 14-day returns policy.
Regarding AppleCare Plus, you can protect yourself against accidental damage for $59.99 per year or $169 for three years' coverage. These prices, in theory, should apply to Apple-certified refurbished products, but you can't buy AppleCare coverage for products bought elsewhere. Of course there are other types of gadget insurance.
The danger of buying a non-new product is that it may affect your rights under Consumer Law. Generally, this allows you to make a claim for a retailer to repair or replace a faulty product even outside the 1-year statutory warranty: for instance, in the United Kingdom, consumers can make claims under the Sale of Goods Act up to five years after purchase. This may not apply if you buy refurbished products so make sure to check Consumer Law in your area before purchasing.
Mac Studio 2022 vs Mac Studio 2023 : Which Mac is for you?
As you've seen, both the Mac Studio M1 Max and the Mac Studio M2 Max offer similar specs.
Both devices also support the same number of external displays and will run the same software. There are some differences in the Wi-Fi and Bluetooth-supported types, but these aren't significant.
In terms of CPU performance, the M2 series outstrips the M1. However, this will probably only be useful if you regularly perform intensive tasks like playing recent games or rendering high-quality video.
Upgrading to the full specs also means you can benefit from the extra 64GB of Unified Memory offered by the newer Mac Studio M2.
If you already own the 2022 model, unless you need bleeding edge performance, there isn't much need to upgrade. The M1 chips series will likely continue performing exceptionally well for years, mainly if you choose the 'Ultra' version in 2022.
If you're considering getting a Mac Studio, the main advantage of buying brand new is that you'll likely receive better protection under Consumer Law if something goes wrong and you need a refund or cost-free repair.
Are you a pro? Subscribe to our newsletter
Sign up to the TechRadar Pro newsletter to get all the top news, opinion, features and guidance your business needs to succeed!
Nate Drake is a tech journalist specializing in cybersecurity and retro tech. He broke out from his cubicle at Apple 6 years ago and now spends his days sipping Earl Grey tea & writing elegant copy.