Battery life
3,500mAh battery capacity is 17% bigger vs Note 5
Lasted a day-and-a-half with normal use
The best battery life menu we've seen offers estimates, power saving tweaks
Samsung is really smart about the Galaxy Note 7 battery life, and that's good news because the capacity is actually smaller than that S7 Edge. Fitting that stylus into the phone cost it 100mAh.
But you won't really notice the difference between the new Note's 3,500mAh and S7 Edge's 3,600mAh. In fact, you're more than likely going to observe a big gain compared to the Note 5 and Note 4 if you're upgrading within the Note series. This one doesn't just go all day, it's more like a day and a half. Welcome to 2016 on most Androids.
During our real-life battery life tests, we found that the Note 7 went just shy of a day and a half with steady, normal usage (reading and sending messages, browsing the web, playing music and a few uses of the GPS for Google Maps). The S7 Edge mustered about two hours more. The always-on display was on because it's a great feature we don't want to live without, but be warned, our phone lost 8% of a 100% battery overnight. That adds up in a 24-hour span.
TechRadar's lab tests proved that Samsung's 2016 smartphone batteries are about even in longevity. Running the same 90-minute video loop, the Note 7 lost 12% of a full battery, while the S7 and S7 Edge in the US dropped 14% and 16% respectively at launch in March (meaning when we had a fresh battery out of the box, not four months into a weaker battery).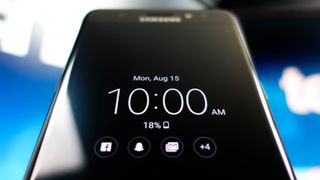 Helping the Note 7 eke out a win are really deep battery life settings. The new battery menu gives you an bold estimate of how much time is left before you scramble for a charger and offers ways to length than time. There's a Power Saving mode that can be set to Off, Mid or Max, and, best of all, the menu reveals totals on how much extra time each mode will earn you. Tapping them also tells you the changes made to the phone (limiting the max brightness, changing the resolution to Full HD or HD).
The are a bunch of neat tricks that really make this battery life sustainable. Yes, the battery is nonremovable now, just like it was on the Note 5, but it's a significant change from when the S6 and S6 Edge debuted with non-removable batteries and were dead before the day was through. It's worth giving this one a chance if that's your one and only gripe.
Camera
Same class-leading camera as the S7 and S7 Edge
You won't find a better low-light performer on a phone
Selfie flip gesture makes front-to-back camera switching easy
Here's the short of it: Samsung's cameras are the best among mobile phones right now. You won't find a better low-light performer, despite what a phone's megapixel number may read.
The Galaxy Note 7 rear camera uses a 12MP sensor and a f/1.7 aperture that shows so much detail and picks up such vivid colors that we shocked people in side-by-side comparisons with the iPhone 6S Plus during our tests. It doesn't hurt that the 5.7-inch Note 7 screen has double the pixel count and overall looks better than Apple's 1080p display. But even when we got the photos on the same monitor, the results remained the same: the Note 7 is a true winner.
What's really amazing is how far Samsung has progressed in the last three years. Reading a lot of your comments, we saw that people were still holding onto the Note 4 and Note 3, bypassing (or unable to buy) the Note 5 and waiting for the Note 7. So, what did we do? Brought out all four Note phones (ridiculous!) to see how much it progressed in 36 months. It's kind of amazing.
HDR has really changed the game on the back camera, especially when we threw in really difficult backlit tests (difficult, but common among the photos normal people take). Without HDR, the Note 3 shows shadowy characters in backlit locations and pitch black results in darker rooms. The Note 4 has offers lighting, but the detail still suffers. There's a tremendous jump in quality from the Note 5, but it's not the star-performing that is today's Note 7.
The same results were proven in front-facing photos thanks Samsung's 5MP camera with the same f/1.7 aperture and HDR OIS. You can't even make out the two shady characters in the Note 3 photo. It's Note 3 people who are going to be most excited about the Note 7 upgrade.
The Note 7 camera isn't perfect. It goes out of its way to be vibrant, which works to its benefit in nearly every situation - from stunning beach sunsets to in-focus group shots. But sometimes people look red-faced with embarrassment in what turns out to be awkward photos. That's the camera really cranking up the saturation levels. It's great for making skies look lush, but horrible for slightly sunburnt folks or radioactive-looking hot dogs. There's also a bit of barrel distortion – on the front camera, especially – that can be frightening or flattering, depending on your face structure.
Here's another way the Samsung Galaxy Note 7 camera is better than an iPhone or any Android phone: it provides way more modes, options and controls through its default camera.
New to the Note 7 is the handy camera selfie flip gesture. It lets you easily switch between the front and back camera with swipe up and down on the screen. It essentially turns the middle of the display into one giant, invisible button. You no longer have to hunt for the tiny, insufferable camera flip button when you find yourself in a fleeting Kodak moment. Selfie flip is an idea taken from the LG G5 (and several LG phones before that) that has the same gesture running side-to-side, and it works just as well here. It's something we've complained about in the past, and Samsung finally listened.
Samsung's camera interface is cleaner than ever, despite the assortment of options. This is because the company hid all but a few settings from the main viewfinder screen: the HDR, flash and (for some reason) camera flip toggles still remain at the top along with a fourth button to access the settings menu. We'd rather have seen the timer icon (now hidden deep within settings) in place of redundant camera flip, since the smarter selfie flip gesture exists.
Also in settings are options for shooting in RAW, enabling Motion Photos (like Apple's Live Photos, but with more user-accessible short video clips), and weird adjustments like Shape correction. The beauty slider, for better or worse, appears on the both front and back cameras.
All of the camera modes and filters are hidden in another gesture, this time swiping left and right on the viewfinder. To the left we have stock photo modes: Auto, Pro (manual), Panorama, Selective focus, Food and Virtual shot (for 360 photos) are the stock photo modes. More can be downloaded from Samsung's Galaxy Apps store.
When it comes shooting video, the Note 7 can record 4K video at 30 frames per second and shoot slow motion video at 720p. Hyperlapse is here as Samsung's time lapse mode and unlike on other phones, it has more than just an auto setting for speeding up the frame rate. Everything looks smooth thanks to OIS (better than an iPhone in our side-by-side comparisons) to reduce the amount of shake associated with walking and recording at the same time. Finally, in case you want to take your broadcasts public, YouTube Live mode returns after making its debut in the Note 5.
What's it missing? Now that we successfully asked for the camera flip gesture and got it, we'd like to see the Samsung Galaxy S8 be able to flip the camera mid-video. Facebook Live, Periscope other video streaming apps can do it (with a slight delay in video broadcasts, sure), so there's no reason phones should be without this handy feature. Having to start, stop and start videos again when you're narrating a vacation video is a pain during recording, and combining it all is just as annoying in post.