Diablo 4 is coming out in a month, a fact that is no doubt music to the ears of Diablo fans around the world. It's been a long old wait between mainline games, but thankfully, from what we've seen, Diablo 4 might just have been worth it.
A lot has changed in the almost 11 year period since Diablo 3 came out. For one, we have much more powerful hardware, as evidenced by Diablo 4's visual fidelity and open-world scope. This is still the Diablo you know and love, but things seem to have been modernized across the board.
Diablo 4 will run one final beta period in May, allowing players the chance to check out the game before launch. For now, here's what we know about the game so far, including the latest trailers and news.
Diablo 4: Cut to the chase
What is it? The next installment in the beloved RPG series
When can I play it? June 6, 2023
What can I play it on? Xbox One, PS4, PC, PS5, Xbox Series X|S
Diablo 4 release date and platforms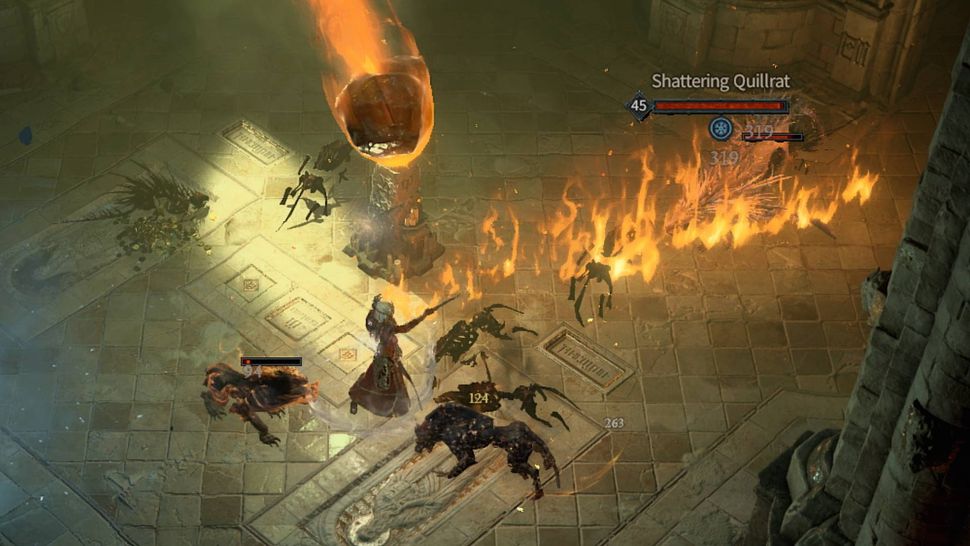 Diablo 4 will launch on June 6, 2023 on PS5, Xbox Series X/S, PS4, Xbox One, and PC. This was revealed during The Game Awards 2022, where a new trailer was shown off. This puts the game among some stiff competition, with Final Fantasy 16 also launching that month.
Fans are no doubt delighted to hear that they don't have too long to wait to play Diablo 4. The game had been known about for years before finally being announced, and then there was a hefty wait to get a release date. For now, Blizzard is targeting June 6, 2023, but this is obviously subject to change. If it does, this page will be updated. In terms of Xbox Game Pass, Diablo 4 is not planned to launch on the service, but could arrive some time after release.
Diablo 4 trailers
Latest trailer
The latest trailer for Diablo 4 was shown off alongside the announcement of an upcoming beta period. It's actually the intro cinematic for the game, giving us an idea as to what we should expect from the main story.
Whereas previous Diablo 4 footage has focused on setting the tone of the game, this intro is actually ripped straight out of the opening hour of the game. Most interesting is the fact that your in-game character will actually be the one in the cutscene. This is a new feature for the Diablo series, and should hopefully help to give things a more personal touch depending on the player. Check it out below:
More trailers
We've included some key Diablo 4 trailers throughout this article but you can find all the Diablo 4 trailers that have been release to date on the game's official YouTube channel.
Diablo 4 story and setting
For those who haven't been following along in the in-game events, Diablo 4 will be set after Diablo 3: Reaper of Souls.
The gates of heaven have been closed after Malthael, the Angel of Death, destroyed much of Sanctuary. It's through Heaven's ignorance of the events transpiring in Sanctuary that Lilith is set lose from her prison.
In an interview with AusGamers Diablo 4's Game Director Luis Barriga and Art Director John Mueller have given an insight into the big ambitions the team has for Diablo 4 and its expansions. With Lilith acting as the main villain, rather than Diablo, Mueller has suggested that there will eventually be more to tell than this, with more characters and stories that could be told in expansions:
"Diablo IV is like the first chapter of a book. We want to tell a big story and we want to tell it, hopefully, for a very long time. Treating this like the first chapter of a book and Lilith as a key character in this story, it feels great knowing that there are still all these other characters that could come back in the future. Or, new characters that we haven't seen before."
We also know Diablo 4 is moving away from the conversation panes of Diablo 3. Instead, it's using a mixture of tool-generated and choreographed camera angles, which should improve both simple and complex NPC interactions. Diablo 4 also makes use of real-time cutscenes for some of the game's more important narrative moments, alongside a more seamless transition back to player-controlled gameplay.
Diablo 4: gameplay
Diablo 4 takes an open-world approach, where players travel between hubs. There's five unique regions with a day/night cycle and ever-changing weather. Missions are non-linear and you're free to take them on however you'd like. Players can join each other at any time in the same world.
We had an interview with Diablo 4's art director John Mueller and lead designer Joe Shely at BlizzCon 2021. This provided the chance to find out more about the series' shift to an open world and how it's going to work, especially with "each of its five regions being up to 10 times bigger than any of those in Diablo 3."
There's a Camp system which sees players find camps in the open world populated by different kinds of enemies. Mueller stresses that "every camp that the designers have done has been unique – there's always cool little scriptures, lore bits, that kind of stuff". Defeating the enemies in these camps frees residents of Sanctuary with knock-on effects that show off this reactive world. There's also mounts, which help players move around the open world quickly.
Like previous entries, you'll spend a lot of time in dungeons - all of which will be randomly generated in a similar way to Diablo 3.
During BlizzCon 2021, we also received a deep-dive into some of Diablo 4's PvP elements. PvP is accessible in the Fields of Hatred, areas integrated seamlessly into the main game's open world with a mix of PvE and PvP gameplay, and it's optional. Upon entering these areas, there's . While you can kill one another, players have monsters to contend with too, and it's possible to team up.
The aim of the Fields of Hatred is to gather shards of hatred. These can be earned through killing other players or monsters to less violent acts. These shards can be lost if you die, you'll have to take them to an altar to purify them, locking them in. Shards of Hatred are currency once purified, spendable at special vendors, so there is an incentive to collect them. Getting them is a high-risk, high-reward process.
Diablo 4 classes
As for character classes, Diablo 4 has five at launch. The Barbarian returns and can wield both double and single-handed weapons, packing four weapon slots. The Sorceress has AOE attacks that control the battlefield, turning into a ball of energy to incinerate enemies. The Druid has both animal companion NPCs and the ability to shapeshift. The Rogue allows for both melee and ranged builds, while the Necromancer can raise skeletal allies to overpower enemies.
We also know Diablo 4 will make big changes to skills and talents. Within the skill tree, all the branches contain skills and skill upgrades, while the roots hold powerful passive effects. As you level up, you'll earn skill points that can be spent in the upper 'Skills' section of the tree. This unlocks new skills and additional functionality for them, alongside unlocking Passive Points on the lower Passive section.
Diablo 4 news
Diablo 4 is getting one last "Server-Slam" beta
It seems that players will be getting one last chance to try out Diablo 4 before launch. The "Server-Slam" beta will run from May 12 at 12 p.m PDT until May 14 at the same time. Players will be able to level a character up to Level 20, and try out everything in the Prologue and Act One of the game.

#DiabloIV draws near.We've heard your feedback, it's time to visit Sanctuary once more before June.Join the Server Slam, May 12-14 🔥 pic.twitter.com/B2fr8TF5p6April 20, 2023