Splatoon 3, Nintendo's third entry in this quirky, colorful multiplayer shooter franchise, is coming exclusively to Nintendo Switch in September 2022.
Splatoon 3 promises to bring players a heap of new weapons, enemies, moves and customizations, as well as a new single-player campaign. Most exciting, though, is its brand new region: the Splatlands. The Splatlands looks very different to the trippy, otherworldly landscapes associated with previous games, letting players ink up a sun-scorched desert inhabited by battle-hardened Inklings and Octolings.
Everything we've seen from Splatoon 3 has us itching to get our hands on the game. Want to find out all the juicy details? Read on for everything we know about Splatoon 3 so far.
Splatoon 3: cut to the chase
What is it? The next installment of Splatoon, Nintendo's quirky competitive multiplayer shooter
When can I play it? September 9, 2022
What can I play it on? Nintendo Switch
Splatoon 3 release date and platforms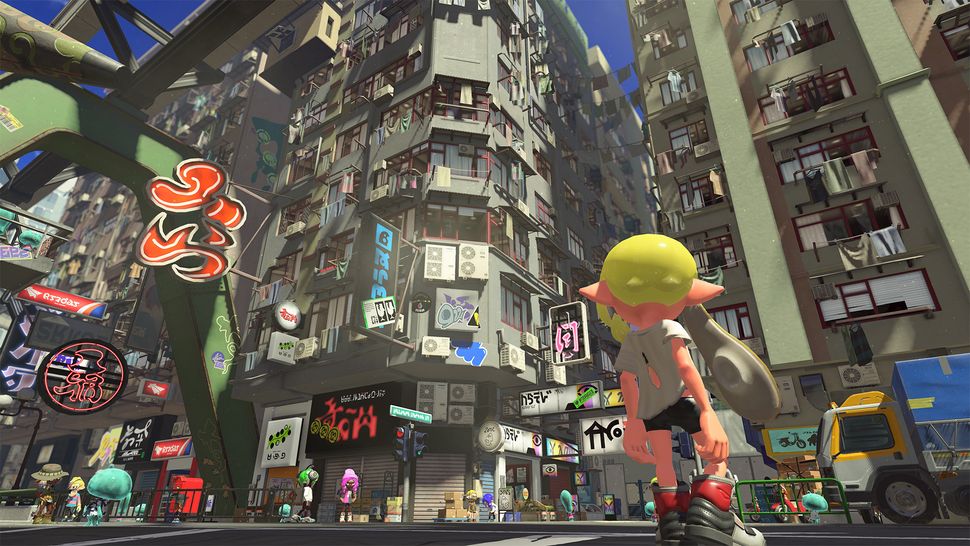 Having previously floated a "Summer 2022" release window, Nintendo has confirmed that Splatoon 3 will release on September 9, 2022.
Unsurprisingly, Splatoon 3 (like its predecessors) is a Nintendo exclusive. So, it'll only be available on the Nintendo Switch family of devices, including the original Nintendo Switch, Switch Lite and Switch OLED.
Splatoon 3 trailers
Release date revealed
In an April 2022 trailer, Nintendo revealed Splatoon 3's September 9 release date and showed off a chunk of fresh Turf War gameplay. Check it out for yourself below:
Salmon Run Next Wave trailer
Shown during the Nintendo Direct in February 2022, this trailer gave us a look at Splatoon 3's Salmon Run: Next Wave, the next iteration of Splatoon's Salmon Run co-op mode. The trailer shows Inklings airdropping into a battle zone and working together to take on waves of Salmonids (including a big boss called 'Flipper-Flopper'). Check it out below:
Return of the Mammalians trailer
Splatoon 3 made a welcome return during the September 23, 2021 Nintendo Direct presentation. We got a look at more Turf War gameplay, featuring all-new superpowered special attacks.
More interestingly, though, we were treated to a sneak peek at Splatoon 3's single-player campaign, titled Return of the Mammalians. Check it out below.
Announcement trailer
The Splatoon 3 announcement trailer gave us our first look at the upcoming game. The trailer opened with what looks to be the initial customization phase of your playable Inkling and their "buddy," which appears to be a Salmonid - prominently featured as enemies in Splatoon 2's Salmon Run mode.
Interestingly, previously gendered options (players could choose to be a boy or girl Inkling) appear to be gone. Familiar options of hairstyles, eye color and legwear remain, but it looks like Nintendo is doing away with making players choose one of two genders. This is a definite plus in terms of inclusivity, allowing players to access hairstyles that were previously gender-locked.
From there, the trailer leads into what looks to be a brief glimpse at a single-player mode. Our Inkling makes their way through a post-apocalyptic, arid landscape, and it looks like someone suplexed the Eiffel Tower, as the ruined structure is half-buried upside down in the earth. The Inkling then boards a train before they find themselves in Splatoon 3's new hub city of Splatsville.
The trailer closes out with a look at Splatoon's familiar competitive multiplayer. This looks largely unchanged, barring some new weapon types and a new way to enter an arena at the start of the match. Check it out below:
What is Splatoon 3?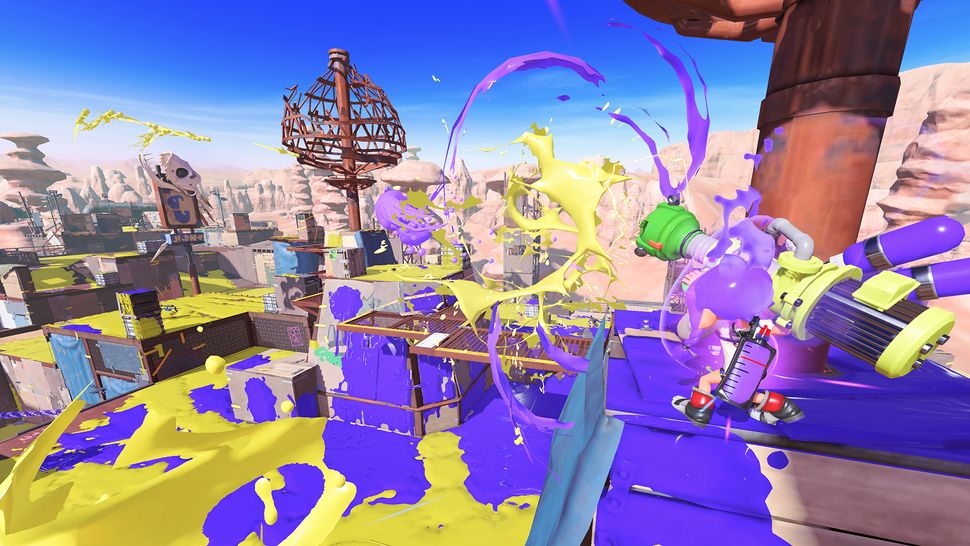 Splatoon 3 is to be the third and latest installment in the Splatoon series. The first entry in the series, Splatoon, was first released on Wii U in 2015, with the sequel Splatoon 2 releasing for Nintendo Switch in 2017.
The series focuses largely on multiplayer battles between Inklings and Octolings - adorable humanoid characters that have the ability to transform into squids or octopi to swim through colored ink - but, unlike in previous titles, in Splatoon 3 players will be able to choose whether they want to be an Octoling or Inkling (which you can customize) from the beginning of the game.
This feature ties heavily into Splatoon's gameplay. Its flagship multiplayer mode, Turf War, tasks two teams of four players to cover as much of the map as possible with their team's ink. This is achieved via the player's loadout of weapons. Keeping with Nintendo's family-friendly vibe, weapons in Splatoon fire colored ink as opposed to bullets, and can be used to cover the map as per the objective, or to temporarily incapacitate your opponents.
Splatoon's got quite a fun assortment of weapons — from the rapid-firing Splattershots to a literal giant paint roller, each weapon comes with its own build of sub-weapons and powerful special weapons. Splatoon 3 is set to add even more weapons including a crab walking, multi-legged vehicle called the Crab Tank and an ink-firing bazooka called the Trizooka (more on this below).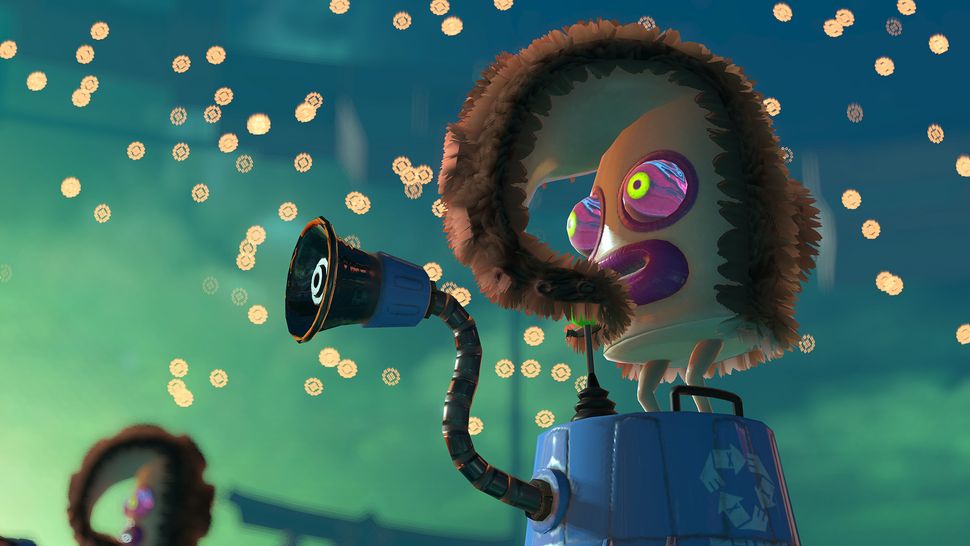 Turf War is great, fast-paced fun as each team battles to claim as much of the map as possible while also keeping opponents at bay. Players can freely swim through their own team's ink for faster traversal and surprise attacks. On the other hand, your opponent's ink will slow you down drastically as well as damage you over time. Rounds typically last for three minutes, making each match a frantic scramble as the music intensifies towards the end.
For multiplayer fun that's more cooperative than competitive, Splatoon 3 will see the return of Splatoon 2's Salmon Run, a cooperative horde mode where players work together to fight AI-controlled waves of enemies. This time around, it's called 'Salmon Run: The Next Wave'.
The Next Wave actually looks like it bears a fair few similarities to Splatoon 2's Salmon Run but a new egg-throwing mechanic has been added to keep things fresh and the Splatoon 3 Twitter account has highlighted a few new enemies that players will have to face. These include the Salmonid Boss "Fish Stick", creatures known as "Flipper Floppers", and an "unfathomably terrifying creature" known as King Salmonid which Nintendo has promised to reveal more about in the future.
While we've spent a great deal of time observing these terrifying new specimens, we must note that all Boss Salmonids from Splatoon 2 can also be observed invading the Splatlands. Inklings with prior experience from Splatoon 2 may be able to draw on this knowledge to defeat them. pic.twitter.com/iEwBncczyhFebruary 10, 2022
Of course, it's not all about the multiplayer. Splatoon 3 will offer players a brand new single-player story mode too. Called Return of the Mammalians, this mode takes place in a location known as Alterna, seeing players "take control of Agent 3 and fight against the evil Octarian army alongside the New Squidbeak Splatoon".
Much of this story mode remains a mystery. However, Nintendo revealed in a Squid Research Lab post (opens in new tab) last year that the campaign, as hinted by its title, will see the return of Mammals, long believed extinct in the world of Splatoon.
It'll be up to the player as Agent 3 alongside their "trusty little Smallfry buddy" to investigate why some Octarian soldiers are growing furm and what it might have to do with a mysterious substance called "Fuzzy Ink" which Inklings don't react well towards.
Between the competitive Turf War, the cooperative Salmon Run and the single-player story mode, Splatoon 3 sounds like it has all bases covered for its launch, with a mode for everyone.
Splatoon 3 news and rumors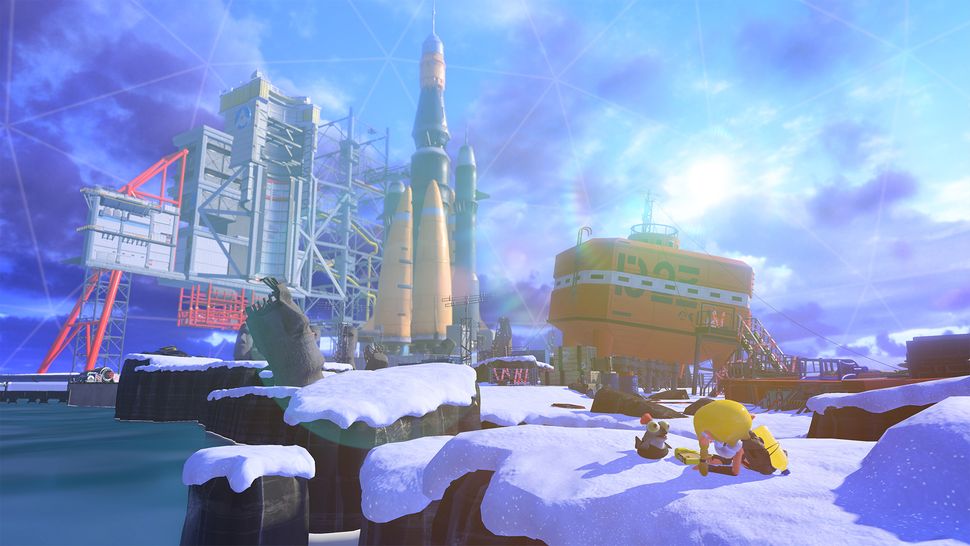 New hairstyles
Nintendo is building the hype for Splatoon 3 on its social media channels and in June it started bigging up the game's new hairstyles for Inklings and Octolings. "Check out these four new hairstyles for Inklings and Octolings!" the tweet showing the hairstyles off reads. "Well, they're tentacles to be exact, but let's not split hairs."
Check out these four new hairstyles for Inklings and Octolings! Well, they're tentacles to be exact, but let's not split hairs. #Splatoon3 pic.twitter.com/etm2BgVCOQJune 22, 2022
Undertow Spillway map
Nintendo has given a look at a new map that will feature in Splatoon 3 via the official Nintendo Twitter account. Called Undertow Spillway, the map is an underground area, located under the game's main hub Splatsville.
A former flood bypass, it's been renovated for Turf Wars and Nintendo offers a brief glimpse of it in an accompanying video we've embedded below:
Undertow Spillway is a former flood bypass located deep under Splatsville. Abandoned for years, it surged in popularity after it was renovated into a stage for Turf War battles! #Splatoon3 pic.twitter.com/hjJXTweK0oJune 17, 2022
Nipping cheating in the bud
Nintendo has filed a patent for a new anti-cheat program that may be used to combat nefarious players in Splatoon 3 and other online multiplayer games on Switch.
The patent, discovered by OpAttack (opens in new tab), is referred to as an "attestation program." In short, the program will detect any unintended modifications to Nintendo Switch game software and code. Examples of such changes include preventing the player from taking damage and artificially boosting movement speed, or weapon accuracy, far beyond the limits of what's intended in any given title.
That's really not any different from existing DRM (digital rights management) or anti-cheat software, but this would mark the first time Nintendo has developed its own bespoke system.
Patent could indicate better maps
A patent filed by Nintendo could point to better maps in Splatoon 3. Spotted by Axios Gaming's Stephen Totilo, the patent aims to improve in-game mini-maps and, given it mentions players "shooting ink", it does seem possible that it's referencing the Splatoon games.
Here's some newish Nintendo patent that I think is about making better mini-maps for games like Splatoon. Don't have time to decode it, so letting all of you amazing patent readers have at it instead. Let me know! https://t.co/YG23Ouoloa pic.twitter.com/OYt2hud3ToApril 19, 2022
According to GoNintendo (opens in new tab), the gist of the text-heavy patent is that Nintendo is aiming with this patent "to make it easier for players to understand not just their own position, but the position of helpful items and other areas of import on the map." GoNintendo adds that the patent proposes dynamic shifting of cameras "based on moment-to-moment action, as well as with the changing areas of importance on the map."
Patents aren't, of course, always implemented in games even if they are filed, so we'll have to wait and see if Nintendo makes use of this one in Splatoon or any of its other games.
More new art
Following the reveal of the new Splatoon 3 trailer during February 2022's Nintendo Direct, the official Splatoon 3 Twitter account shared some artwork for the game's Salmon Run mode, including images of the new Sockeye Station map and Salmonid bosses.
New Splatoon 3 screenshots and artwork from Salmon Run Next Wave. pic.twitter.com/aNNjs4cH1QFebruary 10, 2022
Salmon Run is returning
In a Nintendo Direct held in February 2022, it was confirmed that the popular cooperative multiplayer mode, Salmon Run, will be returning for Splatoon 3. Titled Salmon Run: The Next Wave, this mode will see teams of players work together to fend off waves of Salmonids while collecting their eggs. It appears to bear many similarities from the original Salmon Run mode but there are new bosses to face and a new egg throwing mechanic to make things even more interesting.
New weapons
Nintendo has detailed some of the new weapons players will get their hands on in Splatoon 3 (some of which we caught a glimpse of in the game's September 2021 trailer) in a blog post (opens in new tab). So what new toys do players have at their disposal? Well, there's a crab walking, multilegged vehicle called the Crab Tank, that lets players attack with a powerful rapid-fire gun and a cannon with a wide blast area. You can see it below.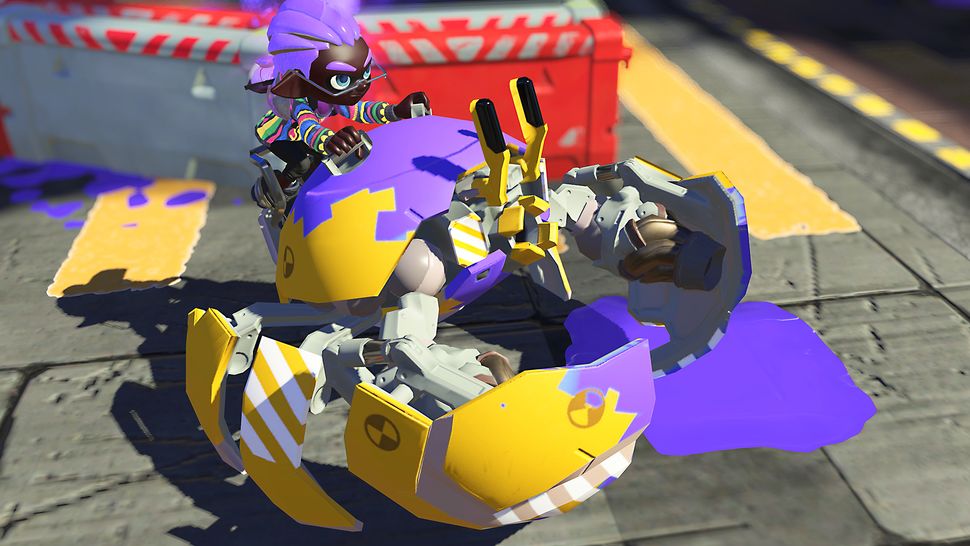 Then, there's Big Bubbler, "a modified version of a special weapon popular in Inkopolis. By making it fixed, the size has been greatly increased! It seems Inklings in the Splatlands think bigger is better. Well, this certainly does look useful for protecting one's allies!" Check it out below.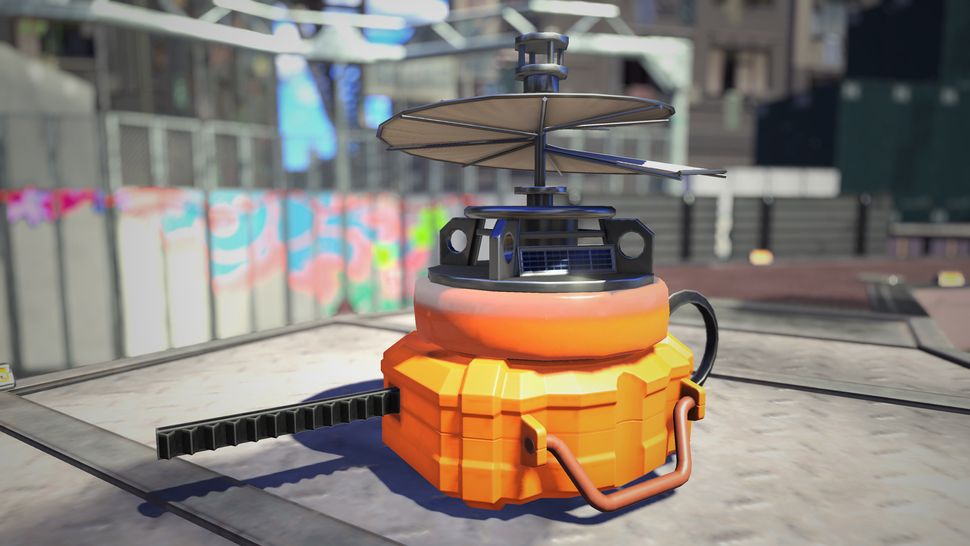 The Trizooka is another modified weapon from Inkopolis and "it has a powerful shot that fires three blasts at once and can be fired three times in total each use!" You can see it below.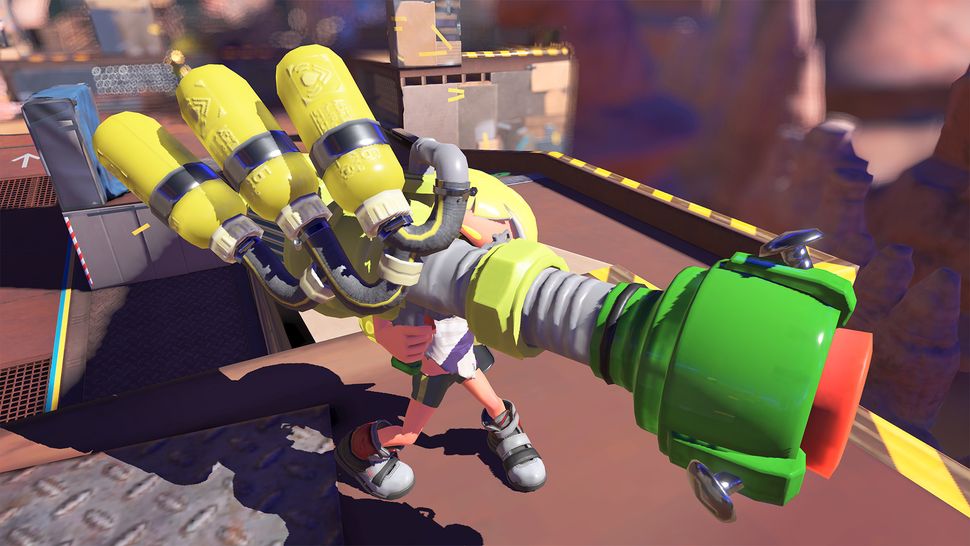 Finally, there's the Killer Wail 5.1. According to Nintendo, "The six floating megaphones move autonomously and attack with lasers that chase enemies. For such a dusty place, it seems the Splatlands are brimming with shiny tech!"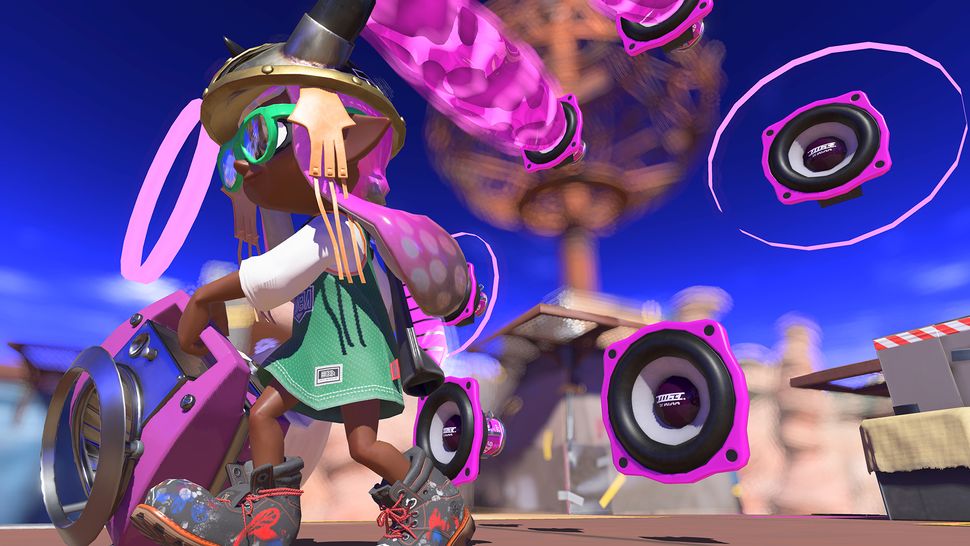 A glimpse of the single-player campaign
A trailer for Splatoon 3 shown during a September 2021 Nintendo Direct gave us a look at the game's single-player campaign: Return of the Mammalians. Details are still kind of lacking on the mode but the official description from Nintendo reads (opens in new tab): "Take control of Agent 3 and fight against the evil Octarian army alongside the New Squidbeak Splatoon in Splatoon 3's story mode. Discover the secrets of Alterna, the Fuzzy Ooze and how it connects to the mode's theme, 'Return of the Mammalians'."
A further deep dive into the game's trailer on Nintendo's site (opens in new tab) points out that "as far as we know, mammals have disappeared from the surface of the planet (minus a couple cool cats, of course)" so it looks like the campaign will take players to a new location, Alterna, to investigate why some Octarian soldiers are growing fur and what it might have to do with a mysterious substance called "Fuzzy Ink".
New art
After Splatoon 3 didn't make an appearance at E3 2021 as many hoped it would, Nintendo broke its long silence around the game to reveal some new art. Posting through the official Nintendo of America Twitter account, the Splatoon team wished players a happy summer with the image which, while not revealing much, is a nice reminder that work on the game is still ongoing.
Whether you're basking in the sunny vibes or just trying to beat the heat, happy summer wishes from the #Splatoon3 team! pic.twitter.com/6LuBxM6ELVJuly 14, 2021
Splatoon 3 hiring a level designer to integrate 'existing' stages
Nintendo linked a job opening for a Splatoon 3 level designer via their Japanese Twitter account. Spotted and translated by Twitter user OatmealDome, the job description looks to have some interesting responsibilities.
[Splatoon 3]Nintendo is hiring for a level designer. They will be responsible for the following tasks:- Adjusting stages, weapons, and gamemodes- Renovating "existing" stages- Placing stage objects per-gamemode- Balancing weapon parameter data https://t.co/js8xQqRK4ZFebruary 18, 2021
The job of the Splatoon 3 level designer calls for mostly typical fare, including placing stage objects and balancing attributes for weapons. However, more interesting is another responsibility that calls for renovating 'existing' stages.
This could be taken a number of ways. It's possible that Splatoon 3 could be bringing back stages featured in the first two games, albeit with various twists and changes thrown in. When you think about it, this would make a degree of sense. Following Splatoon 3's theme of chaos, we might witness stages reimagined in this image, potentially looking dilapidated or at least significantly altered.
Indeed, we now know that Salmon Run, the cooperative horde mode from Splatoon 2, will be returning in Splatoon 3 as Salmon Run: The Next Wave.