While a large company can more easily devote resources to accounting and billing with a dedicated department, this is not often the case for a smaller business. After all, for a small business that makes widgets, they just want to devote efforts to making more widgets, and not turn the process of getting paid for the work into a major hassle and time sink. However, the reality is that if a business does not send out bills, it won't collect the money it has earned.
Invoice2go (opens in new tab) is a Bill.com company that was started in 2002 in Erina, Australia. It is a cloud based software package that can streamline workflows for common business billing issues such as sending out invoices (opens in new tab), and tracking payments. It is a popular platform with over 225,000 users globally, and over $24 billion in payments processed.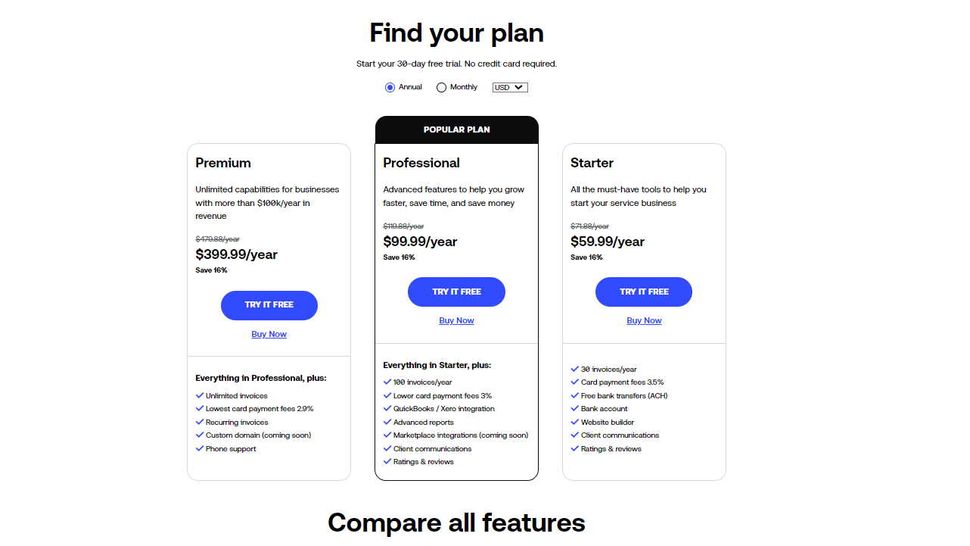 Plans and pricing
We would like to highlight that Invoice2go offers a free one month trial, and no credit card is required. Additionally, it can be canceled within 30 days for a full refund.
The lowest tier is the Starter Plan (opens in new tab), which has a cost of $5.99/month, or annually for $59.99/year. This has some basic features including up to 30 invoices per year, free ACH bank transfers, the ability to accept credit payments, at a cost of 3.5%.
Moving up a tier takes us to the Professional Plan (opens in new tab), which costs $9.99/month, or an annual discount of $99.99/year, and carries forward all the features of the lower tier. This plan can accommodate up to 100 invoices/year, integrates with QuickBooks and Xero, has advanced reports, and can lower the card payment fees to 3%.
The top tier is the Premium Plan (opens in new tab), which raises the cost significantly to $39.99/month, or discounted annually to $399.99 per year. This higher priced plan adds in all of the features at the lower tiers, supports an unlimited number of invoices, lowers the card payment fees even further to 2.9%, supports recurring invoices, along with phone support.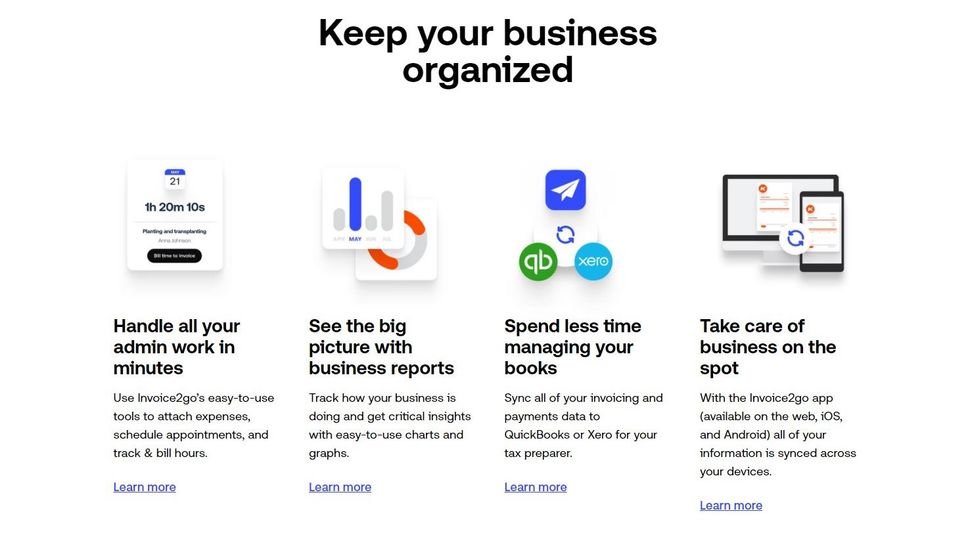 Features
It's fair to say that Invoice2go has the features that users would expect to see. A central point of these is the ability to send an invoice, which can take some work to accomplish without software. We also appreciate that invoices can be sent via a variety of methods, which encompasses "Text, email, or other platforms like WhatsApp and Facebook Messenger." With today's mobile workforce, we also note that smartphone apps are available for both iOS and for Android, which support sending invoices from anywhere. Finally, invoices can be tracked, so you can be notified when a client views an invoice, and also set up automatic reminders to track unpaid invoices.
We also like the level of support and customization provided to a small business. This is apparent in the free templates offered, and are designed for invoices, with another set available for receipts.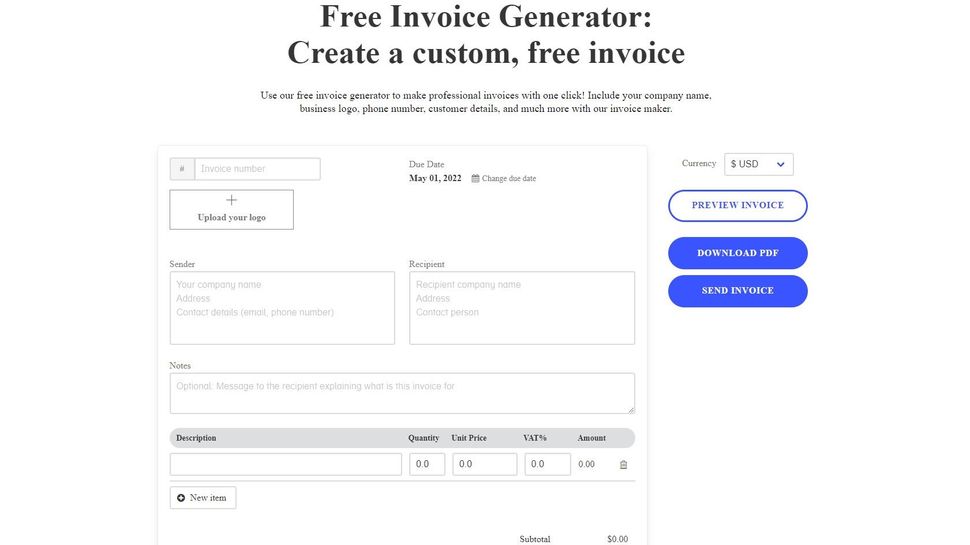 Just need to send the rare invoice? Invoice2go also offers its Free Invoice Generator (opens in new tab). It is a web based form that, by filling in the fields, then sends the invoice to the recipient, or can be downloaded as a PDF. It also h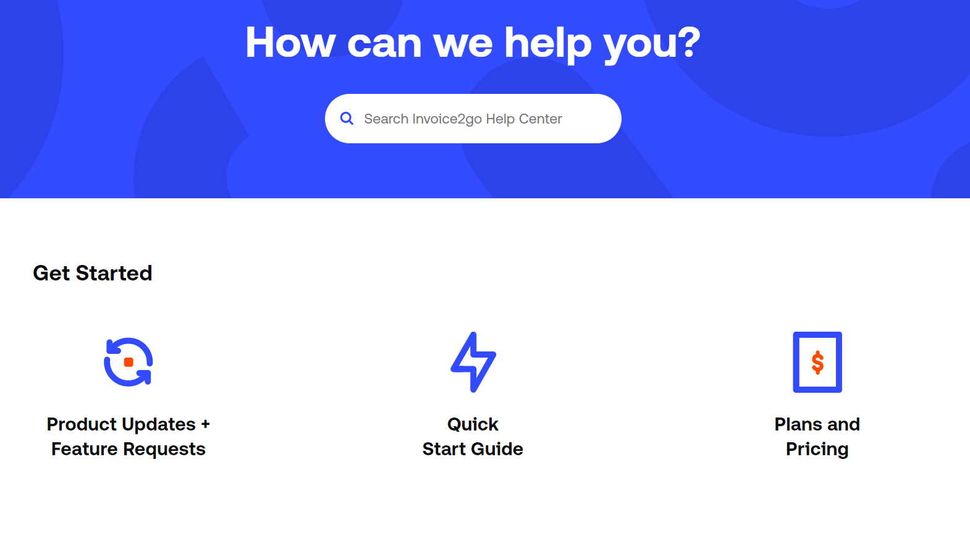 Support
While there is direct phone support, we did not easily find the phone number on the website… anywhere, and as listed in the tiers, it is only available to the top tier of plan. We also did not find an email address, nor a support portal to create a trouble ticket.
What we did locate is a chat box for inquiries. Also there is self-help content such as Quick Start Guide, and how to guides such as how to make a website. There are also some Facebook communities to interact with.
Final verdict
Invoice2go accomplishes its mission of supporting the invoicing and collections for a small company that does not have the luxury of a dedicated accounting group, or even a single person. We definitely appreciate some pros such as the available free invoices for a just starting business, the smartphone apps to invoice while on the go, the annual discounts, and the support options with chat, and self help content. Also take note of some drawbacks that include the limited number of invoices for the bottom plans, the significantly higher cost of the top plan, and that phone support is restricted to just the top plan. For a smaller business looking to outsource its invoicing process, Invoice2go gets the job done.
Looking for alternatives? Check out our complete list of the best invoicing software (opens in new tab)