Unique features help Intelius stand out, but it could do much better when it comes to being more transparent about pricing and making it easier for customers to cancel their memberships.
Pros
+

Thorough reports

+

Direct support available

+

Reverse phone lookup search available

+

Discounts available ...
Cons
-

Cancellation problems

-

Confusing pricing

-

... Watch the fine print
Why you can trust TechRadar We spend hours testing every product or service we review, so you can be sure you're buying the best. Find out more about how we test.
Whether you're doing a background check on a potential employee, looking up criminal records, or simply trying to find someone's address, Intelius is here to help.
Founded in 2003 by Seattle-based PeopleConnect, Intelius is a people search service that allows you to perform general background checks and more. To date, it claims to seek more than 20 billion records during its search process by using information from public and private resources.
Besides allowing you to access a vast database of records, Intelius is known for its intuitive web-based interface. Unfortunately, the price it charges isn't easy to find, thanks to its confusing billing practices, which you'll learn more about below.
Over the years, TechRadar has reviewed plenty of background check companies. Of those we've reviewed and rated, Intelius remains one of the best, despite some flaws.
Intelius wears many hats to appeal to a large group of would-be customers. On the one hand, it makes it possible to reconnect with old friends, review property data, and find out who might be calling you. On the other hand, you can use the service to find out more about a potential love interest, including their possible criminal record, or do a search on yourself to see what others might be seeing about you.
Performing a search
You'll need to sign up for a paid account to access records through Intelius. Unfortunately, doing so is perhaps one of the most confusing aspects of Intelius.
Intuitively, most folks who want to use an online service visit a site and look for a "Sign Up," "Registration," or "New Account" button. On the Intelius home page, you're instead welcomed with a large section where you can begin a search on someone based on their name, phone number, or address. Unfortunately, nowhere on the home page do you see a price.
Once you agree to some fine print, a search based on federal, state, and county data begins. During the process, you might be asked questions to narrow the probe along the way. Then, near the end of the search process, you're given one final opportunity to narrow the search further by adding other information such as first, middle, or last name, city, state, and age.
Intelius will finally provide a list of people who might match your criteria on the first results page. Listed are their name, age, and locations where they might have lived. Then, tap the "Open Report" button for additional information.
As a final step, you'll need to check a box stating you won't use the information to "make decisions about consumer credit, employment, insurance, tenant screening, or any other purpose that would require FCRA compliance." That's the 50-year-old U.S. Fair Credit Reporting Act that was initially developed to help individuals resolve inaccuracies in their credit reports. However, in 1996, the act's scope was expanded to include additional reports about consumers, such as employment background checks. As a result, FCRA Compliance is mandatory for any employer using a third party to conduct background checks.
Here's where things get weird. To move forward, you must submit your full name and email. Once you do, more searching is done. (Yes, this takes a while, and I recommend grabbing a glass of your favorite drink before getting started.)
Plans and pricing
Only after Intelius completes its lengthy search does it list pricing information for the service. You can sign up for the "Most Popular" plan, which provides one month of unlimited reports, or become a "Power User" and get two months for a slightly lower per-month cost. These costs vary somewhat but are usually between $20 and $25 per month.
No search results are provided until you give Intelius your credit/debit card or PayPal information and make a purchase.
Depending on how you enter the Intelius website, you might be offered a promotion with a lower initial cost, a trial period, or a combination of both. Additionally, if you close the Intelius website without making a purchase, don't be surprised if a promotion eventually arrives in your email asking you to reconsider. These emails often include links to the best prices offered by the Intelius service.
For example, during my tests of Intelius, I received a 50% off email mere moments after closing the Intelius website. Another dropped the price to $1.99, which included a five-day trial before the regular monthly price kicked in.
Keep in mind that your experience might be different.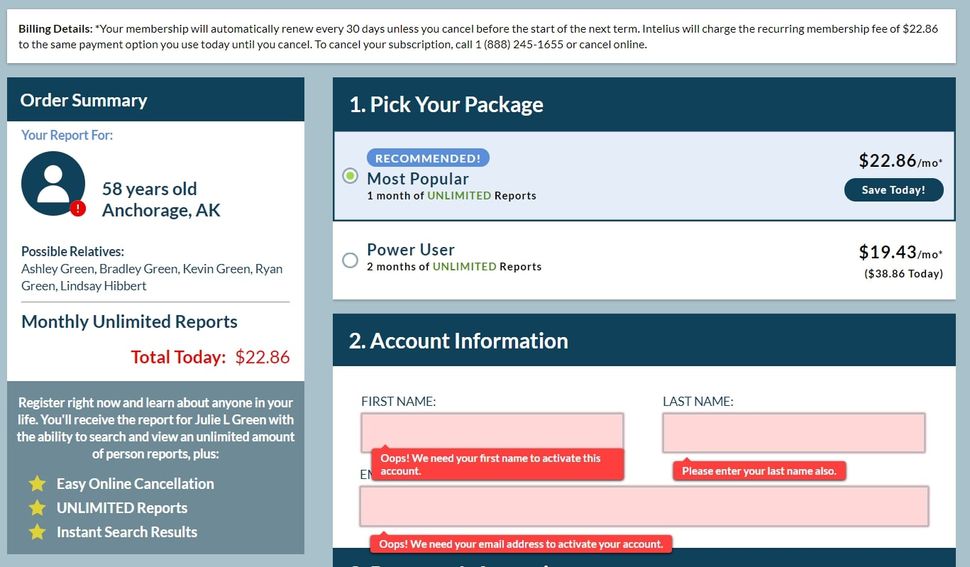 The results you get and other goodies
Naturally, the results you receive on someone will differ, depending on what Intelius finds. When found, the report can include address records, public records, images, criminal or traffic information, public social profiles, assets, licenses, and more. If you're looking for a lot of data about someone, there is perhaps nothing better than Intelius. In particular, it offers extensive background check capabilities if that's what you're after.
Additionally, I'd give Intelius high marks for making it easy to contact customer service. There's a phone number and email readily available on the site. This one-two punch is missing with many of Intelius' competitors.
As noted above, it takes a long time to access a report. With this in mind, Intelius has introduced a fast pass feature. By choosing this option on the front page, you can get past the payment page before you search. It's a slightly quicker process and one I'm thrilled that Intelius offers. And without directly saying so, going this route shows Intelius giving a little more transparency since you see the price upfront.
Canceling the service and some negatives
Unfortunately, Intelius' confusing pricing extends further than what was mentioned above. It also offers smaller packages, such as reverse phone searches and address lookups. These are priced below $1, which sounds good until you read the fine print. These options come with limited-time trials that automatically upgrade to full membership once the trial ends.
Yes, Intelius addresses this online before you make a purchase. However, the upgraded price is addressed in tinier print, at best. Be sure to cancel your membership BEFORE the trial ends so you aren't charged the full fee.
Additionally, although it didn't happen during my research, some Intelius users online claimed Intelius charged them even after canceling the service. Some others have mentioned being overcharged. Neither of these events should occur with a reputable company; hopefully, Intelius has addressed these concerns since those comments have been made.
Support and customer care
There's not a full FAQ page on the Intelius website. Instead, any issue needs to be addressed directly with Intelius support. Staff members are on hand during the working hours of 7 AM to 5 PM PT, Monday to Friday, so your query should be dealt with quickly. Unfortunately, there are no weekend hours. You can call or email support; other options such as chat, a support portal, or a forum aren't available.
The competition
A downside to the Intelius search service is that you can't use the product to perform employment background checks. If that's the reason that you're looking for a background check service in the first place, consider using People Trail instead. Unlike Intelius, People Trail is an accredited employment screening service.
Another downside of Intelius is that the service requires a monthly membership, and paying for a one-time background search is impossible. A competitor service worth considering that does employ a straightforward pricing scheme is Sterling for those that only need a one-off or occasional search. This subscription model makes Intelius better suited to those needing multiple searches each month.
Final verdict
If Intelius streamlined its pricing practices, it would probably find a few more stars added to this review. As things stand, the pricing is confusing, at best. Beyond this, you'll probably be happy with the search results, which are thorough and multi-layered. Just expect a long wait for the actual report to get posted after you made a payment, of course.
We've also highlighted the best employee background check services.
Bryan M. Wolfe is a staff writer at TechRadar, iMore, and wherever Future can use him. Though his passion is Apple-based products, he doesn't have a problem using Windows and Android. Bryan's a single father of a 15-year-old daughter and a puppy, Isabelle. Thanks for reading!