Background checks are one of those 'Necessary evils' of modern society that employers use out of necessity these days. After all, it is a lot easier to do some due diligence upfront, rather than having to deal with the consequences afterwards. A thorough background check (opens in new tab) is an important step to vetting a potential candidate prior to the hire, which is particularly important when the position that is being recruited for has financial responsibility, or other sensitive information.
Few organizations can do background checks on their own, as they can't devote the resources to it, and therefore the vast majority outsource this critical step in hiring to an outside vendor. This is where GoodHire (opens in new tab) comes in that can take on these background checks, with an enviable track record for a fast turn around with a high degree of accuracy.
No worries with GoodHire as you are in great company. GoodHire, which is based in Redwood City, California, and indicates that among the over 100,000 firms that it works with over 65K searches monthly are households that include Renewal by Anderson, SelectQuote, Parts Authority and DraftKings.

Features
GoodHire prides themselves on accurate results. This includes a low error rate of less than 0.1% mistakes, defined as the individual disputing the results of the background check. These results are also obtained quickly, with over 90% of criminal background checks providing results on under 1 minute.
This company indicates that it is a technology company at its core. This shows through on its well polished interface that is designed from the ground up to foster an "Intuitive, paperless workflow." It has a dashboard that can provide Status Alerts, with a number of records found for review. There are also categories across the top that include Clear Results, Results with Alerts, Awaiting Info, Missing Info, and Results Processing that makes it a snap to assess the progress of the background checks on candidates.
Interface and in use
GoodHire is extremely easy to use, both to initiate a background check and to evaluate the results. When you create an account, your business is verified by GoodHire to ensure that you are a legitimate employer. That only takes a few minutes, and then you're ready to set up a new records search.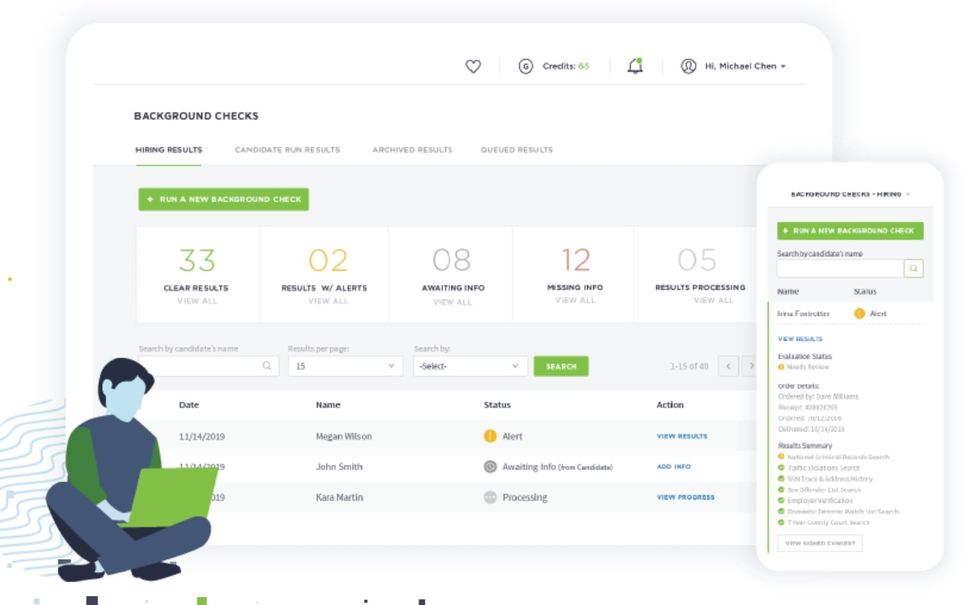 Search results are displayed in a well-organized online dashboard. If you're running background checks for multiple candidates, you can clearly see how many searches are returned with no red flags, how many turned up alerts, and how many are still in progress. Individual check results are organized by search type, so you can easily jump to any databases that turned up alerts.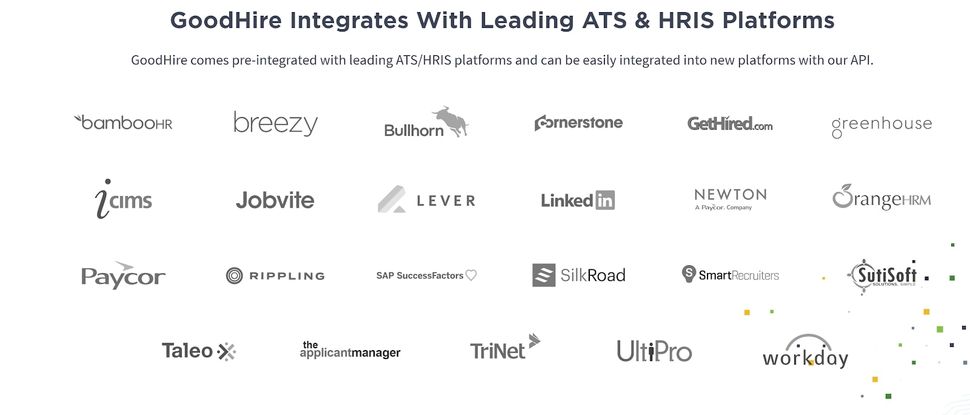 GoodHire integrates with several popular HR software (opens in new tab) platforms, including Jobvite, GetHired, and BambooHR. The service also has an API, which you can take advantage of if your HR department uses a custom system for tracking job applicants.
Support
The support for GoodHire starts with a direct phone number, which we can certainly appreciate. After all, there are times that you just need to speak to someone to get some help. The hours of operation are not listed, but the support is US based, and FRCA certified.

Then there is a Help Center, which is designed to assist employers. It is divided into multiple categories, such as "What's New," "Using GoodHire," and "Billing & Invoicing" among the many options. Click through, and you will find an in depth article that fully informs users about the topic.
There is also a Candidate Help Center, which is nice to see that they divided it to make it easy for potential hires to utilize, and has a prominent search bar to get questions answered. It has less topics than the other Help center, but features essential info such as "Getting Started," and the "Background Check Alerts."
We should also point out that there are some missing support options, such as chat, and online videos.
Security
GoodHire focuses more on legal compliance than security. The platform is fully compliant with the Fair Credit Reporting Act and helps employers comply with ban-the-box laws where applicable. Based on your business's location, GoodHire will automatically require candidates' authorization to run a background check or present you with any necessary forms for compliance.
Plans and pricing
The pricing for Good Hire is available, but only for the low volume plans. For those that plan on requesting under 25 checks annually, a choice of tiered plans are available. For those that anticipate exceeding this threshold, GoodHire needs company contact with providing your business contact info so that they can learn the precise needs, and then provide a custom quote.
The entry level plan is called Basic (opens in new tab), and this is a 'Pay as you go' type of arrangement with each background search costing $29.99. There is also an undisclosed one time setup fee. This plan has a 1 day turnaround time which covers the basics of a Social Security number trace, a Nationwide Criminal Databases search, and a Nationwide Criminal Databases search.
The next plan up is the Standard (opens in new tab) plan, which GoodHire states is the most popular, at a cost of $54.99 per search. It has a longer turnaround time of 1-2 business days, but this can be explained as it is a more comprehensive search. It has the features of the Basic search, and also adds a Domestic Watch List search along with a County Criminal Court Search for the last 7 Years for up to 3 Counties.
At the top is the Premium (opens in new tab) plan, with a cost of $79.99 for each search, and 2-4 business days to perform the search. This even more comprehensive search will have all the features of the lower two plans, and adds an educational verification, and an employment verification.
There are also options for add-ons at an additional cost. For example, there is the motor vehicle records check, the employment credit report, and international checks available.
Final verdict
GoodHire provides a solid entry into the background check segment with an attractive mix of features. Users will appreciate the choice of tiered plans, the rapid turnaround of results and the available direct phone support. Some areas that this service falls short are with the opaque pricing for more than 25 background checks in a year, the missing support options like chat, the additional cost for some of the searches such as a motor vehicle check, and also that the one time setup fee is not disclosed. In the final analysis, GoodHire offers an attractive feature set, and should easily be on the list to get more info on for businesses that need background search services.
We've also highlighted the best background check services (opens in new tab)