For many people wanting a little NUC powerhouse, the NucBox K1 ticks all the boxes. The only feature missing here is Thunderbolt. Those with space DDR5 and NVMe modules will appreciate the barebones option.
Pros
+

AMD Ryzen 7 6800H Mobile Processor

+

Compact design with easy access

+

Barebones option
Cons
-

No Thunderbolt ports

-

16GB single-channel mistake
Why you can trust TechRadar We spend hours testing every product or service we review, so you can be sure you're buying the best. Find out more about how we test.
GMKtec NucBox K1: 30-second review
GMKtec NucBox K1 Specs
Here is the GMKtec NucBox K1 configuration sent to TechRadar for review:
CPU: AMD Ryzen 7 6800H (8 cores, 16 threads)
Graphics: AMD Radeon 680M
RAM: 16 DDR5 RAM (Expandable to 64GB)
Storage: 512 GB PCIe Gen 4 NVMe SSD
Ports: 1x USB 4.0 PD+DP1.4, 3x USB 3.2 Gen 2 Type-A, 1x USB 2.0 Type-A, 2x HDMI 2.0, 1x universal audio jack, 2.5GbE RJ45 Ethernet port
Connectivity: Intel Wi-Fi 6 + Bluetooth v5.2
Size: 124 x 113 x 46 mm (W x D x H)
OS installed: Licensed Windows 11 Pro.
Accessories: Adapter 20V/6A
With the power of NUC-sized machines blossoming, GMKtec has released what it hopes to be one of the best mini PC models in its extensive line-up.
The NucBox K1 leverages the excellent performance offered by the Ryzen 7 6800H processor and its integrated Radeon 680M GPU to outstanding effect.
Probably overpowered for basic office duties, this machine is not limited by its diminutive scale or limited expandability.
GMKtec sells the K1 as either a cheap 'barebones' system where the purchaser must supply the DDR5 memory, NVMe and an operating system. Or preconfigured with up to 32GB of memory and 1TB of NVMe Gen 4 storage.
The only caveat to the pre-installed options is that the review unit came with a single 16GB memory module, whereas to get the full performance out of the Ryzen 7 6800H needs two modules of whatever size.
With dual memory modules installed, the K1 is fast enough to blood the nose of the Intel NUC 13 Pro and trounce any Core i5 or Celeron-powered machines.
Easy to deploy, with straightforward upgrade options and plenty of external ports. The only notable limitation is that it has USB 4.0 but not Thunderbolt ports.
For the asking price, this machine is spectacular, and GMKtec will sell these by the truckload.
GMKtec NucBox K1: Price and availability
How much does it cost? From $350
When is it out? It is starting to be available now
Where can you get it? Direct from GMKtec and alternatively, you can get the 16GB/512GB and 32GB/1TB models direct from Amazon.
Mini PC makers typically offer a couple of SKUs that include an entry-level design with minimal memory and storage, and then something better.
GMKtec went further with the K1 offering three SKUs, the cheapest of which is a barebones unit with no memory, storage or OS that costs only $349.89 at the time of writing.
For those that want a pre-installed machine, there are two options available directly from the vendor; a workable 16GB/512GB machine for $429.89 and a better one with 32GB/1TB for $499.89. Amazon sells both models, 16/512 and 64/1TB but for a slight premium (and entirely justified peace of mind)
We expect to get slightly gouged when we have a maker put extra RAM and storage in a system, but these seem very reasonable costs.
In terms of the bigger cost picture, this places the K1 in direct competition with the Beelink SEi12, a NUC that costs about the same for the 16GB/500GB model.
There are cheaper options, like the Minisforum MC560, but these don't have a Ryzen 7 processor.
Overall, the K1 looks like an absolute bargain, especially if you have DDR5 SODIMMs and an NVMe drive spare.
GMKtec NucBox K1: Design
Neat NUC
Easy access
2.5GbE LAN
The curious aspect of the NUC design is that while they generally have a motherboard that follows the Intel 4-inch square specification, the size of each enclosure tends to deviate.
The NucBox K1 is one of the smaller NUC designs where the enclosure has been reduced to almost fit the motherboard exactly.
It's a model that others have used before where the ports are only on the front and back, and the sides are exclusively for allowing air to enter before a fan blows it out of the back.
Unlike other inexpensive mini systems, the K1 has a milled alloy outer body, with only the top and the bottom being made of plastic.
GMKTec made the choice of a plastic lid work for them in a clever way, as this is the easiest access to the inside of a mini PC we've so far experienced.
No screws or other paraphernalia are needed. Insert a small flat-bladed screwdriver or a spudger into the seam between the top and metal chassis, and the top pops off, revealing both the memory SODIMM slots and the M.2 storage.
In our review machine, one of the two SODIMM slots was occupied with an ADATA-branded DDR5 4800 module, and the M.2 slot had a 2280-sized Lexar NM620 installed.
The only catch to this memory and storage location is that air doesn't naturally flow through this area, so we'd be careful about placing any NVMe drive that might get excessively hot when stressed. Though, there is enough vertical clearance to mount one with a heatsink.
The port layout is unremarkable. The front has three USB ports in total, with one being USB 4.0 USB-C which is both PD and DP1.4 capable. The other two are USB 3.2 Gen 2 Type-A, and there is another of this type on the back. The 3.5mm audio jack combo is also on the front face.
The only issue we noticed with the USB 4.0 port is that this one isn't a Thunderbolt port in disguise, as it wouldn't work with a Thunderbolt docking station.
On the back are two HDMI 2.0 ports, which, when added to the USB 4.0 port on the front, enable the K1 to drive three monitors.
The final connections are a single 2.5GbE LAN port, a USB 2.0 Type-A port and the ubiquitous Kensington lock slot, which GMKtec call a "Safety Latch Hole" in its documentation.
Those wanting to use the K1 as a firewall might bemoan the single LAN port even if it is a 2.5GbE type, but more LAN ports can easily be added using USB.
The only other comment that with have about this design is that the power button on the front lights up green when the machine is on. The addition of this simple LED might be useful if this system is deployed as a media server in a darkened location.
In summary, nothing radical but the ease of access and the port arrangement is both well-considered and the build quality is decent.
GMKtec NucBox K1: Features
Powerful CPU with eight cores
Radeon 680M GPU
Single channel memory gotcha
Those that follow our Mini PC reviews will be aware that the recent release of the Beelink SER6 Pro 7735HS threw something of a spanner in the works, given that it outclassed the official Intel NUC 13 Pro in many respects.
The Beelink, as its name suggests, uses the new Ryzen 7 7735HS, and that's a formidable mobile part and is one of the reasons that NUC costs close to $700.
In comparison, the K1 takes a small step back, using the AMD Ryzen 7 6800H. These chips both have eight cores, can process sixteen simultaneous threads, and are based on the Zen 3+ architecture. They also have identical clock speeds.
The difference is that the 6800H tops out at 45W, whereas the 7735HS can be configured to use 54W. In almost every other detail, these are the same chips.
They also sport the same Radeon 680M GPU with 768 shader units, 48 TMUs, 12 Execution units and a TGP of 15W.
Due to the extra power consumption, the 7735HS can run its Turbo boost at 4.75 GHz compared with 4.7GHz on the 6800H, but this 1% upgrade has a predictably modest impact on performance.
Therefore, the 6800H is an exemplary mobile processor and has 20 lanes of PCIe 4.0 that provide more than enough to support the M.2 slot and all the other ports.
In the review hardware, there is only one minor mistake that we noticed, and that was that GMKtec had used a single 16GB DDR5 module in this machine. As this chipset supports dual-channel memory mode, two 8GB modules would have been a better choice.
And, for those curious, we explored that in testing.
There is also an issue regarding memory in the BIOS, as you can't do any speed tweaking of RAM settings at all. That's a slight shame, but most users wouldn't consider doing this anyway, so I understand why it was left out.
GMKtec NucBox K1: Performance
Powerful NUC
Single channel implications
Punching above its weight
Benchmarks
Here's how the GMKtec NucBox K1scored in our suite of benchmark tests:
3DMark Wild Life:9606; Fire Strike: 3812; Time Spy: 1688;
Cinebench R23 CPU pts: 1532 (single-core); 7782 (multi-core)
GeekBench 5: 1532(single-core); 7782 (multi-core), 25019 (OpenCL)
CrystalDiskMark: Sequential Read: 3569MB/s; Sequential Write: 2082 MB/s
PCMark 10 (Office Test): 6493
Windows Experience Index: 8.0
The benchmarking of this machine revealed some interesting results that led us to experiment with the implications of using dual channel memory on the Ryzen 7 6800H.
But, before we go there, as NUC systems go, this one performed well out of the box.
Having so many cores and threads allows it to shine in any of the multi-threaded tests, such as CineBench 23 and PCMark 10 Office. And, at least in the OpenCL benchmarks it crushes the Intel Iris Xe (96 Execution Units version).
The only silicon capable of beating it appeared to be the Ryzen 7735HS until we noticed that all the machines that we'd tested with that chip had dual memory modules. However, our review NuxBox K1 only came with a single module installed.
To explore the implications, we removed the single ADATA 16GB module and replaced it with two Crucial DDR5 4800 SODIMMs to see if this brought the performance of the 6800H in line with the 7735HS machines.
The difference in results was literally night and day.
Here are some of the results to compare with those we got with the delivered spec and how it compares to the stock single module results;
3DMark Wild Life:15856 (165%); Fire Strike: 6238 (163%); Time Spy: 2592(153%) ;
Cinebench R23 CPU pts: 1541 (100%) single-core; 11749 (101%) multi-core
GeekBench 5: 1564(102%) single-core; 9098 (116%) multi-core, 30934 (123%) OpenCL
PCMark 10 (Office Test): 6810 (105%)
Within a level of variance, single-core tests were largely unchanged, but multi-core and OpenCL scores moved, and some moved dramatically upwards.
But easily the most dramatic changes occurred with the graphical tests of 3DMark, with 65% more performance on Wild Life, 63% on Fire Strike and 53% on Time Spy.
As the Radeon 680M is an integrated GPU, it is entirely dependent on main memory for the best performance, and the increase in bandwidth by using dual modules had an extraordinary impact on these scores.
In short, either buy this machine as 'Barebones', the 32GB model or be prepared to buy a matching module for the 16GB one. You won't regret the extra investment, as it will elevate the K1 to the same performance level offered by Ryzen 7 7735HS platforms.
It's been a while since a review pivoted so dramatically in testing.
Having looked at these specifications in detail, the original test results didn't explain why this machine was so much slower than other Ryzen 7 designs. Or this was a mystery until the memory bandwidth penny dropped.
With that issue addressed via two memory modules, this is an exceptionally fine NUC that can trade blows with machines that cost double its price.
More BIOS control over memory speeds could tweak even more performance out of it, should GMKtec provide an 'expert' menu for those inclined.
The K1 is an exceptional offering for the modest asking price, and we're sure many Mini PC fans will want to enjoy it.
GMKtec NucBox K1: Report card
Swipe to scroll horizontally
| | | |
| --- | --- | --- |
| Value | Fantastic spec and a barebones option to keep costs to a minimum | 5 / 5 |
| Design | A by-the-numbers NUC chassis, but the ease of access to the inside is welcome. | 4 / 5 |
| Features | Remarkably powerful platform, once we fixed the single channel memory mistake. | 4 / 5 |
| Performance | Exceptional performance for those running dual channel memory configurations. | 4 / 5 |
| Total | Great price, good options, do dual channel and envoy the exceptional performance for a tiny PC. | 4.5 / 5 |
Should you buy a GMKtec NucBox K1?
Buy it if...
You like barebones
It was a popular option once, but relatively few Mini PC makers offer barebones as an option now. If you have spare DDR5 SODIMMs and NVMe drives, you can get the K1 remarkably cheaply. But remember, you will need to also get a Windows license if you use that OS.
You need a NUC with grunt
The eight cores and sixteen threads Ryzen 7 processor in this machine is a beast, even within the thermal limitations of such a small case. The ability to put up to 64GB of DRR5 RAM and at least 2TB of NVMe storage can make this little PC into a monster system.
Don't buy it if...
You want to game at high resolutions
As integrated chipsets go, the Radeon 680M is one of the better options, but it's not a discrete video card. While it can game at 720p or even 1080p with lower detail settings, those that want to game might want to consider a console instead.
Thunderbolt is a requirement
This machine has plenty of USB ports and even a 4.0 one on the front, but it lacks Thunderbolt. Until USB 4.0 peripherals appear, this could make external SSD storage slower on this machine than one with Thunderbolt. And, this could also have implications if you want to use a docking station with the machine.
Also consider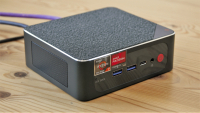 Beelink SER6 Pro 7735HS
The current darling of the NUC community, the SER6 Pro also uses the latest AMD Ryzen 7000 mobile technology and delivers equally impressive performance.
It comes with Crucial branded memory but an OEM NVMe drive. Getting access to the memory and storage is a little more convoluted in this machine, but this isn't anything that most users will be doing on a daily basis.
Check out our Beelink SER6 Pro 7735HS review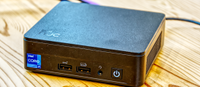 Intel NUC 13 Pro
If you must have Intel, then this is the NUC to beat. Built around the twelve-core and sixteen-thread CoreT i7-1360P, this is a powerhouse for data processing.
As you might expect from a flagship NUC, the 13 Pro is beautifully made and designed. But, you pay for that privilege, as you could buy two of the 32GB K1 models for the price of a single NUC 13 Pro. However, the intel machine does come with Thunderbolt ports, critically.
Check out our Intel NUC 13 Pro review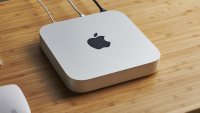 Apple Mac Mini M1 (2020)
For those that like Apple products, the Mac Mini M1 is effectively the only choice in its mini PC category. At nearly $700, you pay for that privilege, as expected. This machine can't be upgraded, and a replacement was due this year but has so far failed to materialise.
Read our full Apple Mac Mini M1 (2020) review
Mark is an expert on 3D printers, drones and phones. He also covers storage, including SSDs, NAS drives and portable hard drives. He started writing in 1986 and has contributed to MicroMart, PC Format, 3D World, among others.