GMKtec NucBox G1: 30-second review
GMKtec NucBox G1 Specs
Here is the GMKtec NucBox G1 configuration sent to TechRadar for review:
CPU: Intel N95 (4 cores, 4 threads)
Graphics: Intel UHD Graphics
RAM: 8 DDR4 RAM (Expandable to 16GB)
Storage: 512 GB PCIe Gen 2 NVMe SSD
Ports: 2x Thunderbolt 4 (USB 4.0 Type-C), 3x USB 3.2 Gen 1 Type-A, 2x USB 2.0, 2x HDMI 2.1, 1x universal audio jack, Intel i226V 10/100/1000/2500 Mbps RJ45 Ethernet port
Connectivity: Intel® Wi-Fi 6E AX2111 + Bluetooth v5.2
Size: 113 x 105 x 44 mm (W x D x H)
OS installed: Licensed Windows 11 Pro.
Accessories: Adapter12V/3A
Not everyone wants a mini-PC that is trying to outperform a desktop workstation. Sometimes a much more modest solution at an approachable price is good enough, and the GMKtec NucBox G1 is that machine.
For around just $240, the G1 sports an Intel N95 processor with four cores, 8GB of DDR4 memory and a 512 GB PCIe NVMe main drive. The motherboard resides in a minimalistic NUC case with a metal band encompassing all four sides, capped with a plastic top and bottom.
Despite some use of plastic, this doesn't feel like a cheap system, and there are plenty of external ports to make it very useful for many roles.
With Windows 11 Pro pre-installed, the G1 has sufficient power for some basic office tasks, but it could also be used for embedded jobs such as a firewall or media server.
And, should the amount of internal storage or RAM be insufficient, removing four screws from the underside provides user access to the internals for upgrades.
For the money, it's hard to criticize the G1, but it doesn't offer the raw computing power or graphics performance that more expensive mini PC designs can provide.
If you have a relatively minor job and need a flexible response, then one of these for the frugal amount GMKtec is asking might just be the ticket.
GMKtec NucBox G1: Price and availability
How much does it cost? From $240
When is it out? Available now
Where can you get it? Direct from GMKtec
When writing, the GMKteck NucBox G1 is available directly from the GMKtec website in two SKUs. The cheaper model comes with 8GB of RAM and costs $239.89, and one with 16GB is $279.89. That seems a gouge for 8GB of DDR4, and you could save money by getting the cheaper option, an 8GB module and taking 2 minutes to install it.
Both these SKUs are identical except for the amount of memory installed.
On the website is a button that provides a one-off code to knock another $28 off the price, taking the cheaper G1 to almost $220.
Considering the decent built quality, the modern nature of the technology inside and that these prices include shipping and local tax, the G1 is could be considered a bargain.
GMKtec NucBox G1: Design
NUC sized system
Easy to upgrade
Unoccupied M.2 2230 slot
GMKtec designers might admire the simplicity of the Intel NUC series because the G1 has much the same minimalist aesthetic.
The construction is a milled aluminium tube with curved corners that is just large enough to accept the classic 4-inch NUC motherboard.
Large vents have been cut in the sides to allow air in, and it is then ejected through six larger slots on the top rear of the unit.
There are no ports or other features on the sides, and the front has only two USB Type-A ports and the green power button.
That leaves the two more USB 3.2 Gen 2 ports on the back alongside two HDMI ports, a single 2.5GbE Ethernet adapter, a universal audio jack and the pin-barrel power jack.
Sadly, there is no support in this design for USB-C.
Both the top and bottom can be removed, but only the underside reveals anything that owners would be interested in investigating.
After removing four screws, the bottom plate completely detaches to provide easy access to the M.2 slots and SODIMM memory modules.
There is room inside for a SATA 2.5-inch HDD or SSD, but there doesn't appear to be a header or cable to connect one. However, this machine does have two M.2 slots, a single 2280 occupied by an unbranded module in the review hardware and another unoccupied 2230 slot.
That second empty M.2 wouldn't typically be that useful. But Corsair, among other storage makers, has started to produce drives in the M.2 2230 format, like the MP600 Mini and MP600 Core XT, providing an easy path to boost internal storage.
In our review machine, one of the two SODIMM slots was filled with a single DDR4-3200, and the other was free. According to Intel, the maximum amount of memory the N95 processor can address is 16GB, so adding another 8GB is the only upgrade path available.
Overall, the G1 provides a good degree of flexibility to those looking to enhance memory and storage as required.
GMKtec NucBox G1: Features
Four-core CPU with no hyperthreading
Limited PCIe Lanes
2.5GbE LAN
Launched in Q1 of 2023, the N95 processor in this machine is a new Alder Lake-N design that features only four E-cores and has a base clock of just 1.7 GHz and a Turbo boost clock of 3.4 GHz.
Without any P-cores (Performance cores) the N95 seems more related to the Atom series than the Core product lines. This silicon is made using the Superfin 10nm fabrication technology that Intel ironically calls 'Intel 7' to make it seem better.
This Superfin fabrication is an improvement over the ancient 10nm Intel fabrication, but it can't negate the impression that this chip is a warm-over rather than anything specifically new.
These chips also only support single-channel memory, so there is no interleaving advantage to having dual SODIMMs over a single module.
Another curiosity about this design is that the N95 has only nine PCIe 3.0 lanes, and when you consider that eight of those might be taken up by the two M.2 slots, there is clearly a mismatch between available lanes and the bandwidth requirements of M.2, LAN and USB ports.
Therefore, if you install the second M.2 port, be aware that the system might not have the resources to run all the drives and externally connected USB storage at full speed.
The GPU is classified as UHD Graphics but is based on the Xe silicon with just 16 execution units (Tiger-Lake H). It doesn't compare to the EU80 and EU96 versions of this chip in those systems with Iris Xe GPUs, but it can drive two screens at up to 4K, if you're not expecting to play games on those outputs.
One slightly mystifying inclusion is the 2.5GbE LAN port. While we encourage faster networks, without the supporting switches, this port will revert to 1GbE on many networks. It would be a useful feature for those wanting to implement a hardware firewall, but an additional LAN port would need to be added via USB.
For a low-cost mini system, the platform provided is adequate but not spectacular, and we'll see just how underwhelming it can be in the performance section.
GMKtec NucBox G1: Performance
Only E-cores
UHD graphics
Mediocre SSD
Benchmarks
Here's how the GMKtec NucBox G1 scored in our suite of benchmark tests:
3DMark Wild Life:2858; Fire Strike: 1058; Time Spy: 366;
Cinebench R23 CPU pts: 934 (single-core); 2757 (multi-core)
GeekBench 5: 937 (single-core); 2539 (multi-core), 3750 (OpenCL)
CrystalDiskMark: Sequential Read: 1773MB/s; Sequential Write: 1712 MB/s
PCMark 10 (Office Test): 3134
Windows Experience Index: 6.2
It isn't easy to dress these results up more positively, but we've only seen a few Mini PC designs in the last few years that were slower than the G1.
These include the Zotac PI336 Pico, which uses the 2-core Celeron N6211 processor, the Geekom Mini Air using the Celeron N5095, and the Celeron N5105-powered Beelink U59.
In short, anything with an AMD Ryzen or Intel Core class processor in it will destroy the G1 in any benchmark test.
To give a flavour of the difference, if we compare it to the Beelink SEi11 Pro that uses the Core i5-11320H (4 core, 8 thread) chip and has Iris Xe Graphics, the 3DMark Wildlife score is 11129 against just 2858 on the G1. That's a big difference for a machine that only costs another $90 more.
With only E-cores and lacking hyperthreading, these numbers are predicably poor, but that's the platform and not specifically something GMKtec can be blamed.
However, the NVMe drive they included can be pointed at them, as it is only rated for PCIe 2.0 operations on this machine. The drive reads and writes at speeds below 2000MB/s, and that's slow for a system that supposedly supports PCIe 3.0.
At the time of this review, we've not conclusively decided if it's the NVMe drive or the slot that has clamped down on performance, but whatever is causing the limitation isn't ideal.
If you have a very modest requirement, there is plenty of good things in this design to satisfy that need cheaply.
But, it's a little daunting to realise how much faster and more flexible machines are available for a few extra dollars.
That's the gotcha with Mini PC systems. Because they're typically bought for a purpose, and then things change, and you want to use them for something else. While the G1 is fine for that initial role, it might not be good enough for alternative applications.
If you want a basic system to connect to the back of a monitor for surfing and the odd office document editing job, then the G1 is more than up to the task. Just don't assume that it's flexible enough to take on any challenge.
GMKtec NucBox G1: Report card
Swipe to scroll horizontally
| | | |
| --- | --- | --- |
| Value | A nicely made Mini PC at an approachable price | 5 / 5 |
| Design | Simple but effective design that is easy to upgrade | 4 / 5 |
| Features | Basic CPU with only E-cores, but it has 2.5GbE LAN port.f memory, and Gen 4 NVMe storage makes for an effective team. | 3 / 5 |
| Performance | Slow compared with anything with a Core or Ryzen CPU | 2 / 5 |
| Total | Cheap and useable for basic office tasks, but it isn't ideal for tougher tasks | 3.5 / 5 |
Should you buy a GMKtec NucBox G1?
Buy it if...
You are on a tight budget
With a base price of $240, this is a decent system in both memory and storage for that outlay. However, if you need something even cheaper, GMKtec makes machines based on the N5015 process for around $160.
Your network is 2.5GbE
With an inbuilt 2.5GbE LAN port, the G1 is ready for high-speed networking that allows it to distribute files at more than twice the speed of a Gigabit network.
Don't buy it if...
You want to game on this PC
With only E-core and UHD integrated graphics, this machine still isn't good for gaming. The demands of modern game titles and the resolutions they are often best at don't fit well with the capabilities of this system.
You need greater flexibility
While the memory and storage can be adjusted, the processing power available in the G1 limits what jobs it could reasonably be expected to perform. If you repurpose machines often then investing in one that has more potential might be a good idea.
Also consider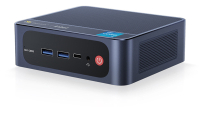 Beelink SEi11 Pro
The SEi11 Pro uses the Core i5-11320H processor, costs less than $330, and has much greater performance than the N95-powered G1.
Check out our Beelink SEi11 Pro review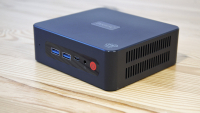 BeeLink U59
At around $160, the U59 provides a basic system that can surf the internet and edit office documents. It's nothing special, but it's even cheaper than the G1.
Check out our BeeLink U59 review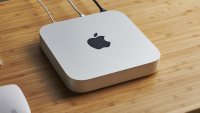 Apple Mac Mini M1 (2020)
For those that like Apple products, the Mac Mini M1 is effectively the only choice in its mini PC category. At nearly $700, you pay for that privilege, as expected. This machine can't be upgraded, and a replacement was due this year but has so far failed to materialise.
Read our full Apple Mac Mini M1 (2020) review