Egnyte is aimed squarely at business users, with an emphasis on data management, user profiles, controlled access, regulatory compliance, and everything else that businesses are going to be concerned with. It also throws a very impressive online web app into the mix.
Egnyte Connect is one of the best cloud storage and file management tools, while Egnyte Protect is the matching governance part that enforces data protection and regulatory compliance. Here we'll be concentrating mainly on the 'Connect' part of the platform.
Egnyte: Pricing & plans
First things first - this is purely a business platform, which makes pricing look high initially. However, the extensive list of features, security and regulation compliance that are built-in gives it extra value. There's no free cloud storage option, but you'll find four tiers with incrementally more features, which are all billed annually.
During our previous review we saw lower tier example pricing based on 10 users, with Team costing $1,200 per year and Business costing $2,400 per year. Enterprise Lite and Enterprise plans are based on 50 users, costing $21,000 and $36,000 per year respectively. Since our last review, the pricing page no longer indicates amounts but instead prompts users to sign up for a trial or contact the company for a quote.
You can sign up for a 15-day free trial without giving up your payment details which offers reassurance that this really is a trial to get to know the product before committing long-term.
There are other advantages to choosing a higher tier, including multi-factor authentication and better support options. If you've got more than 100 employees or you need additional features such as an archiving service or more advanced user management, then you need to contact Egnyte directly for a quote.
Some subscriptions have access to additional, paid services, including SMS two-factor authentication and mobile PDF annotation.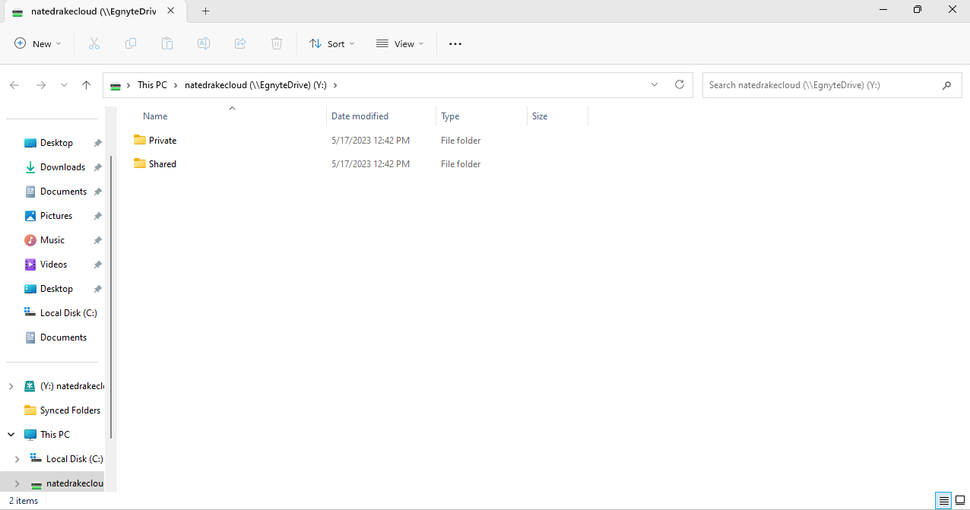 Egnyte: Interface
It's hard to imagine a cleaner or speedier interface than the one Egnyte serves up, with quick and straightforward access to your files and folders.
Whether you need to add a comment to a document, or share a folder with a colleague, or assign a task to someone on your team, Egnyte handles it very smoothly. It's one of the best and most modern-looking interfaces we've seen when it comes to cloud storage services.
Viewing common file types inside the browser is no problem, nor is adding comments to files whenever you need to. We used this preview feature to open two audio files in our test folder and they played without issue.
The quality of the Egnyte interface extends to the excellent user management and system reporting tools. Everything is neatly laid out and easy to access, so you can see exactly what you need to – which files and folders are shared with whom, recent file activity on your drive, who has permission to do what, how much of your total storage has been used up, and so on and so on.
Rather than occupying space on your hard drive, Egnyte creates a network storage device helping to reduce the pressure on your built-in drive, which isn't always the case with cloud backup and storage solutions.
When it comes to the desktop clients for Windows and macOS, and the mobile apps for Android and iOS, these are a bit more basic in functionality, though similarly well designed. The apps don't really match up to the web interface in your browser, but then again they don't really need to. Users can select offline access for the files they need, which is handy for balancing local storage. As we noted, you can also quickly sync files through right clicking on any folder.
We are pleased with the mobile-specific settings that help users to manage the typically smaller local storage available, including the option to clear all cache and data, an overall limit for the Egnyte app to occupy on your device, and automatic deletion of files after a specified time. File size warnings are also available for mobile and wifi networks separately, which is useful for those with restricted data plans.
It's worth noting that M1 Mac users need to take a few additional steps to enable the deeper integration required by the desktop client, which involves booting the computer up in a reduced security mode. This was easy enough to set up following some on-screen instructions.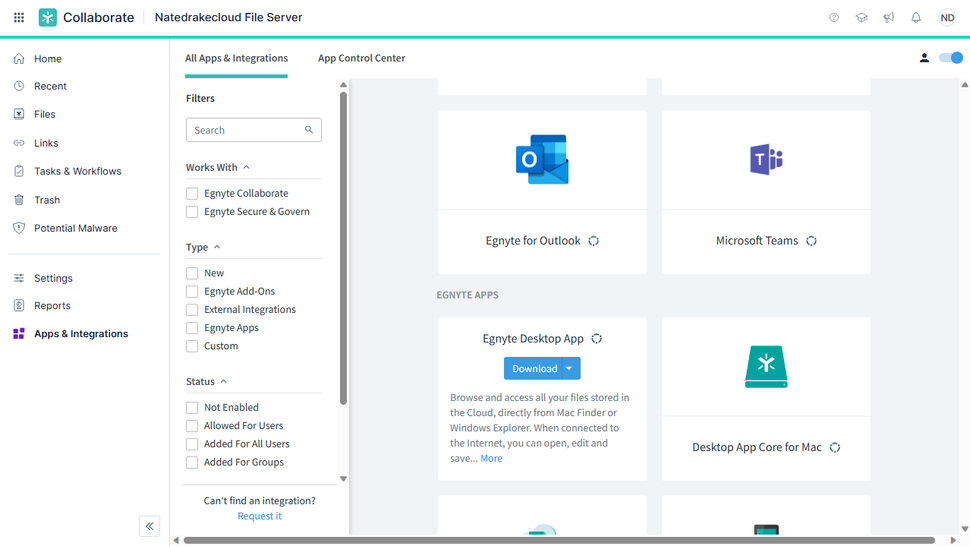 Egnyte: Features
At the simplest level, Egnyte is a web app for accessing a file system that you can administer as needed, as well as desktop sync applications that make locally stored files travel automatically to the cloud.
Dig a little deeper, and the strength of the service is in the detail of how those files are controlled and distributed, and how Egnyte splices very elegantly into the other software tools that many companies already use.
For example, documents in both Microsoft 365 and Google Docs can be created through the Egnyte web interface in the cloud. This means real-time online collaboration tools when working with other team members. These can be locked from modification by other users while you're editing them, too.
There are mobile apps for Android and iOS, and hundreds of other integrations, including Salesforce, Slack, SAP, Gmail, Zoho, SharePoint Online, Active Directory, OneNote, AutoCAD, Freshdesk, Trello, Confluence, RightSignature and more, which is why this cloud backup tool is best valued by businesses.
When it comes to the desktop sync tools, you have to move files to the designated drive on your system. The desktop client creates a drive named Egnyte (in our tests on a Windows 11 machine this defaulted to drive letter 'Y').
One feature that really impressed us was the ability to right click on any folder and choose 'Connect to Egnyte' to automatically begin syncing, although the sync process itself had more mixed results (see below).
Still, most of the key features and options that you'll need are accessible through the excellent web interface rather than the apps for desktop or mobile. Old versions of files can be recovered if needed, and there's support for offline files (with the integration of a NAS, if needed) that you can turn to should your internet connection go down. Sharing files and folders is straightforward too, and very well managed.
Egnyte is very strong in terms of individual user management and regulatory compliance too, again emphasizing just how appealing it's likely to be to business users, more so than smaller teams and individuals such as self-employed workers. Through extra apps and inherent design, Egnyte has considered most of the scenarios that a business will encounter if they move to cloud storage from a conventional file server model, and an API for connecting with bespoke software solutions is available as well, helping to make the transfer to a cloud-based platform smoother.
Regardless of the subscription level, file sizes are limited to 100GB which we find to be limiting for larger businesses dealing with large media files. That said, a 100GB file is especially large and most businesses may never need to exceed this.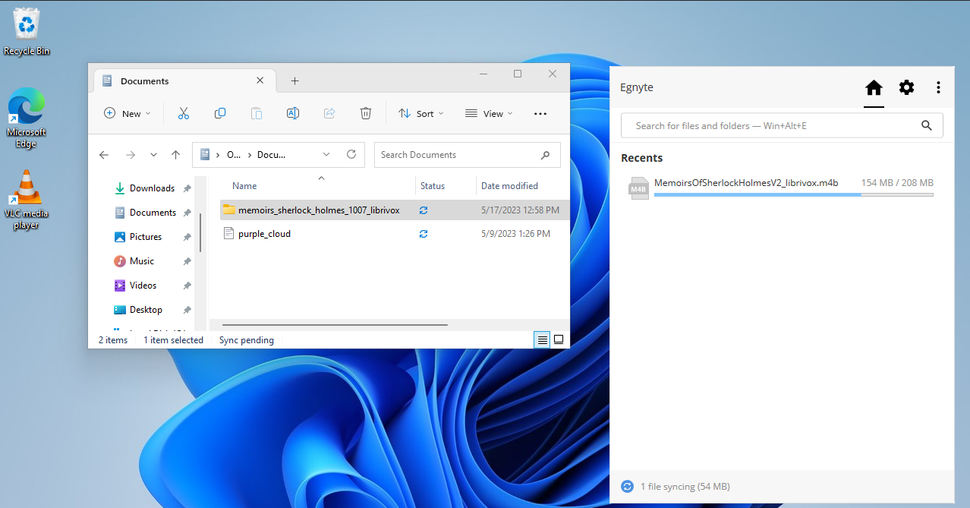 Egnyte: Security
Security is an area where Egnyte offers a top-drawer service: the company claims that all customer files live in a Tier II SSAE-16 compliant facility, encrypted with 256-bit AES encryption with the option to be further protected with extra authentication layers (if you have one of the plans supporting more users).
Top-tier users get Egnyte Key Management, where encryption keys can live elsewhere – like Amazon Cloud HSM or Microsoft Azure Key, for example.
As always, those that want to take responsibility for their own keys need to realize that should the key be lost, those files will be encrypted for eternity, effectively – that's the downside of complete, end-to-end encryption.
Data in transit is protected by 256-Bit SSL encryption according to the Egnyte website, though we assume that TLS is used in practice as it's more modern and secure.
Egnyte also excels at the smaller security stuff, such as control over who has access to files and folders at a very granular level. Sharing with clients and vendors is fully audited and easily revocable. Data from computers and mobile devices can be remotely wiped too.
Zero-knowledge encryption - available on some other cloud platforms - isn't available with Egnyte, however this does come with certain trade-offs in terms of integrations and other features.
We think most businesses would prefer the more extensive list of features found within Egnyte. However, if you're in need of zero-knowledge security, you may want to look elsewhere. Egnyte does offer Enterprise Level key management so that users can keep control of their keys, although it stops short of promising the kind of full client-side encryption that would be needed for them to truly be unable to access any customer files.
Admins have access to various logs - as do users for their own accounts - including logins, uploads, downloads, and file sharing, helping users to monitor any compromises from their end, too. Because different countries have different privacy regulations, data is either stored in a US or European data center.
Egnyte: Our tests
We tested Egnyte across three core areas, measuring sync speed, file recovery and versioning. These tests were performed on a Windows 11 virtual machine running the Egnyte desktop client. Our VM was connected to the internet via fiber broadband and a VPN server, which consistently showed an average upload speed of 70 Mbps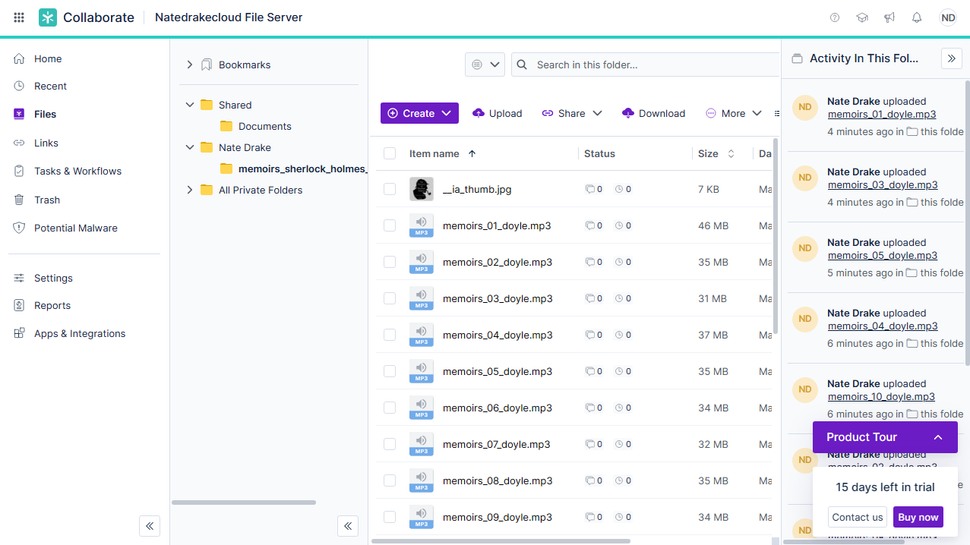 For our initial test, we copied a 650 MB folder into the application directory. We then measured how quickly the desktop client was able to sync the files to the cloud.
In our original tests in 2022, we were pleased with the upload and download speeds using both the desktop client and browser portal. We managed to upload a 1GB test file in less than five minutes on macOS - one of the fastest speeds we've encountered.
A sub-one-minute download time - using our stable 350Mbps connection - for the same file is equally impressive, convincing us that this a powerful tool that should be able to keep up with most business's needs.
There's the option for limiting bandwidth in order to preserve some speed for other network-reliant tasks. But, left to its own devices, it seems that only your Internet connection is likely to be the primary limiting factor for syncing files.
Our latest tests weren't quite so successful. We right clicked the folder containing our test files and chose 'Connect to Egnyte' to begin syncing. The desktop client took around 2 minutes to upload the first 21 but became stuck on one rather large (208MB) audio file. We closed and relaunched the client but still it failed to upload fully to the cloud.
In order to give Egnyte the benefit of the doubt, we tried uploading the same files directly via the web interface. 17 of the 22 files uploaded within 2 minutes, including the one which had flummoxed the desktop client but five of the MP3 files showed as upload failed.
We aren't sure if this issue relates specifically to the files we tried to upload or to an issue with Egnyte, so encourage you to carry out your own tests before paying for a subscription.
Having struggled with syncing, we're pleased to say that file recovery was much simpler. We focused on the test files which had been uploaded successfully to the web interface. On a related note, making things a bit easier is a great perk from Egnyte: you receive a personalized subdomain to access the online portal.
We selected all the files and chose 'Move to Trash'. Once they appeared there it was a simple matter to choose Restore. Files are always restored to their original locations.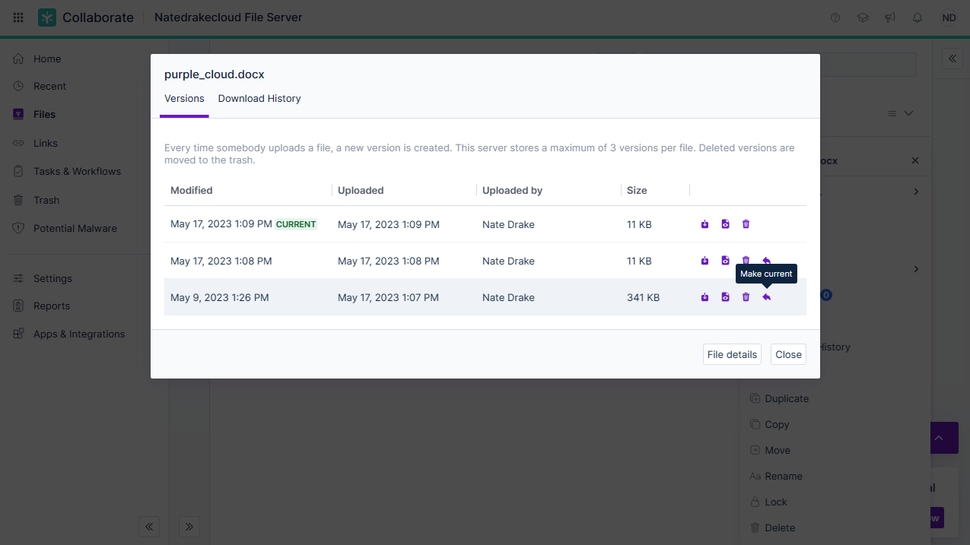 Versioning is a really important feature, especially if you're making a lot of changes to files and need to view previous versions.
To test file versioning in Egnyte, we right-clicked our test document - a .docx file - to try syncing through the 'Connect to Egnyte' option. However, it seems this isn't available for files.
After creating a special folder just for the test document though, we were able to get syncing underway. We then opened the local file, removed all text except the intro, saved and quit. The desktop client showed this change had been synced immediately.
When we logged in via the online cloud portal, we selected the file and found 'Versions and History'. From here we chose the 'make current' option next to the original file to revert to the unmodified version. The process was extremely quick and simple.
Egnyte: Verdict
What works best about Egnyte is that it hasn't been tempted down the path of adding too many features: while it might at first glance seem a little sparse in terms of what you get compared with alternatives from the likes of Google or Microsoft, Egnyte smartly focuses on what businesses need most from a cloud storage system, and then delivers it.
In other words, it gets out of the way. Files and folders are managed in the cloud, and the responsibility for keeping them safe and secure is with Egnyte, not spread around a combination of other companies and internal IT staff.
While we had some issues syncing data in our most recent tests, this doesn't detract from the fact that the clean interface and flexibility of Egnyte makes it a powerful cloud storage tool.
Using this service is all about having the confidence to hand over responsibilities to an external company, and Egnyte does more than most to earn that trust - it's certainly one of the best business orientated solutions for those wanting to transition away from internal file server technologies.