Competent and comprehensive, DM Disk Editor and Data Recovery Software has a powerful free option that is upgradable for business/pro use.
Pros
+

Fast

+

Compelling free option
Cons
-

Could overload new users with too much information

-

Doesn't display a timer for recovery
Why you can trust TechRadar We spend hours testing every product or service we review, so you can be sure you're buying the best. Find out more about how we test.
Eschewing a flashy website, DMDE - DM Disk Editor and Data Recovery Software gets down to business by telling you exactly what to expect from its no-nonsense recovery tool. With five license options beyond the free tool, DMDE is a bit of a mystery, offering multiple languages on its website ( English, French German and Russian) but no clue as to its origins, other than launching in 2008. Its "About" page only explains the software, rather than the company and developers.
The "WHOIS" information for dmde.com is also another dead end as the registrar details are protected by a domain privacy service.
A number of the online reviews linked on DMDE's website, list its creator as one Dmitry Sidorov, a Russian software publisher. Our searches found a developer of that name on the "Herd Protect" platform who seemingly has worked on the Windows version of the app but there's no way to confirm this.
Sales support is available in Canada and the USA, although both agencies appear to be operating under license, with different websites.
All of this makes DMDE rather enigmatic.
That mystery aside, how well does DMDE recover your lost files?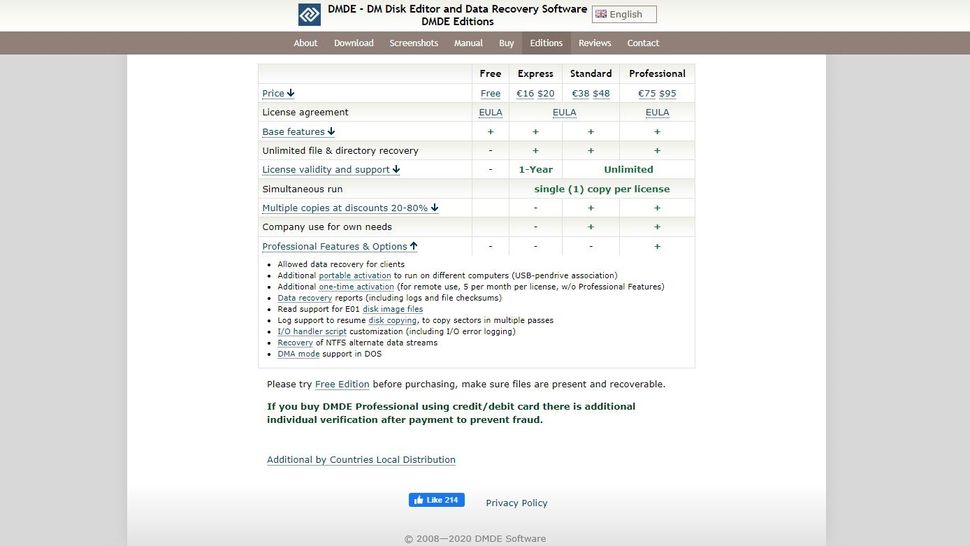 DMDE: Free vs other options
DMDE is available in multiple editions.
Before purchasing, the developer recommends using the free edition to "make sure you are able to recover and open necessary files." DMDE Free Edition can recover up to 4000 files at a time which makes it useful in small scale recovery jobs. This is less useful for recovering disks and partitions, however, which is where the paid options come in.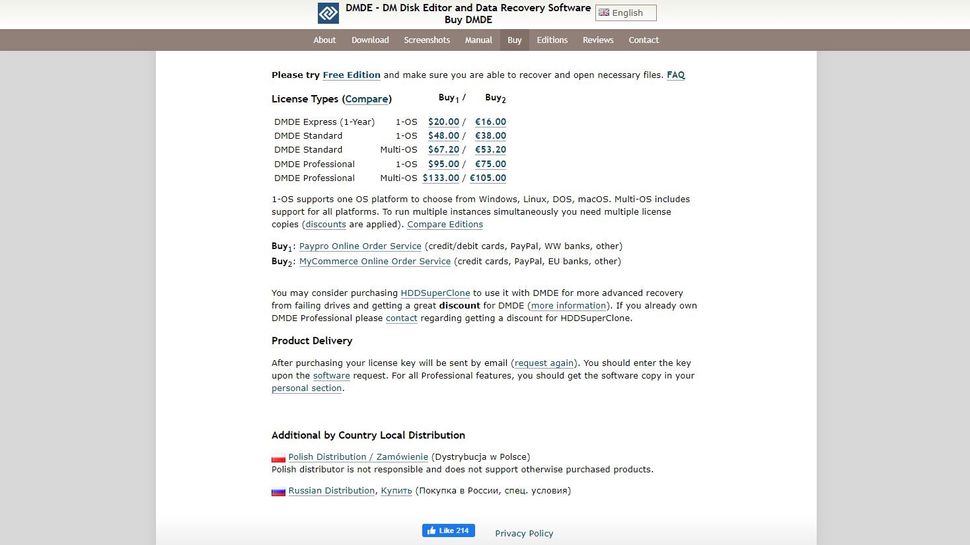 Five different licenses are available, scaled to specific uses. An Express one-year license is $20, whereas a Standard license for DMDE is $48. Both options are for a single operating system (Windows, macOS, Linux). There is also a Standard license for multiple operating systems ($67).
DMDE Professional is $95 for one OS, or $133 for installation on multiple operating systems. DMDE also offers a discount for multiple licenses. This is just as well, as once the "1-OS" version has been installed on a particular OS like Windows, you cannot reinstall on another system like Linux.
When visiting the website to install the Windows edition, we found out that the software was available in ZIP file. This caused a red flag for Windows Defender which initially blocked the download.
Once downloaded, you need to extract the ZIP archive to a new folder and run DMDE from there. The utility won't appear in your installed programs, so you'll need to return to this folder each time or place a shortcut somewhere convenient like the Desktop.
Both versions 4.0.2 and 4.0.6 of the utility are available for download. In our tests we used 4.0.2, as DMDE claim it's the most popular version. Although we opted to use the version of DMDE which came with a GUI, command line lovers will be pleased to learn that there's also a console version for Windows, macOS and Linux.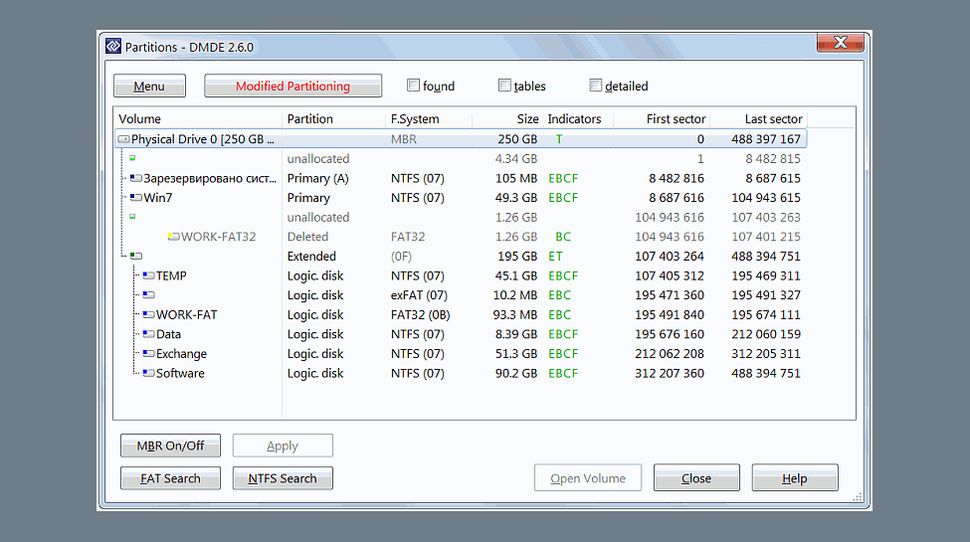 DMDE: Key recovery features
Using DMDE Free Edition to recover data gives you the option to recover up to 4000 files at a time. You can do this by selecting files in a particular panel, although there's no maximum limit to the number of files you can recover overall.
It also offers partition management as well as disk imaging and cloning. DMDE Free Edition finds lost data via a thorough volume search, and the disk editor lets you navigate and browse various disk structures.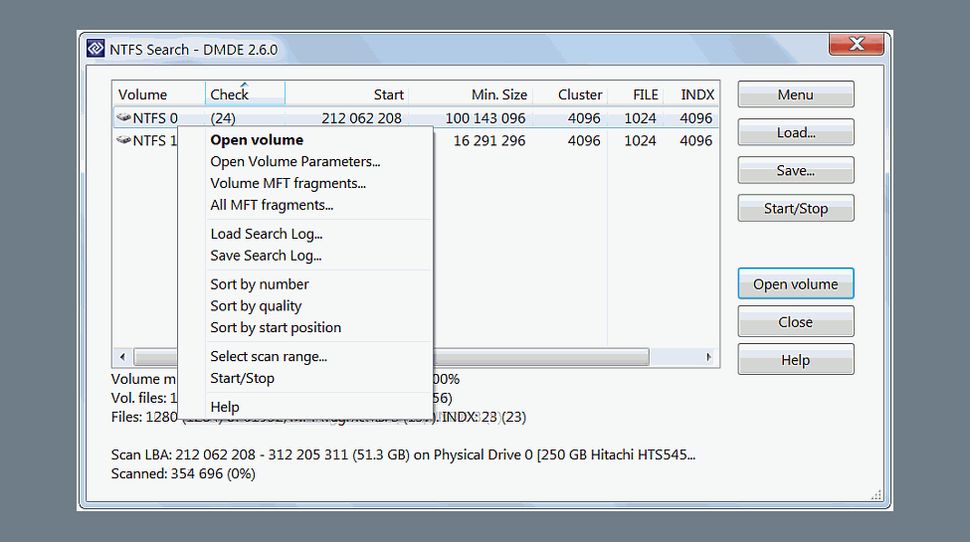 The tool supports NTFS, FAT formats, exFAT, Ext formats, HFS+/HFSX, ReFS, APFS, ext2, ext3, ext4 and btrfs. It can both scan and manage partitions in these formats.
The DMDE Manual cautions that it can only perform recovery on partitions supported by the guest OS. For example a Windows machine doesn't support the ext4 format used by most versions of Linux by default.
The utility can also recovery NTFS encrypted files but naturally it can't decrypt them for you. The developers have confirmed via their feedback page that they plan to include support for Bitlocker encrypted drives but such changes can take time.
Finding files with DMDE Free Edition
Launching DM Disk Editor and Data Recovery Software prompts the Select Disk/Task dialogue, also available in the Disk menu. From here, you select the device to scan, then click OK.
We were pleased to see that helpful 'hints' appeared next to each of the main options upon launch. You can click on each hint to display the next one. This happened each time we loaded the utility, which could prove annoying to experienced users especially as there's no obvious way to turn the hints off.
Still, thanks to these hints you'll be guided to the next window, where you can choose any partition of the chosen disk, see relevant data about it, then click "Full Scan" to commence recovery. You can do this both on the disk and on individual partitions.
The list of recoverable files is accompanied by a Preview pane, where completeness can be assessed. To recover a file, check the box, right-click, and select Recover. Multiple files can be selected (as noted, up to 4000 files) and the Recover data button clicked. If you're using the Free Edition, you'll also need to do this folder by folder.
Recovered data is saved to the same folder where DMDE is located by default but you can create/specify another directory if you wish.
Checking logical disks, disk images, and constructing RAID disks are all available from the Select Disk/Task window.
How we Tested
For our data recovery tests we used a virtual machine with a clean install of Windows 11. The only third-party tools installed besides DMDE were VLC Media Player and GIMP.
Data Files
The files we chose for recovery are an album of Mozart's Music available from the Internet Archive.
We did this as we wanted to see how the utility performed with a wide variety of files.The album included 4 music files (2 in Mp3 and 2 in FLAC) format, 6 JPG image files of album covers (with thumbnails) and 2 PNG image files. The files also included 2 XML files, a torrent file and an 'SQLite' file containing details of the album. There were 25 files in total.
We copied the files in the music album to a 512MB virtual NTFS-formatted hard drive, which was then attached to the Windows 11 virtual machine.
Data Tests
The tests were performed one after the other on three separate virtual drives:
1. File deletion : the album files were simply deleted from the drive and the Recycle Bin emptied. No other data was copied to the drive. We then tried to recover the files.
2. Delete & Format : The files were deleted as outlined above and we also performed a 'Quick Format' using the 'Disk Management' utility built into Windows 11. We then tried to recover the files from the formatted partition.
3. Recover corrupted files: We used the freeware program 'Victoria' to overwrite the volume header of the drive containing the files with zeroes. The drive didn't mount automatically in File Explorer and showed as being unpartitioned in Windows "Disk Management" utility. We then checked if the utility could see it and if so, recover the files.
We do not believe that running data recovery tools in a virtual environment has a significant effect on how they function. Still, if you're considering buying software we encourage you to read all reviews thoroughly and make sure that the developer offers a refund policy.
DMDE: Recovery performance
The good news is that DMDE - DM Disk Editor and Data Recovery Software is relatively fast.
Although slower than some alternatives, the depth of recovery was considerable.
In our first test, DMDE quickly recognized all 25 deleted files and we were able to recover them to a folder complete with filenames.
We next tested on the drive where the files had been deleted and then the drive itself given a "quick" format. This gave us a chance to use DMDE's "raw" feature which searches for file data even if there are missing headers or other information.
In this case 23 of the original 25 files were recovered (the .torrent and the .sqlite file didn't make it). One of the MP3 files was also only partially recovered : around 6 minutes of a 9:38 minute track were playable. The remaining files opened without issue, although as this was 'raw' data the original filenames were missing.
Our final test was on the drive with the corrupted volume header. DMDE spotted the lost partition immediately and prompted us to run a full scan. When we did so it was able to detect all 25 files, which we were able to restore fully with their original filenames.
DMDE - DM Disk Editor and Data Recovery Software's various expanded features like searching for 'raw' data impressive. Investigating these further, we took the time to create a disk image of the disk in question, while it was still unmountable.
The image was easy to create, resulting in a BIN file that could itself be mounted in DMDE and used for recovery.
You'll appreciate the benefit of having this feature and using it on an old HDD that is about to break, as this way you can attempt recovery of your data without risking further damage to the drive itself.
This could also be a good way to allow others to perform file recovery operations on your drive remotely, as the BIN file could be sent via a file sharing service like Dropbox.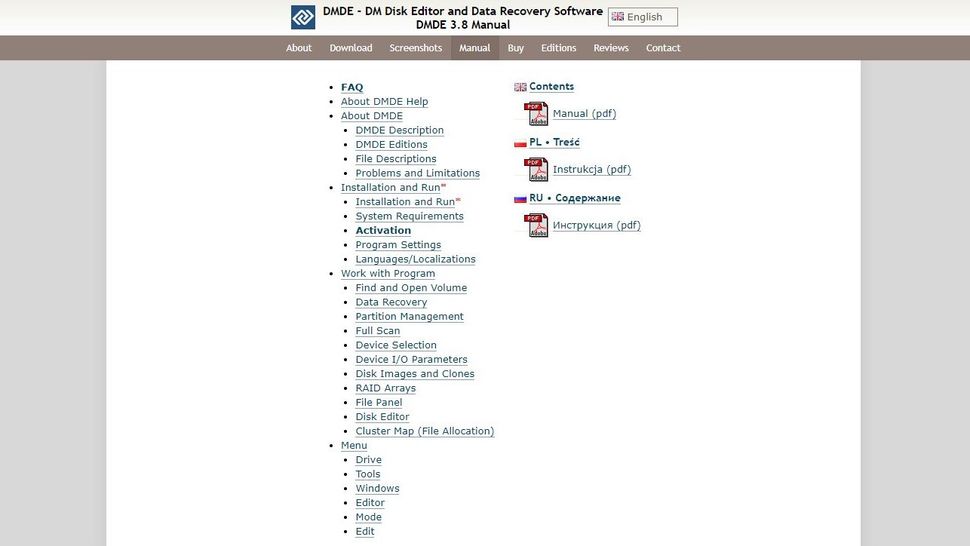 DMDE: Support
There is virtually no support for DMDE - DM Disk Editor and Data Recovery Software. While the website offers a 10-point FAQ and detailed online manual (also available as a PDF) with translations in Polish and Russian, technical support is available only via a direct email.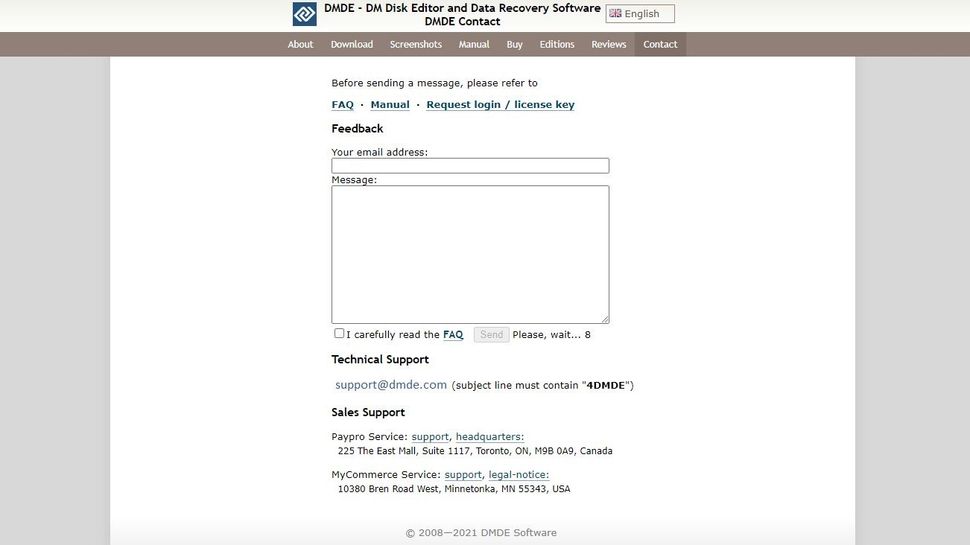 Feedback can be sent through the website, but it misses a detailed, searchable knowledge base and chat support. There is no reference to any social network accounts or a Reddit page.
In short, if you choose to use DMDE to recover your lost data, manual aside, it's likely to be a slow process if you run into trouble. This said, the manual is comprehensive in terms of explaining what DMDE can and can't do, as well as how to perform basic recovery operations.
Hopefully, this is sufficient to retrieve lost data, but given the depth of options in this software it seems strange that more in-depth support isn't available. The hints do go a long way to preventing DMDE becoming overwhelming for new users.
DMDE: Final verdict
With so many recovery tools on the market with varying levels of competence, speed, features, and pricing, it is easy to be suspicious of DMDE - DM Disk Editor and Data Recovery Software.
But this is a feature packed recovery tool with a free mode that is ideal for all but the most devastating recovery scenarios. 4000 files per recovery session is enough in most cases, and that's before considering the paid options which are surprisingly affordable when compared with others.
While the user interface presents information that might be potentially confusing to the uninitiated, it boasts features that other tools omit, can handle RAID construction, and create disk images.
The Express license alone is a bargain, DMDE - DM Disk Editor and Data Recovery Software is available for Linux and macOS as well as Windows, making it perhaps the best free and paid recovery solution available.
Christian Cawley is the editor responsible for Linux, Security, Programming, and DIY content at MakeUseOf.com, where he also regularly contribute articles and video reviews. With over 10 years' experience writing in the consumer electronics, IT and entertainment media, Christian has been fortunate to work with some of the best websites and print publications in these fields.