A highly practical design that ditched battery capacity to be easier to carry and use. While not fans of Doke-OS interface and its associated bloatware, this is still a powerful device that could be invaluable to those working outdoors.
Pros
+

MediaTek Helio G96

+

IP68 and IP69K

+

Inexpensive

+

66W wired and 30W wireless charging
Cons
-

Lacks 3.5mm headphone jack

-

Only 4G

-

Doke-OS and bloatware

-

Modest battery for a rugged phone
Why you can trust TechRadar We spend hours testing every product or service we review, so you can be sure you're buying the best. Find out more about how we test.
Two-minute review
For those watching the market for rugged phones closely, there is a crunch about to happen where the specifications of cheap phones seem destined to collide with those from the premium end ranges.
At this ground zero point are makers like Blackview, aiming to sell rugged designs for a minimum of $250, but also trying to take market share from those in the $300-350 bracket.
A case in point is the Blackview BV9200, a phone that, based purely on specifications, should cost more than the asking price.
However, to achieve this attractive price point, some compromises have been made, and it's the purchasers' choice if those are significant enough to warrant not buying one.
The boxes unreservedly ticker in the BV9200 are that it has a good Helio G96 processor, providing plenty of power, alongside a reasonable GPU, 8GB of RAM and 256GB of UFS 2.1-based storage.
The scale of this device allows for a large 6.58-inch IPS LCD panel with a 120Hz refresh rate and a natural resolution of 1080 x 2408 pixels, sufficient for unscaled 1080p playback.
This is also the first Blackview phone to have dual smart-PA BOX speakers designed by Harman AudioEFX for an enhanced auditor experience.
The first signs of cost saving appear in the cameras, as the best sensor is a Samsung ISOCELL JN1 50MP, and this is supported by an 8MP Macro lens with a 120-degree field of view and a 0.3MP sensor for depth of field control.
The cameras are far from useless, but this phone isn't packing the 108MP sensors we've seen from Doogee and Ulefone.
Another limitation is the battery capacity, as 5000 mAh is on the low side for a rugged design. But conversely, this has the positive impact that at 310g this is one of the lightest waterproof designs we've seen so far.
More of an issue potentially is the installed OS, which is Android 12 but with the Doke-OS 3.1 interface sat over the vanilla Android core.
This version of Android seems stable, but Doke-OS preloads all manner of games and other junk that most users won't want or care about. It is possible to remove this junk, but it's disappointing that it was pre-installed in the first place. By not using the vanilla interface options, new Android releases are likely likely to be delayed by its integration, and Blackview doesn't have the best history of passing all of these on to users.
The final point about this phone is that it is 4G, not 5G, and how important that is will be dependent on the region you live in and the mobile service you use.
Blackview BV9200 price and availability
When is it out? It is available now
Where can you get it? You can get it in most regions direct from AliExpress
Coming in black, green and orange, the BV9200 is best sourced from AliExpress, as it doesn't seem to be generally available through Amazon or other big online retailers.
The pricing is relatively consistent based on exchange rates, with the three colours all costing around $250. AliExpress does offer two bundle options; phone with "Airbuds 6" and "Smartwatch R1". These add about $25 if you want either of those extras.
The downside of AliExpress is that the phone will only ship within 30 days and could take another 30 to reach you. Hopefully, Blackview will make this design more readily available through Amazon and other faster channels.
Blackview BV9200 design
Slim
Offset camera cluster
A charging monster
We've seen a new class of rugged phones emerge in the past year that delivers a robust package but in a distinctly thinner aspect.
While not as light as the svelte 290g Ulefone Armor 17 Pro, the 310g BV9200 is still much lighter than the majority of rugged designs and 150g less than Blackview's own BV7100.
The reduced weight and thinner form make this an easier phone to handle and secure in a pocket, although, with a 6-58-inch screen, it is still a substantial device.
It's a nice tactile experience, the sides and buttons are mostly metal, and the visible bolt heads on these are neatly recessed.
The layout used is a cookie-cutter form with the volume rocker and power/fingerprint reader on the right and the SIM tray and custom button on the left. As with most rugged phones that use it, this layout is biased towards right-handed users and not those who are left-handed.
The camera cluster is oddly set to the top left when viewed from behind, placing the main 50MP sensor centre approximately 24mm from the centreline of the phone body.
This position might need some adjustment for those taking pictures, but due to a gentle curve of the underside, the sensor cluster projection doesn't stop the phone from lying flat.
That it can lay flat is essential, as it supports wireless charging using the Qi standard, but not the usual 15W, but the higher 33W level.
For those wanting to charge even faster, the USB-C port is the weapon of choice, as this allows 66W mode using the PSU that Blackview includes with its phone.
This port is covered with a rubber plug that needs to be removed every time it is charged this way, and therefore the wireless charging option might be preferable.
We'd also like to comment that the rubber plug on the BV9200 is small, and the space it offers for USB charging cables is narrow. When we first took this phone from its box, we tried to attach it to a typical USB-C cable, and it wouldn't fit. The assumption is that the connector approach is this narrow to avoid water or dust getting in, but being forced to find the narrower USB-C cable that came with it isn't ideal.
To summarise the design of the BV9200, there isn't any remarkable about it, but equally, no horrible mistakes. It might have been a little better, but it could also have been much worse.
Design score: 4/5
Blackview BV9200 features
High spec platform
Modest battery
No audio jack
Specs
The Blackview BV9200 that was sent to us for review came with the following hardware:
CPU: MediaTek Helio G96
Cores: Octa-core, Dual-core 2.05 GHz Cortex-A76, Hexa-core 2 GHz Cortex-A55
GPU: Mali-G57 MC2
RAM: 8GB LPDDR4X
Storage: 256GB +MicroSD
Screen: 6.58-inch IPS LCD 120Hz
Resolution: 1080 x 2408
SIM: Dual Nano SIM (+microSDXC)
Weight: 310g
Dimensions: 174 x 82 x 13.6 mm
Rugged Spec: IP68, IP69K and MIL-STD-810H
Rear cameras: 50MP + 8MP + 0.3 MP
Front camera: 16MP
Networking: WiFi 5, Bluetooth 5.2
Mobile Network: 2G/3G/4G
OS: Android 12 (Doke-OS 3.1)
Battery: 5000 mAh
Colour Options: Black, Green, Orange
Chinese phone makers love MediaTek SoCs for commercial reasons, and Blackview uses them exclusively in its latest designs.
What is slightly odd is where many phone makers are going with the Helio G99 or even the Dimensity 900, but the BV9200 has the scaled-back Helio G96. This silicon has seen some use in the Doogee S99, POCO M4 Pro and Xiaomi Redmi Note 11S, to mention just a few.
Like the Helio G99, this is an eight-core design that has two Cortex-A76 performance cores alongside six Cortex-A55 efficiency cores and the same Mali-G57 MC2 GPU.
The only major computing platform difference is that the performance G99 can clock its Cortex-A76 parts up to 2.2GHz, whereas the G96 is capped at 2.05 GHz. The Cortex-A55 cores run at 2 GHZ on both chips.
While not the very fastest SoC that MediaTek makes, the G96 is powerful enough for most purposes.
Another strong point in the specification is the screen. This IPS panel offers strong colors, a good resolution and up to a 120Hz refresh along with 90Hz and 60Hz, and it is well protected from accidental damage with a layer of Corning Gorilla Glass 5.
Where the BV9200 is less impressive is in the networking, cameras and battery specifications.
For example, the wireless networking on this phone is only WiFi 5, although it is Bluetooth 5.2, thankfully.
The camera selection is curious, as we've not seen another phone with this exact combination. While the primary 50MP camera and optics look decent, typically, we see them alongside 16MB supporting sensors. But here, the wide-angle option is just 8MP, and the depth of field sensor is 0.3MP, making it remarkably low res.
As we'll cover in more detail below, these curious choices don't impact the quality of the results, but they do seem to fly in the face of what other phone makers are doing.
A rugged phone only having 5000 mAh of battery capacity does seem on the low side, especially for those wanting to take this device on a long hike away from mains power.
That said, it is possible to carry charging packs or solar collectors to extend its operation, and when you do encounter power, the BV9200 can charge up remarkably quickly.
One final feature note is that this phone has no 3.5mm audio jack, and Blackview didn't include an adapter to use the USB for headphones. These are cheaply bought, but it is worth noting that an adapter will be required.
Blackview BV9200 cameras
Plenty of performance
Adequate for games
Four cameras in total
No night vision or thermal
The Blackview BV9200 has four cameras:
Rear cameras: 50MP f/1.8 Samsung ISOCELL JN1 (Main), 18MP (8MP ultra-macro) GalaxyCore GC08A3, 0.3 MP (depth sensor)
Front camera: 16MP Samsung S5K3P9SP (wide)
Despite a somewhat odd combination of sensors, the camera on the BV9200 performs admirably. The main sensor might be 50MP, but the maximum image size that is captured is 13MP in a 4:3 ratio, making the files significantly smaller. Having more sensor pixels than those on the output results is some crisp and colour-accurate results.
Our only complaint is that getting the best images requires good lighting, as the focus is poor in less-than-ideal lighting conditions. This issue is especially true of the night vision mode, something we'd avoid using.
But for daylight photography, it is possible to get some excellent captures that are generally free of optical aberrations and colour shifts. For those wanting the best results, we recommend Beauty mode and the HDR options since these make the best use of the ArcSoft True-Chroma software working behind the scenes to extract the best image fidelity.
The ultra-macro mode gets to within about 10mm of the subject, and the beauty mode has a depth control with ten levels of impact.
Probably one of the best features of the camera is that it will shoot video at a resolution above 1080p. It can record 2K or, more accurately, 1440p, aka 2560 x 1440 video.
The only downside of that functionality and video capture is that no controls are provided for frame rate. It's 30fps at all resolutions, with no other choices.
The phone camera application does have H264 or HEVC encoding, balancing the options for the greatest compatibility with the most efficient encoding. And, image stabilization is always available irrespective of capture resolution.
Overall, the camera on the BV9200 is better than anticipated, and unless you need night vision or some other special sensor modes, it does a reasonable job.
Camera samples
Image 1 of 10
Blackview BV9200 performance
All-round performer
Strong GPU
Power and efficiency
Benchmarks
This is how the Blackview BV9200 performed in our suite of benchmark tests:
Geekbench: 505 (single-core); 1718 (multi-core); 1494 (OpenCL)
PCMark (Work 3.0): 8960
Passmark: 8727
Passmark CPU: 4382
3DMark Slingshot: 3305 (OGL)
3DMark Slingshot Extreme: 2410 (OGL); 2298 (Vulkan)
3DMark Wild Life: 1139
Overall, the performance of this phone is excellent, and the 120MHz mode of the display makes the interface seem even smoother than normal.
If we compare the G96 used in the BV9200 with a G99-powered phone, the difference is about 10% lower across most benchmarks, but in some tests, it is much, much closer.
The PCMark 3.0 test, as an example, scores 8727 on the BV9200 and 9176 on the Ulefone Armor 17 Pro, a difference of just 5%.
To get significantly better performance than this requires the Dimensity 900 powered phone, and those cost more than double the asking price of the BV9200.
The graphics performance of this SoC will work for most mobile games, even if it's only about 60% of the power that the Mali-G68 MC4 used in the Dimensity 900 SoC can output.
Understanding the wide range of capabilities, game creators tend to create predefined quality settings for specific SoCs and screen resolutions, and the BV9200 has enough visual performance that this shouldn't be an issue.
The only issues you might encounter are those related to the lack of Widevine L1 encryption, a standard that many of the branded streaming services use to deliver their content to TVs and mobile devices.
Blackview only offers an L3 security level on the BV9200, reducing the streamed quality of most services to 480p (640 x 480), irrespective of the screen size.
But in some services, such as watching some, but not all, streamed movies through Google TV, possibly due to a mistake when the OS was compiled, movies appear with a large black border around them, and no icon appears to rescale them to the full display.
The lack of Widevine L1 and inconsistent scaling issues make the BV9200 unsuitable for watching TV shows and movies on this phone, despite the screen being suitable for this purpose.
Blackview BV9200 battery
66W Fast charging
33W Qi charging
The SoC in the BV9200 is highly efficient and can make the most of the battery capacity, even if it is only 5,000 mAh. For a typical smartphone, that would be plenty of battery, but for a rugged design, it's on the light side of what is often provided.
That said, you should be able to get more than six hours of movie streaming on a single charge, and on standby, it should last 500 hours on standby and 37.5 hours calling.
But where the BV9200 has the advantage is when it charges. Because it has two charging options, and both of them get the phone ready to travel quickly.
For conventional USB-C charging, when empty, it can utilise the 66W charger Blackview include with the phone. That enables it to grab 20% of the power capacity in 5 minutes and be fully recharged in around 53 minutes.
Conversely, the 33W wireless charging option takes approximately twice as long, but it is still much faster than most wireless charging phones, as they usually only support 15W mode.
To be concise, the battery on this phone could be bigger, but making it this size makes the phone light and also enables it to charge quickly.
Like the Ulefone 17 Pro, the Blackview 9200 provides an excellent alternative to the brick-like rugged phones that are heavy and somewhat impractical.
The SoC is a good choice, with plenty of RAM and storage. The camera seems somewhat quirky but delivers good results, and given the hardware in this phone, it is competitively priced.
What is less wonderful is the Doke-OS version of Android and all the apps you never asked for, and that it is 4G in a world that is increasingly 5G.
For those wanting to go into the wilderness and not take an iPhone, the Blackview BV9200 is an affordable choice. With the exception of the battery capacity, it is built for that job.
Blackview BV9200 score card
Swipe to scroll horizontally
| Attributes | Notes | Rating |
| --- | --- | --- |
| Value | Plenty of phone for the asking price | 4/5 |
| Design | Thin yet substantial, much like the Ulefone 17 Pro | 3/5 |
| Features | No 5G technology, only WiFi 5 and no audio jack. | 4/5 |
| Performance | Most of the performance of a G99 SoC, but lower cost. | 4/5 |
| Camera | Good quality still images and 2K video | 4/5 |
| Battery | Battery is small by rugged standards, but it charges fast | 4/5 |
| Overall | An interesting and practical option that has many virtues, not least the price. | 4/5 |
Should I buy a Blackview BV9200?
Buy it if...
You often drop phones
A resilient phone that can handle the environment well, but please don't drop it into water deeper than 1.5m, as it won't float.
Price is important
We'd all buy premium phones if the price wasn't a factor. The BV9200 is an affordable phone with decent specifications for those that like to get good value.
You like rugged phones that aren't heavy
While it might have a smaller battery, this is a practical, rugged design that doesn't feel like a blunt instrument to hold.
Don't buy it if...
5G is important
This design doesn't support 5G of any variety, although it does support LTE for those with that service available.
Battery life is paramount
If you will be hiking for weeks without power, then this isn't the ideal phone. The battery life is better than a normal phone, but rugged designs with double or even quadruple as much battery are available.
You intend to watch streamed content
The lack of Widevine L1 reduces most streamed content to 480p, so even if it has a good quality and high-resolution screen, using it for Netflix or Disney+ won't yield high-resolution results.
Also consider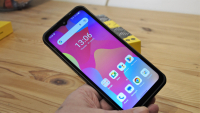 Ulefone Power Armor 17 Pro
A cheaper design but with a decent SoC and the same 108MP Samsung camera sensor, but you trade down to 4G comms and half the battery capacity. A good phone for the price, but maybe not V30 great.
Read our Ulefone Power Armor 17 Pro review for more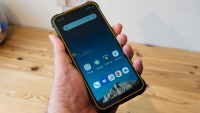 AGM Glory G1S
A Qualcomm Snapdragon-based design with plenty of useful features, including thermal vision. However, it is much more expensive, only offers a 48MP primary camera sensor and only works on T-Mobile only in the USA.
Read our AGM Glory G1S review for more information.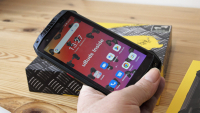 Ulefone Armor 15
An attractive design with a secret bay to hold and charge included Bluetooth headphones. Unfortunately, it doesn't offer 4K video and has a smaller battery, but it costs less and comes with earbuds. It's an option.
Read our Ulefone Armor 15 review for more information.
Mark is an expert on 3D printers, drones and phones. He also covers storage, including SSDs, NAS drives and portable hard drives. He started writing in 1986 and has contributed to MicroMart, PC Format, 3D World, among others.