AyaNeo Air Plus: Two minute review
AyaNeo is making PC handhelds as fast as you can buy them. It seems only a few weeks have passed since we looked at the gorgeous AyaNeo 2, another excellent handheld gaming PC. Yet, here we are with the all-new AyaNeo Air Plus device — available in several different configurations, no less, and all very exciting.
The flagship version I've been testing packs in the same AMD Ryzen 7 6800U chipset that we saw in the more-premium AyaNeo 2, but in a smaller form factor that makes it a far more comfortable device for portable play. As a result, for my money, this is currently the best handheld gaming PC on the market. It offers the same AAA performance of the AyaNeo 2, at a price point closer to the Steam Deck, but in a device that's just simply more comfortable to play for extended lengths of time by virtue of its compact design, fronted by a 6-inch 1080p display.
The end result is something quite special — a truly portable gaming PC capable of better performance than the Steam Deck, with full-fat Windows 11 to play about in. Yes, it remains more expensive than Valve's handheld, and the Steam Deck is the recommended option for those who want a more console-like experience. But for those that are willing to trade a degree of convenience in favor of frame rate, resolution and portability, the AyaNeo Air Plus is an incredible device.
AyaNeo Air Plus: Price and availability
How much does it cost? Starts at $599 (model reviewed RRP $979)
When is it available? Available now in Glacier Blue, Starlight Black and Classic Grey
Where can you get it? Available online direct from AyaNeo, with third-party retailers to follow soon
AyaNeo Air Plus: Specs
Here is the AyaNeo Air Plus configuration sent to TechRadar Gaming for review:
CPU: AMD Ryzen 7 6800U
RAM: 32GB LPDDR5 6400 (16GB option available)
SSD: 512GB (1TB and 2TB options available)
Size: 237mm X 91.4mm x 23.1mm
Weight: 525g
Screen: 1920 x 1080 / IPS / 6-inch / 400nits / 368 PPI / Touch-enabled
Input: Hall sensor joysticks / Hall sensor triggers / Fingerprint scanner
Battery: 46.2Wh / PD3.0 65W Fast Charge
Connectivity: Wi-Fi 6 / BT 5.2 / USB-C (USB 4) x 2 / Micro SD
OS: Windows 11 Home
The AyaNeo Air Plus starts at an affordable $599 for its lower-powered models, but to get into the Steam Deck-beating territory, it stalks, you need to cough up for the premium AMD Ryzen 7 6800U model. At that point, you've comfortably got a machine that outperforms Valve's model — at a significantly higher price, of course, which is fair enough, considering Valve helps to subsidize Steam Deck costs through Steam store game sales. In terms of value, you'll likely get more pure gaming mileage with a gaming laptop of similar cost, and more functionality with keys and trackpad too. But you'll lose the magic of it being a truly handheld machine along the way. And this is still cheaper than the premium AyaNeo 2, despite near-identical internal specs delivering the same fantastic AAA PC gaming performance.
AyaNeo also offers other variants of the Air Plus in less powerful configurations, including Intel Alder Lake Core i3 1215U builds starting at $649, and additional AMD Ryzen 3 7320U and Ryzen 5 7520U variants starting at $599. Each offers either 128GB or 512GB SSD storage, and 8GB or 16GB of LPDDR5 storage. All other specs remain the same.
AyaNeo Air Plus: Design
Great size for a Windows portable
Ergonomic controls
Premium Hall sensor triggers and sticks
AyaNeo has had a fair few goes at creating handheld PCs at this point, and the refinements it's been making along the way are really starting to pay off. While this is not as luxurious as the AyaNeo 2, instead designed to land at a more affordable price point, I'd argue this is the better machine for portable play in many ways.
That's in large part because of the screen size. The AyaNeo Air Plus opts for a 6-inch touch display compared to the 7-incher on the AyaNeo 2. Both are gorgeous; rich IPS displays with contrast ratios and color depth to rival an OLED panel. But the smaller screen on the Air Plus facilitates an overall smaller, lighter design, making it far easier to play and hold for longer play sessions. It puts the oversized Steam Deck to shame in this respect. And, as I'll discuss in a bit, it also helps to increase battery life. Interestingly, the brightness steps on the AyaNeo Air Plus feel a little… off? After about 30% brightness, you're so close to max visible brightness that I rarely went above that value, so it doesn't seem worth any potential battery trade-off to go any higher. Regardless, it's a sharper, brighter display than you'll find on a Steam Deck, even before you hit the halfway mark.
Not every difference in design next to its pricier AyaNeo 2 stablemate is for the better: you've only got two USB-C ports (one on the top edge, one on the bottom) compared to the three found on the AyaNeo 2, and the sticks are inferior Joy-Con clones rather than the Xbox-like sticks on the AyaNeo 2. But again, in service of a smaller overall device, they're smart choices, and the drift-free Hall sensors are still present in the sticks for accurate control. Each has an adjustable RGB light underneath, too.
It's ergonomically very comfortable, and more traditional in size and shape than the Steam Deck. A slight curvature to the back shell where your palms sit lets your fingers hug the AyaNeo Air Plus without cramping (though it is a fingerprint magnet on the rear), and shoulder and trigger buttons are in easy reach, with just the right amount of travel and clickiness. Those triggers are analogue compatible too, again with Hall sensors, letting you dial in fine input — perfect for, say, revving an engine at just the right speed in a racing game like Forza Horizon 5. The D-Pad pivots well, and gives you the precision you need for platformers and brawlers. Start and select buttons sit under the D-Pad on the left, and X, Y, A, and B buttons sit above the right stick — buttons a little smaller perhaps than we'd like, but again in service of added portability.
There's a few extra buttons that you won't usually find on a traditional console handheld here. Next to the shoulder buttons are two clicky hotkey buttons that can be configured for whatever use you see fit —say, for instance, bringing up the onscreen touch keyboard, or Task Manager. Then below the right stick are two circular buttons, one larger than the other. The bigger opens up the Aya Space game launcher and device settings software with a long press, while a short press brings up an overlay for quick settings like TDP, brightness and volume control. The smaller button is configurable, but I left it as its default 'Show Desktop' function, which is always handy. Up top is a power button which also doubles up as a fingerprint scanner — it's far, far more reliable than that seen on the AyaNeo 2, thankfully.
That top edge is capped off by a thin horizontal volume rocker, a mic spot, the first of the USB-C ports and a large exhaust vent, pushing out air pulled in from a fan intake grill on the rear of the device. The lower edge houses the AyaNeo Air Plus's stereo speakers, the second USB-C port, a 3.5mm headphone jack and a microSD slot, covered by a flap. Those speakers are reasonably loud, and won't be drowned out when the fans need to kick in.
AyaNeo Air Plus: Performance
Great AAA gaming performance
Better-than-expected battery life
Could be quickly overshadowed by a growing number of rival devices
Though it's not packing discrete graphics, the superb performance of AMD's Ryzen 7 6800U chipset, paired with the 32GB of RAM in our review unit, means that the AyaNeo Air Plus can handle any game I throw at it. Yes, you may need to dial the resolution down a tad, drop the graphical presets to lower settings, and accept that you won't get Cyberpunk 2077's ray-tracing 'Overdrive' mode running here. But if you've ever dreamed of playing Elden Ring on the toilet (or should that be the nightmare?), the AyaNeo Air Plus makes that possible at solid frame rates.
Performance in many aspects is similar to that of the AyaNeo 2: though that's a more premium device in its external design, reflected in its pricing, the internal specs are essentially identical.
As you'd expect, indie games like Hades and Night in the Woods will easily play at 1080p / 60fps without the AyaNeo Air Plus breaking a sweat, with a sweet spot between 5W and 8W for 2D titles and retro 3D games. Cranking things up a notch, a 10W TDP and 720p resolution saw an enjoyably stable 30fps for Grand Theft Auto V on medium settings — an experience that could scale to 60fp or higher resolutions with ease at a higher TDP (at the expense of battery life). Similar fun could be had with The Witcher 3 at a 30fps cap on Low settings at a 720p resolution by pushing the TDP on the chipset up to 20W — a superior handheld experience compared to the Nintendo Switch port, for instance. Those that are wanting to dabble with emulation will have a great time, too, with upscaled PS2 and Gamecube easily achieved across the vast majority of titles, and even solid performance with platforms as demanding as the PS3.
Where the AyaNeo Air Plus beats out the AyaNeo 2; however, by some distance is in battery life. With a smaller 6-inch display, the Air Plus is less power-hungry, and given that the smaller screen size facilitates a smaller handheld overall, that, combined with battery improvements, makes for a better device all around, in my opinion. Lower-end games, such as indies or retro titles, will happily run for between 3 and 4 hours at a 1080p resolution and between a 5W or 8W TDP, while an online shooter like Destiny 2 can get upwards of two hours of play at 720p and a 30fps cap. The real top-tier titles, like the PC God of War port, is still going to push the AyaNeo Air Plus to its limits in terms of battery life. But if you're conservative in your settings, you can still eke out close to an hour and a half of play before the battery throws in the towel.
As has become the norm with PC portables, your mileage will vary based on your stomach for lower frame rates and resolutions versus battery life. You will have to be prepared to tweak TDP settings to find the happy balance you're comfortable with. This isn't quite pick-up-and-play, then, though honestly, PC gaming in any form factor never has been. But the compromise feels much fairer here than with its AyaNeo 2 predecessor. In portable PC terms, this is as good as it currently gets.
Just how long the AyaNeo Air Plus sits on top of the PC gaming handheld pile is debatable. However — as AyaNeo's own recent, busy product roadmap shows, this is a product category growing at an incredible rate. Competition is landing thick and fast, and devices like the upcoming ASUS ROG Ally will give the AyaNeo Air Plus a run for its money. For now, however, the AyaNeo Air Plus is leading the pack.
AyaNeo Air Plus: Software and features
The AyaNeo Air Plus runs full-fat Windows 11 Home, meaning you can dig around in the back end of Microsoft's operating system with impunity. If you want to install any and every Windows application, fire up a Word document or even run your business, nothing is stopping you from doing that on the AyaNeo Air Plus.
That's a double-edged sword, however. Despite technically supporting touch input, it's still an operating system best navigated with a keyboard and mouse, and AyaNeo's efforts to translate that to touch, stick and face button mappings is admirable but ultimately flawed. Likewise, its Aya Space frontend, which acts as both a game launcher and hardware setting configuration application, is better in theory than in practice. It is not quite a match for the Steam Deck SteamOS experience, let alone something as well polished and focused as the Nintendo Switch operating system. The shortcut overlay, accessed by pressing the AyaNeo logo 'Home' button on the device, is more useful, though, letting you quickly tweak fan settings, TDP draws to eke more power from the device, as well as resolution settings, brightness, volume and quick-launch buttons for apps or features like the onscreen keyboard.
Should you buy the AyaNeo Air Plus?
Swipe to scroll horizontally
| | | |
| --- | --- | --- |
| Attributes | Notes | Rating |
| Value | You get a lot of power here, but the Steam Deck is still unbeaten on price | 3.5 / 5 |
| Design | A truly portable handheld PC with comfortable controls and smart features | 4.5 / 5 |
| Performance | This is about as good as portable handheld gaming gets currently | 4.5 / 5 |
| Average rating | Were it not for its software, the AyaNeo Air Plus would be a perfect handheld gaming PC | 4.5 / 5 |
Buy it if...
You want relatively powerful PC gaming on the go

This is a handheld PC with as much power as you can currently fit into a device this size, making for a great gameplay experience.
You want your mobile devices to actually feel portable

The size and shape of the AyaNeo Air Plus makes it far easier to actually travel with, without compromising comfort.
You are comfortable with Windows

AyaNeo Air Plus gives you access to the full functionality of the Windows operating system — and all the potential that brings with it.
Don't buy it if...
You're on a tight budget

You'll get a 'good-enough' handheld PC gaming experience from a Steam Deck, but at a much cheaper price.
You want a more console-like experience

The Aya Space software isn't good enough to keep you from having to delve back into Windows constantly.
You want to be able to get real work done on your gaming PC

If that's the case, you may want to pick up a keyboard-equipped gaming laptop instead.
Also Consider: Valve's Steam Deck
If our AyaNeo Air Plus review has you considering other options, you should consider…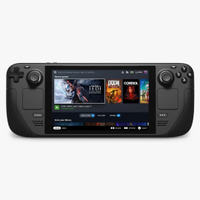 A superb mobile PC gaming handheld from the brains behind Half-Life and the top PC gaming storefront Steam, Valve's Steam Deck magically manages to put AAA PC hits into an on-the-go form factor with well-optimized custom software and at a price point that won't break the bank.
Specs: CPU: AMD Zen 2 four core 2.4-3.5GHz / Graphics: AMD RDNA 2 / RAM: 16GB LPDDR5 / Screen: 7-inch, 1,280 x 800 touchscreen, 60Hz / Storage: 256GB PCIe SSD / Ports: USB-C, 3.5mm headphone jack, microSD / Connectivity: Wi-Fi 5, Bluetooth 5 / Weight: 1.47 pounds (0.67kg) / Size: 11.73 x 4.6 x 1.9 inches (29.8 x 11.7 x 4.9cm; W x D x H)
How I tested the AyaNeo Air Plus
Review test period: two weeks
Gaming across Steam / Epic Games. AAA games and indie titles
Light web browsing and general Windows PC tasks
Over the course of two weeks testing the AyaNeo Air Plus, I played a range of modern, classic, indie, and AAA PC gaming titles, ranging from everything from Cyberpunk 2077 to Star Wars: Knights of the Old Republic II: The Sith Lords. I even played some retro titles via emulation software.
Though it's pricier than the Steam Deck, the AyaNeo Air Plus justifies that by being the superior machine in many ways. For example, it's more powerful, has a more comfortable form factor, and has better specs in key departments, including screen quality. Its only drawback is its software, which hasn't been as perfectly optimized for handheld play in the same way that the Steam Deck equivalent has. Having said that, you get far more flexibility with the native full-fat Windows on offer here.
Working as a technology and gaming journalist for more than 15 years, I've tested (and in many cases owned) every major games console since the SNES, dozens of gaming PCs, and reviewed countless games along the way. I'm a regular gamer at home across Xbox Series X, PS5, and Nintendo Switch consoles, and I have my own gaming PC equipped with the latest generation of Intel processors and an Nvidia RTX 3080 GPU. I've also tested many of the new wave of gaming handhelds, including devices from Ayn, Anbernic, PowKiddy, and other AyaNeo models.