Managing the modern workspace in a 'modern' way
A different approach to managing the modern workplace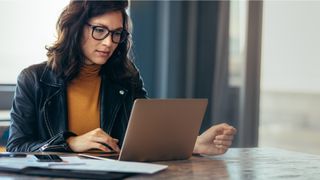 (Image credit: Jacob Lund / Shutterstock)
The so-called modern workspace requires a different approach when it comes to managing it. This has to do with the fact that this modern workspace should be flexible, hybrid, user-centric and secure, while providing an optimal user-experience. Traditional workspace management (based on patching, image management and client management tools) no longer fits this hybrid form of the workspace. For instance, fast and frequent security updates are almost impossible and the IT-admin burden created by the use of different devices/Windows versions/contextual requirements, is almost undoable. By looking look at the workspace as a modular concept instead of a monolithic concept, you can define several layers and decouple them from each other. You can then start managing them separately (platform, OS, security, applications, users, monitoring, etc.).
Why should you manage the modern workspace in a 'modern' way?
If a workspace is set up differently from what we are used to, then this also requires something different from the traditional management organization. But what exactly characterizes this modern workspace? Why is traditional management no longer sufficient? And what exactly does 'modern management' mean? This article hopes to provide some insight into answering these questions.
Andreas van Wingerden is a longstanding contributor to the EUC community. He spent 20 years at Citrix before joining Liquidware.
What makes the modern workspace actually "modern"?
The whole IT world is talking about it: the modern workspace. Often thought of as a fully digital workspace that allows for anytime, anywhere access to everything a user needs to be productive. Or as Microsoft itself says: "empower users to work the way they want." You could also call it a flexible workspace. Because what really makes the modern workspace different from its predecessors is the degree of flexibility: it is not always built the same way, it is not always used the same way, and it does not have to stay the same for a long time. Committing yourself to a specific supplier for years is, therefore, no longer desirable, because who knows what we will need from a digital workspace two years from now? In short, the modern workspace is a digital environment in which you can always do your work securely, via any device, and which flexibly accommodates for future requirements, whatever they transpire to be.
How we performed traditional workspace management
Gartner has a clear vision of the difference between 'traditional' and 'modern' workspace management. They suggest that traditional management encompasses things like image management, patch management, group policies and software distribution, supported by Client Management Tools (CMT). This is shifting to an intermediate form in which app stores, configuration policies and provisioning also play a role. Gartner calls this 'Co-Management'. We then move on to 'Modern Management', where all the aforementioned components fall together like pieces of a puzzle, creating room for 'auto-remediation', all supported by Unified Endpoint Management (UEM). If we then summarize all these concepts, it comes down to: we are moving from 'managing groups of PCs in the office' to 'managing individual endpoints everywhere'.
What we no longer need
Within traditional workspace management, Image Management and Packaging often play a central role. Every update involves a whole process: breaking open the Golden Image, updating the application, repackaging, incorporating it into the image and distributing it again. And, if it hasn't gone well, roll back everything to start all over again. With the proliferation of contextual factors (because, in the modern workspace concept, endpoints are becoming increasingly individual), this leads to a proliferation of Images, software versions and 'application policies', which make this already tedious chore increasingly labor-intensive and, therefore, expensive
If we compare this against the characteristics of a modern workspace, such as 'secure' and 'via any device', we run into limitations. For instance, fast and frequent security updates are almost impossible and the management burden created by the use of different devices/Windows versions/contextual requirements is almost unfeasible. Therefore, what we no longer want is to view the workspace as something monolithic, in which we make long-term choices, while accepting a continuous high management burden. What we do want is to deal flexibly with the workspace, its users and future developments.
Modern Management in a nutshell
The core of Modern Management is that we no longer focus on a 'one size fits all' workspace, but a modular workspace and to manage it as such. In this, there are several layers that we should decouple from each other and start managing uniformly, regardless of the platform:
Platform Layer: the delivery platform - often a hybrid combination of physical, virtual and/or cloud.
OS Layer: the version/edition of the Windows Desktop or Server OS used.
Security Layer: the conditional control you apply to all upcoming layers.
Application Layer: how applications are delivered to the workspace.
User Layer: a module for the user environment (profile and policy management).
Monitoring Layer: a module for endpoint analytics.
By decoupling the layers from each other, they can be managed as individual modules and thus become interchangeable. Is the Windows OS layer changing versions? Or does the delivery platform move to the cloud? Then the remaining layers can be maintained as they are and then simply communicate with the updated OS. This delivers big gains in day-to-day management and makes workspace management future-proof. The latter is very important at a time when we need to be able to move quickly whilst preserving our previous investments.
Are you a pro? Subscribe to our newsletter
Sign up to the TechRadar Pro newsletter to get all the top news, opinion, features and guidance your business needs to succeed!
Andreas van Wingerden is a longstanding contributor to the EUC community. Having spent 20 years at Citrix before joining Liquidware, Andreas is passionate about at helping his customers make things better.