Multi-cloud trend driving business resilience for data management
Why companies are moving to multi-cloud environments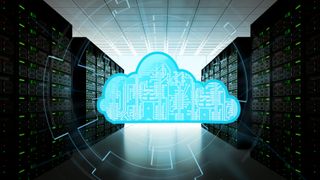 (Image credit: Shutterstock/Virgiliu Obada)
Multi-cloud has become the IT infrastructure of choice. Rather than relying on one or two providers, as they might have done in the past, CIOs are now buying cloud services from a range of specialists – and it's an approach that serves the modern business well.
For CIOs, the benefits of multi-cloud are manifold: they can select a provider that best meets each business use case; they can take advantages of economies of scale and work with the specialist that offers the best service at the best price; and – perhaps most crucially of all – they can spread the risk associated with a traditional reliance on a single IT vendor.
However, while multi-cloud brings big benefits, using the strategy effectively also involves overcoming challenges. Using a range of providers brings complexity. Multi-cloud leads to new management requirements, particularly when it comes to costs and data security.
Those challenges will increase with enterprise reliance on the cloud. Companies are now 17 times more likely to boost their cloud investment than cut it, says analyst Gartner, which predicts global cloud spending will reach $600bn in 2023, up from $491 billion in 2022.
As recruiter Harvey Nash warns in its annual global leadership survey, CIOs must be cautious and ensure that a rush to multi-cloud provision doesn't simply lead to "a descent into chaos". If your company wants to make the most of multi-cloud, then it needs a next-generation approach to data management that's ready for the on-demand world.
Mark Molyneux is EMEA CTO at Cohesity.
Why are companies moving to multi-cloud environments?
The shift is an opportunity to break free from staid outsourcing arrangements. In the past, companies traditionally relied on mega deals with outsourcing giants to help manage IT infrastructures. While these deals provided a way to keep IT running, they were also costly to the business and involved tight contractual requirements.
Multi-cloud arrangements offer the complete opposite – you can pick and select from a broad range of providers and scale provision up and down flexibly as business requirements change. In sharp contrast to the past, cloud arrangements involve agreements with a host of specialists to help ensure companies get the best provision for the services they require.
Picking best-of-breed providers also helps companies to reduce risk. Go with one service provider and your business could find itself in trouble if it is unable to run its operations or service its customers. Multi-cloud can help to boost business resilience by spreading provision across a range of trusted partners.
What are the challenges that come with multi-cloud provision?
Managing multiple cloud providers is far from straightforward. Rather than having one throat to choke, IT managers are left with a whole series of provider relationships to juggle, with issues around workloads, performance, and costs that each cloud partner brings.
Making the most of multi-cloud is also complicated. CIOs might envisage boosting resiliency by hosting software in multiple places, but building applications to use multiple clouds is hard, says analyst Forrester. There can be massive inefficiencies and redundant tasks from managing multiple versions of the same application across clouds.
Then there's the thorny issue of tracking all those services. It's so easy to turn on and scale up cloud provision that many businesses now struggle to know which instances are running. That scale brings cost implications, but also massive security concerns. If you don't know an instance is running, how can you manage the threat that a cyberattack might bring?
Finally, what about when you scale down or turn off a cloud service? How can you be sure that you've repatriated your data successfully? You'll need to know where your data resides, not just because of data security but also in terms of regulatory concerns and the need to keep employee and customer information backed up and safe.
How can your business manage multi-cloud complexity?
First things first: don't rely on your cloud provider to manage your data. Yes, most of the evidence points to cloud services being more resilient than in-house provision, but that doesn't mean you should rely on their high availability. Recognize that every one of the major cloud providers has experienced outages at some stage.
Instead, work with an expert partner to ensure cloud and data use is managed effectively. Look for a centralized data management solution that lets your business manage its data – whether it's in the cloud or in the data canter – through a single administrative interface.
Rather than relying on a self-managed backup solution, disaster recovery-as-a-service (DRaaS) solutions mean your provider focuses on managing the infrastructure. So, while your partner takes the strain of ensuring cloud data is backed up and resilient, your team focuses on policies for effective data use and the valuable exploitation of that information.
Building a centralized data management solution also helps ensure security is prioritized. A DRaaS solution will help your business to detect, protect – and if the worst happens, such as a ransomware attack – to recover cloud-based data quickly and effectively.
The rise of the cloud means your data can be anywhere and everywhere. Your business needs a next-generation approach to data management to give it the surety to know its information is backed up, resilient and protected.
Are you a pro? Subscribe to our newsletter
Sign up to the TechRadar Pro newsletter to get all the top news, opinion, features and guidance your business needs to succeed!
Mark Molyneux is EMEA CTO at Cohesity.