UPDATE: We've now published our Call of Duty: Warzone review! Check it out for a full run-down of why we felt it deserved a full five stars, or read more about the game's modes, maps, and Battle Pass below...
Call of Duty is expanding its repertoire, with a new, free-to-play battle royale game called Warzone that supports 150 players at a time, and is set to release Tuesday, March 10 at 12pm PT / 3pm ET / 7pm BST for Xbox One, PS4 and PC.
The game's announcement came on March 8 – though not, at first, from Activision or Infinity Ward itself. Gamers were treated to an 11-minute video from streamer Chaos, who seems to have got, in his own words, "exclusive gameplay" of the brand new Warzone title coming from the Call of Duty publisher.
The video has since been taken down – likely as it preceded any official announcement from Activision – and has since been replaced by an official statement and trailer from the Call of Duty Twitter account:
#Warzone.Free to play for everyone.Drop in tomorrow March 10th. #FreeCallofDuty pic.twitter.com/URU1Yg4wjkMarch 9, 2020
What is Call of Duty: Warzone?
Warzone is a "free-to-play, battle royale game [...] that you can download and play for free." So far, so Fortnite – and Activision is no doubt seeking to cash in on the battle royale trend in a similar vein to Respawn's Apex Legends, which launched in early 2019.
Warzone, however, will support up to 150 players in a single session, giving it significantly more scale than the 100 players in Fortnite, or the 60 in Apex Legends. There'll also be a lot more vehicles, with tanks and other kinds of ground transport looking to shake up the action – as well as a creative spin on respawning called Gulag, which puts fallen soldiers in a jail facility of some kind that they need to shoot their way out of, for the chance to return to the primary map for a second time.
Gulag seems like the most interesting shake-up of the battle royale, here, with the central mechanic of parachuting into a map, looting for weapons and upgrades, and killing everyone in sight, not exactly being new territory these days.
We already have a Call of Duty battle royale mode, of course – Blackout mode in COD: Black Ops 4 – but the difference here is that Warzone won't require you to purchase a Call of Duty game to play. There'll no doubt be microtransactions of a sort, though we've yet to hear details in that regard.
Is Call of Duty: Warzone cross-platform?
Warzone is on the three platforms you'd expect: PC, PS4, and Xbox One. The game also, however, supports cross-platform play, meaning that you PC players can go head-to-head with gamers on Xbox or PlayStation consoles.
There's no mention yet of Xbox Series X or PS5, but you can be sure Activision will be looking to bring Warzone to the next-gen consoles too when they release.
Is Call of Duty: Warzone free-to-play?
Yes. Mostly. It's a soft yes.
The game itself is free-to-play, though Xbox One players will find it's stuck behind a paywall – and will need to subscribe to Xbox Live Gold in order to access online play through Warzone.
On PC and PS4, however, you won't need any paid subscription to play the game online.
Call of Duty: Warzone Battle Pass
That's right! Warzone will apparently share the Battle Pass on Modern Warfare (2019), meaning you don't need to re-buy access to certain skins, weapons, items, or Operators you've already paid for – and they'll all be available in the new battle royale game.
Progression in both games will be logged for each other, too, so all your hard work in Warzone will be rewarded when you log back into Modern Warfare (2019) too. It's clear Activision is trying to incentivise people to try out Warzone – without necessarily making the earlier game obsolete either.
You'll be given access to the same item shop as Modern Warfare (2019), too, meaning that this free-to-play game will be supported by microtransactions and Battle Pass purchases.
The way you earn and spend in-game currency, though, is slightly reminiscent of the vending machines in the short-lived Radical Heights battle royale game from Boss Key Productions, which didn't make it out of beta.
Kill streaks here are bought, rather than being achieved automatically as you pass a certain number of kills. It looks like you'll have to run to certain buying locations every few kills to cash in on your good streak – meaning there'll likely be a lot of sights trained on these areas.
Call of Duty: Warzone gameplay and modes
What do we know about the gameplay? You'll be playing in squads of three people, apparently, rather than solo.
There'll also be a lot more vehicles than you might be used to in battle royale, with trucks, jeeps, and tanks showing up in the promotional videos we've seen so far.
You'll be parachuting in, as in customary in Fortnite, and the underlying mechanic of shooting enemies, looting items and upgrades, and navigating a shrinking map – this time with a poisonous gas cloud rather than Fortnite's storm – seems largely unchanged.
Respawns are different, however. This time, when you get killed, you'll be able to come back to life via a mini-game or sub-level mechanic called the Gulag. Your avatar is effectively taken prisoner, and has the chance to shoot their way out of the Gulag to freedom, so they can rejoin the main action. You can only do this once in a single game, though.
For now, there are two Warzone modes: one with respawns, and one without.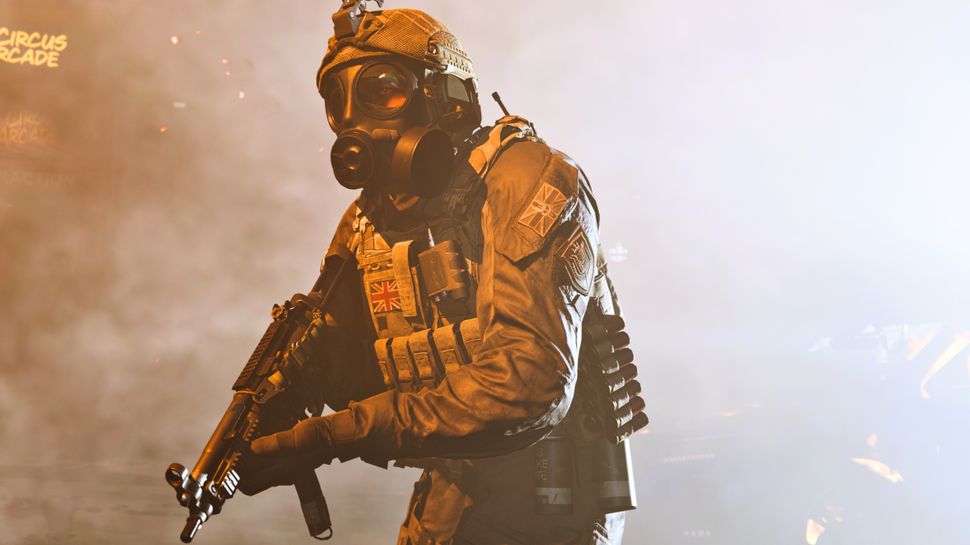 Call of Duty: Warzone news and updates
200 player games, and bigger squads
We heard from Infinity Ward's Patrick Kelly, who stated that 200-player games – rather than the current 150 limit were already possible, and would be introduced at some point in the near future.
"Actually, I can tell you we are already playing with 200 players," he said. "We are going to release that a little bit later" (via GameSpot).
He also let slip on larger squad sizes – specifically "four-and five-player squads" rather than the three-person maximum currently in the game.
Six million players at launch
Warzone is proving popular so far, both with us at TechRadar – given our five-star Warzone review – and the players at home. Six million gamers dropped into Warzone on its first day of release, and those numbers are only set to rise in the coming days and weeks – for as long as the game can keep momentum.
Should I play Call of Duty: Warzone?
Maybe! If Apex Legends or Fortnite are already scratching your battle royale itch, what need do you have of Warzone?
That said, Call of Duty is putting its own spin on a few things, and has some of the smoothest gunplay in the business.
It may be that Call of Duty is a bit late to the game – especially with its reworking of one of Radical Heights' most notable mechanics – and the larger player-size may make it harder to gain momentum on the title in the first place, or more frustrating for players waiting for enough people to log onto a server.
Call of Duty has some pretty incredible brand recognition, though, and may be able to drag Warzone into life on that alone. COD: Mobile exploded in popularity in its first few months, and we may well see a similar success story here.