2015 will be the year cash is dethroned by technology
Payment methods will be transformed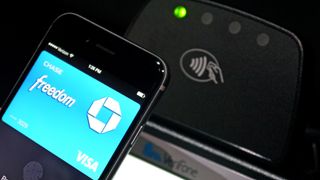 Biometrics, contactless payments, and wearables are among the technologies that will transform the way we pay in 2015, spelling the beginning of the end for cash. This year will be the one during which smartphones start to replace peoples' wallets in earnest, and biometric authentication enjoys the sort of popularity it has only thus far experienced in Asia. Read on for five payment predictions for 2015…
Biometric data, not PIN
Biometrics has enjoyed explosive growth in Asia and it won't be long before it becomes the norm in Britain where novelty, combined with increased security benefits, mean it will have instant appeal. Security isn't the only plus, however, with some retailers already using it to learn more about their customers to provide better service. All it will take is the adoption by one major bank or retailer to reach the tipping point.
Wearable tech will become a reality
Few companies are better than Apple and Google at bringing emerging technologies to the masses and the launch of the Apple Watch, alongside Android Wear devices, will help to make wearable tech a reality in 2015. Other brands will swiftly follow suit and, with the market in wearable technology expected to be worth up to $50 billion (around £33 billion) by 2019, the benefits will soon be felt by both consumers and business alike.
Chinese payment providers come of age
One rarely discussed aspect of China's rise as a global powerhouse is the growth of payment providers such as UnionPay, Alipay and TenPay. The first of these alone has over 3.5 billion cards in circulation and, as China continues to grow and its citizens travel the world – 7 million Chinese tourists are set to visit Europe alone this year – the influence of these companies will grow with it, making them a viable payment method to rival their more established western competitors.
Contactless will leave cash in the shade
We've seen a rise of over 150% in contactless transactions over the last six months and it's a trend that isn't slowing down. In businesses with lots of transactions and where queues can build up quickly contactless is already considered a no-brainer and, with the limit on payments increasing to £30 in the UK next year, 2015 could be when contactless becomes second nature for British consumers.
Smartphones will begin to replace your wallet
With the number of smartphones worldwide predicted to grow to 5.6 billion by 2019, the only surprise is that they have taken this long to impact upon the world of payments. Transactions through mobile digital wallets will reach $1.5 trillion (around £1 trillion, AU$1.85 trillion) by 2017 and the use of Near Field Communication in mobile phones, in particular Apple Pay and Google Wallet, will be instrumental in this growth.
Ron Kalifa is Deputy Chairman of Worldpay
Are you a pro? Subscribe to our newsletter
Sign up to the TechRadar Pro newsletter to get all the top news, opinion, features and guidance your business needs to succeed!