Our favorite iPad card games, turn-based strategy titles, and digital board games.
Tropico ($11.99/£11.99/AU$17.99)
Tropico is a dictator simulator masquerading as a strategy game. Well-known to PC players, Tropico finds you in control of a Caribbean island – and aiming to stay in power at all costs.
The free-form nature of the game affords you various routes to dealing with your people. Resources must be carefully balanced, so you can build the structures that will make hard cash, and keep people entertained and healthy. And if everything kicks off, you must quickly figure out the best way to deal with uprisings.
On iPad, this could all have been a complex mess, but the interface has been cleverly redesigned for touch, providing fast access to key commands through your 'Dictator's Desk'. It's a great addition to a classic title – one that fully showcases the power that's in the hands of any gamer armed with an iPad.
Kingdom Rush: Vengeance ($4.99/£4.99/AU$7.99)
Kingdom Rush: Vengeance is the latest iteration of the best tower-defense game on mobile. This time, you get to play bad guy Vez'nan – a wizard tired of getting repeatedly beaten, and determined to conquer the kingdom.
How conquest and tower defense align is hard to say, but it makes for a great game. As ever, you drop towers in pre-defined spots, unleash special powers, and send a mighty hero into the fray for ad hoc smashing.
Like other entries in the Kingdom Rush series, Vengeance looks great, is finely balanced, and keeps things interesting with new surprises. There is one bad surprise, though, in IAP stinking up the place a bit. However, have patience, learn from your mistakes, and avoid temptation, and you'll find there's no need to pay more – right through to Vez'nan's final victory.
Euclidean Skies ($4.99/£4.99/AU$7.99)
Euclidean Skies is the follow-up to the superb Euclidean Lands, a turn-based strategy game that takes place on floating constructions akin to Rubik's Cubes. In that title, manipulating the landscape is as important as the physical moves the protagonist makes – and that's even more overt in this sequel.
In Euclidean Skies, each individual 'block' within the landscape has the potential to be spun about any axis. This provides scope for brain-bendingly complex solutions, whether battling a gigantic monster by obliterating its spine with rotating chunks of land, or gradually unraveling what was once a flat surface, creating 'arms' to prod switches and fashion bridges to doors.
This isn't an easy game, but it is hugely satisfying when you crack one of its puzzles. And, like the original, it also feels unique, which alone makes it worthy of consideration.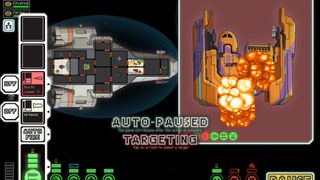 FTL: Faster Than Light ($9.99/£9.99/AU$14.99)
FTL: Faster Than Light is a real-time strategy game that finds you hurtling through space, trying to get essential data to the safety of the federation. Unfortunately, you're being pursued by shooty rebels, and so must keep jumping to new sectors.
Every time you do, surprises await – you might make some cash, or end up in a frantic scrap with pirates. During action scenes, you direct your crew to make repairs, and fling explosives and lasers in your enemy's general direction. At any point, you can pause to take a breather and strategize a bit.
The game is procedurally generated, and so every mission is different. But there are some constants: pitch-perfect controls, a sense of immersion, and palpable tension when half your ship's on fire but you know one carefully aimed shot will obliterate your foe.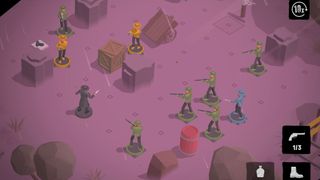 Infinite West (free + $1.99/£1.99/AU$2.99 IAP)
Infinite West casts you as a cowboy in the wilderness, taking down a gang that murdered his family. That hackneyed scenario might put you in mind of a shoot 'em up, and so it's a surprise to find Infinite West is more like chess – only with pieces shooting each other.
The turn-based play across semi-randomized levels forces you to consider every action. Your gunslinger can only move one space horizontally or vertically at a time, and each foe has unique weaponry ranges. Further complexity comes from a health counter, a 'dash' power and an ongoing upgrades system.
There are echoes of Square Enix's GO games, but if anything Infinite West has more depth and brains. You'll certainly need your wits about you when, many levels into a mission, you suddenly find yourself faced with a dozen gang members intent on your untimely demise.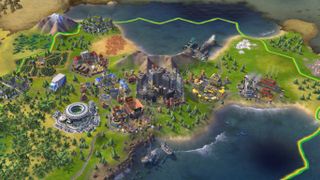 Sid Meier's Civilization VI (free + $59.99/£54.99/AU$89.99 IAP)
Sid Meier's Civilization VI properly showcases the iPad's potential as a gaming device. Previous takes on Civilization for iPad have been weirdly cartoonish and simplified. Not Civilization VI – this is the game you get on PC, with all its inherent depth and complexity.
This means you get one of the finest 4X (eXplore; eXpand; eXploit; eXterminate) games around. You aim to make your civilization dominant by becoming a trading giant, heading to the stars, or getting all stabby/shooty until no-one else is left standing.
The game demands time and attention, is hugely rewarding, and should keep you going for months. Just as well, given its price tag. Still, you get 60 moves for free, and 'proper' games cost real money.
Bar some slightly blurry visuals on iPad Pro, this is the real deal – one of the best games in existence, carefully optimized for the touchscreen.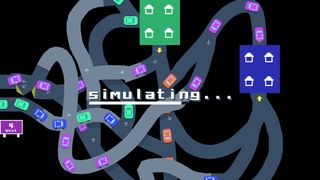 Freeways ($2.99/£2.99/AU$4.49)
Freeways explores interchange design for autonomous vehicles, which sounds deathly dull. It isn't. Just as Mini Metro coaxed something gorgeous and essential from underground railway maps, so too does Freeways create a hugely entertaining game from the drudgery of urban planning.
Each map sector provides you with highways that must be connected to each other. Hold a sign and you get an idea of traffic flow and the links you must make. You then scribble roads down, adding overpasses and increasingly complex routes when the realization dawns about how tough this task can be.
The drawing tools and visuals are crude, and there's no undo – mess up and you must start that particular section of the map from scratch. But the underlying gameplay is enthralling, not least when you tap 'simulate' to watch your layout's traffic move in fast forward, hoping to avoid a dreaded traffic jam.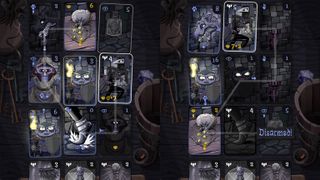 Card Thief ($2.99/£2.99/AU$4.49)
It takes quite a lot to make a solitaire game tense, but Card Thief manages, mostly by smashing dealing out cards into turn-based stealth-oriented puzzling.
As the titular villain, you map out pathways across the cards on the screen, figuring out how to grab loot without losing too many stealth points, which are depleted on battling adversaries.
Repeat play is rewarded by improving your strategies, unlocking new kit to help increase your score, and eventually finding your way to new missions with different foes.
Like any take on solitaire, Card Thief does get a bit repetitive, but this is also a game you'll be able to happily play a round of a day for many weeks, gradually improving your ability to sneak about and become a master pickpocket.
Mini Metro ($4.99/£4.99/AU$7.99)
Traveling on underground railways can be a fairly hideous experience, which is perhaps why Mini Metro is such a pleasant surprise. The game is all about designing and managing a subway, using an interface akin to a minimal take on the schematics usually found hanging on subway walls. And it's glorious.
Periodically, new stations appear. You drag lines between them, and position trains on them, in order to shepherd passengers to their stops. All the while, movement generates a hypnotic, ambient soundtrack.
Over time, things admittedly become more fraught than during these relaxing beginnings. The demands of an increasing number of passengers forces you to juggle trains and rearrange lines until you're inevitably overwhelmed. But the nature of the game is such that this never frustrates – instead, you'll want to take another journey - hugely unlike when suffering the real thing.
Warbits ($4.99/£4.99/AU$7.99)
Nintendo fans probably wonder why the big N hasn't yet brought the superb Advance Wars to iPad, but Warbits now scratches that particular itch. However, although Warbits is influenced by Nintendo's turn-based strategy title, it isn't a copy — the iOS game brings plenty of new thinking to the table and is very much optimised for the iPad.
Working with 16 varied units, you conquer a series of battlefields by directing your troops, making careful note of your strengths and the enemy's relevant weaknesses. All the while, Warbits merrily has you and your opponent trading barbs, often about subjects such as whether tomatoes are fruit, because that's the kind of thing you'd go to war over.
Finish the 20-mission campaign and you'll have a decent grasp of Warbits, and can then venture online to take on other human players across dozens of different maps. With superb visuals, enough new ideas over the game that inspired it, and a single one-off price-tag, Warbits is a must-buy for any iPad-owning strategy nut.
Hitman GO ($4.99/£4.99/AU$7.99)
It's great to see Square Enix do something entirely different with Hitman GO, rather than simply converting its free-roaming 3D game to touchscreens. Although still echoing the original series, this touchscreen title is presented as a board game of sorts, with turn-based actions against clockwork opposition.
You must figure out your way to the prize, without getting knocked off (the board). It's an oddly adorable take on assassination, and one of the best iOS puzzlers. There's also extra replay value in the various challenges (such as grabbing a briefcase or not killing guards), each of which requires an alternate solution to be found.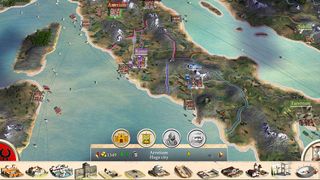 Rome: Total War ($9.99/£9.99/AU$14.99)
Rome: Total War revamps a much-loved and genre-defining strategy classic for your iPad. You start the game as one of six factions, aiming to throttle enemies and conquer the known world. To succeed, you must wield your tactical brain, as well as demonstrating diplomatic and fighting skills.
You might wonder whether complex battle simulators can really shine on iPad, but creators Feral Interactive fully optimized the game for touch. And there's something special about freeing yourself from sitting in front of a PC, and instead peering at a 3D battlefield with thousands of units, all while curled up on the sofa.