Microsoft isn't exactly pressing the restart button on its operating system with Windows 10, but it's changing enough for the company to skip a number altogether. Features from the return of the Start menu to better multitasking to a brand new browser are all on the table for the new OS.
Here's a breakdown of the coolest new features coming to Windows 10.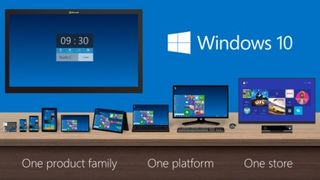 Seven shades of Windows 10
But before we get into that, let's briefly look at the seven versions of Windows 10, far more than one would have expected in the first place. Windows 10 Home is the basic version of the OS that you'll find on most desktops, laptops and tablets for, well, home use and offers all of the features you'll read about after this section.
Windows 10 Pro is visually identical to Home, but offers enhanced tools for entrepreneurs, small businesses and other professional use cases; namely data protection, deeper access to cloud technologies and access to Windows Update for Business, a separate update path for enterprise users. As you might expect, Windows 10 Enterprise expands upon this with access to Microsoft's Long Term Servicing Branch for better wide-scale deployment of the OS across mid-sized and large businesses.
Building on top of Enterprise is Windows 10 Education, designed to best serve entire school systems through Microsoft Volume Licensing with the same fleet management tools and data protection as Enterprise.
Windows 10 Mobile, which we expect to launch later this autumn, was built specifically for phones with same codebase tuned specifically for small touchscreens. This means that any Windows 10 phone can access the same universal apps built for the OS proper if developers want to allow it. There will also be an Enterprise version of Mobile designed for safer use in BYOD situations.
Finally, Windows 10 IoT Core will be a small footprint version of the OS made for smart devices, like gateways.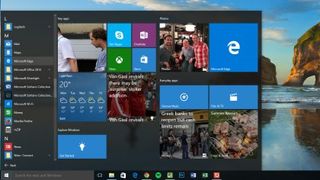 The Start menu: bigger, better, stronger
The return of the Start menu that Microsoft teased during its Build 2014 conference and detailed in full at subsequent events has been available for testing since October 2014. Replete with a merging of the traditional Windows 7-style interface and Windows 8 Live Tiles, the new Start menu is designed to please both camps: touch and mouse users.
"They don't have to learn any new way to drive," Belfiore said, referring to Windows 7 users during Build 2014. That said, customization will also be featured throughout, with the ability to resize the Start menu itself along with the Live Tiles within.
The Start menu features empowered search capabilities as well, able to crawl your entire machine, not to mention web results. This capability is powered through Cortana, Microsoft's voice assistant.
Cortana warps to the PC
That's right, Windows 10 will see the spread of Cortana, Microsoft's Siri and Google Now competitor, into Windows PCs and tablets in addition to phones. Microsoft's Joe Belfiore showed off the new PC-centric features within Cortana during the company's January reveal event, and the feature has only grown more refined through the Insider Preview.
Namely, Redmond developed PC-specific functions into Cortana for easier access to files, apps and more. Belfiore demonstrated colloquial queries like, "Show me photos from December," to which Cortana summoned images within that time period immediately. The idea here is to make key pain points in interacting with a PC easier than before through voice.
Since then, Microsoft has gone on to discuss how Cortana is more about machine learning, or computer systems and services becoming smarter over time based on user behavior, than simply retrieving files and facts for you. In the latest Windows 10 build, Cortana can train to listen for only your voice.
Better yet, Microsoft aims to release the voice assistant to iOS and Android, the company announced recently. Heck, it's already leaked on select Android phones.
Windows gets an Edge
Formerly known as Project Spartan, the official name for the company's new Windows 10 browser of choice is Microsoft Edge. First revealed during the company's January 2015 event under that code name, Edge is – for all intents and purposes – the replacement for Internet Explorer we've all been waiting for.
Sure, IE will stick around in the rare event that Edge simply doesn't support a legacy website, but it will never sport features like the ability to mark up webpages before sharing them with other Edge user, and comment on those same pages at the software level.
Microsoft will never say it, but the shiny new Edge browser is essentially Internet Explorer's much-needed replacement.
Once pages are marked up with drawings and comments, that page is frozen in time with live links and open for sharing through Windows 10's built-in sharing features. Edge will also support built-in offline reading and PDF support, not to mention Cortana.
Microsoft's virtual assistant will be baked into Edge and pop in with recommendations and help based on your browser behavior. Belfiore in particular demoed a scenario in which a user is en route to a flight. Upon opening the browser to find flight data, Cortana will pop in with that info before the user even needs to look it up.
One major feature that will not be found in Edge at launch is extension support, something that still separates Microsoft from its competitors in this space: Google Chrome and Mozilla Firefox. But, when it finally arrives, Edge will be able to work with Chrome extensions with little work on your end – neat!
Windows 10 and Xbox unite
Microsoft's Xbox lead Phil Spencer took the stage during Microsoft's big January 2015 event, detailing the Xbox app on Windows 10. The app collects all games played on any Xbox One or Windows 10 device, a universal friends list and an activity feed. Every Windows 10 device will have the Xbox app pre-loaded, and you can test it out in the Insider Preview.
In fact, as of July 17, the app now supports game streaming. What this means is that you can stream any Xbox One game to your PC over your home network and play with an Xbox 360 or Xbox One controller.
Now that Xbox One games can stream to Windows 10 PCs, Microsoft is toying with enabling the reverse – think about that.
Users can also record game sessions through the Game DVR tool and share them across the Xbox network. Essentially, Windows 10 will bring the automated recording featured in Xbox One to games played on Windows 10 – even those launched through other apps, like Steam.
During that January event and later displays of Windows 10, Spencer and crew have shown that you can play certain games, like Fable Legends, through a Windows 10 PC and an Xbox One with friends at the same time. Cross-platform multiplayer gaming is coming to Xbox One and Windows 10.
Back at GDC 2015, the Xbox chief let loose even more details regarding the increasingly intimate relationship between Windows 10 and Xbox One. For starters, Spencer revealed that soon all wireless Xbox One accessories will work on Windows 10 PCs.
Later during that same show, we learned that Microsoft is "investigating the possibility" of streaming PC games to Xbox One. Currently, Microsoft is only committed to allowing the inverse, for all Xbox One games to stream to Windows 10 PCs.
Dan Grabham and Désiré Athow contributed to this article