Sponsored
Here's why the Honor 10 should be your next phone
A stunner in so many ways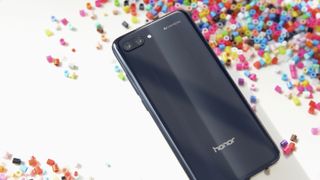 The Honor 10 is an incredible new phone. It has cutting edge features that sound like they belong in a mobile twice the price. And it makes many rivals seem boring by comparison.
We could give you a dozen reasons to buy an Honor 10, but today we're going to stick with five.
These are five ways the phone sets new standards, making the Honor 10 one of the most exciting phones of 2018, giving the likes of the OnePlus 6 a run for its money.
1. The smartest camera in town
The Honor 10 has a dual 24+16MP camera array on its back. The hardware alone is impressive enough.
That means it has more megapixels than the 16+20MP OnePlus 6, and is guided by "AI 2.0" artificial intelligence.
You may have come across phones or cameras that can automatically identify scene types. The Honor 10 can identify multiple objects in a single scene and alters the shooting style to suit, using "industry-first Semantic Image Segmentation technology". It's like having a professional photo editor in your pocket.
The Honor 10 can recognise more than 500 scene types. It can spot plants, knows the sky when it sees it, and will even spot people standing on a waterfall in the background.
As it knows what you're taking a pic of, you get a perfect photo from the most care-free point and shooting approach. It makes nature look more vibrant and food snaps more delicious.
All this is possible because of the Honor 10's processor. As well as being blisteringly powerful, it has a neural processing unit. This is a chip designed just for the kind of ultra-fast calculations camera AI requires.
2. Out of this world selfies
The Honor 10's front camera has special smarts too. It uses an ultra-high resolution 24-megapixel sensor and analyses more than a hundred points on your face when you take a selfie.
Why? This lets the Honor 10 optimise your portraits. They'll still look like you, just you at your best. The selfie camera can even emulate studio lighting, to deliver professional-looking shots without you having to step foot in, or pay for, a photo shoot. You don't get this smart tech with the 16MP OnePlus 6 front camera.
The bokeh mode also blurs out the background for the arty look you can only normally get with a big DSLR camera.
3. Next-gen fingerprint scanner
Its innovations don't end there. The Honor 10 has a groundbreaking ultrasonic fingerprint scanner built into the glass below the screen. To make it so you can actually see where it is, Honor has had to outline the place to put your finger... else you wouldn't know where to put it, it's so seamlessly built in.
The scanner doesn't just look great, it's incredibly fast too.
Even the Galaxy S9 doesn't have this tech, and the OnePlus 6 has a more traditional rear scanner.
4. FullView screen
Add a cutting-edge 19:9 aspect FullView display and you have a phone that looks more dynamic and futuristic than just about anything else out there. The 5.84-inch screen makes the Honor 10 86% display front-on, for the border-free look every modern phone out to impress needs.
It's an ultra-sharp Full HD+ display, perfect for movies and games. Honor knows how to put on a show - and at that size, it's more comfortable in the hand too.
5. Dazzling design
Finally, the Honor 10 has one of the most dramatic finishes you've ever seen in a phone. It's glass, but not any old glass. This is Aurora glass, with a 15-layer 3D reactive finish. Its colour dances in the light as you turn the phone in your hand, delivering "radiance from every angle".
The precision engineering required to make the Honor 10 look this immaculate is mind-boggling. Side-by-side with the OnePlus 6, the Honor 10 is the more eye-catching device.
It's a stunning look, and you have a choice between Phantom Blue and Phantom Green colours. These shades were carefully picked by the Huawei Paris Aesthetics Center in France.
There's a lot more to discover in the Honor 10. But the striking design and ultra-smart camera alone are enough to make this one of the most exciting phones of 2018.
Honor 10 is available to purchase now from all leading retailers.
Sign up to receive daily breaking news, reviews, opinion, analysis, deals and more from the world of tech.