Global IT spending could be set for a major boost in 2023
IT spend is set for a boost compared with last year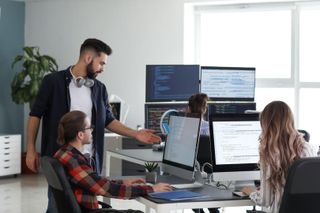 (Image credit: stock.adobe.com © Pixel-Shot (DATEI-NR.: 260683267))
Following a tough year that saw IT spending drop across the globe, Gartner has released new projections claiming that things will return to growth as we head into 2023.
The analyst firm found 2022 worldwide IT spending dropped a touch compared with the year prior, recording an overall 0.2% reduction in the sector.
This fall was largely the result of a 10.6% drop in spending on devices, however data center system spend was up by a staggering 12.0%, indicating our growing need for digital storage.
TechRadar Pro needs you!
We want to build a better website for our readers, and we need your help! You can do your bit by filling out our survey and telling us your opinions and views about the tech industry in 2023. It will only take a few minutes and all your answers will be anonymous and confidential. Thank you again for helping us make TechRadar Pro even better.
D. Athow, Managing Editor
IT spending 2023
However, as consumers are expected to face a challenging economic landscape in the year ahead, Gartner reckons that businesses will continue to spend big in IT.
Software and IT services are set to experience the largest growth among IT spending this year, with communications services and data center systems just about managing some positive figures.
In fact, the only segment that Gartner believes will shrink is devices (down by 5.1%), which may have already been refreshed as companies turned to hybrid working routines in recent years, leading to a total overall expectation that global IT spend will increase by 2.4% in 2023 compared with the year before it, with figures looking to be in the region of $4.49 trillion (vs $4.39 trillion in 2022).
That said, the firm had expected 2023's growth to be in the region of 5.1% last October, indicating that the lasting effects of ongoing global events are still taking their toll on businesses worldwide.
Gartner Distinguished VP Analyst, John-David Lovelock, said: "A turbulent economy has changed the context of business decisions and can cause CIOs to become more hesitant, delay decisions or reorder priorities."
Looking at the year ahead, it's possible that some companies that are guilty of having over-invested in growth during the pandemic may now need to consider more carefully options to slim down resources, while many workers seek roles that are able to keep up with demand for higher wages.
Are you a pro? Subscribe to our newsletter
Sign up to the TechRadar Pro newsletter to get all the top news, opinion, features and guidance your business needs to succeed!
With several years' experience freelancing in tech and automotive circles, Craig's specific interests lie in technology that is designed to better our lives, including AI and ML, productivity aids, and smart fitness. He is also passionate about cars and the decarbonisation of personal transportation. As an avid bargain-hunter, you can be sure that any deal Craig finds is top value!