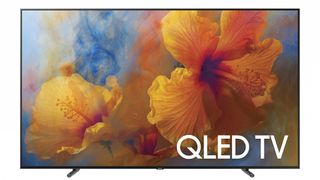 With 4K and high-dynamic-range (HDR) content becoming more readily available with every passing day, it's never been more crucial to own a television that's up to the task of providing the best possible visual experience. When it comes to watching your favourite movies and TV shows at home, achieving cinema-like quality is of the utmost importance.
While there are many televisions on the market that offer Ultra HD resolutions and HDR-enhanced colours, only Samsung's QLED technology can reach 100% colour volume, providing an unmatched level of vibrancy and lifelike colour reproduction. How does it do this? To answer the question, let's dive into exactly what QLED is and how it works.
An acronym for Quantum Dot Light-Emitting Diodes, QLED is a technology that adds light to the colour spectrum using electroluminescent nanoparticles, effectively making it possible to produce bright and vibrant images without using an LED backlight. While similar television technologies are able to light at an individual pixel-level, without Samsung QLED's ability to reach 100% colour volume, the results are generally dimmer than they should be.
Samsung used Quantum Dots in its SUHD TV range last year, but this new application to LED technology allows for complete control of the light emitted by individual pixels. On top of this, Samsung's new QLED TVs are twice as bright as last year's SUHD models, offering a peak brightness of 1,500 to 2,000 nits, making it the most advanced range it has ever released.
In living colour
So what makes Samsung QLED the ideal way to experience your favourite blockbuster films and binge-worthy TV shows? It's simple – the combination of HDR's wider colour gamut and QLED's 100% colour volume technology means that you get to witness the ultimate details of your chosen film or show exactly as its directors intended.
Explosions burst with astonishing brightness and clarity, textures receive an increase in fine detail, making you feel like you can reach out and touch them. Greatly improved contrast provides deeper blacks, brighter whites and more arresting colours for everything in between. Skin tones appear more naturalistic, with Ultra HD resolutions allowing you to see individual pores on actors' faces. With HDR, you can also witness improved bloom lighting, which lets light sources like sunshine burn bright without bleeding into obvious and distracting shade transitions.
In short, with Samsung QLED TVs, images pop with incredibly vivid majesty, allowing the viewer to see colours on their screens exactly as they appear in real life with the naked eye. Because of this, scenes take on a more evocative and lifelike appearance, meaning you'll be swept into the story by QLED's gorgeous rich colours and unbelievable detail.
If you want to experience your favourite shows and movies with sensational visual clarity, unsurpassed colour reproduction and exceptional contrast, look no further than Samsung's class-leading QLED TVs.
Sign up for Black Friday email alerts!
Get the hottest deals available in your inbox plus news, reviews, opinion, analysis and more from the TechRadar team.