Last year, AMD released its Ryzen line of processors, but it didn't stop there. Later in August 2017, AMD launched three impressively overclockable high-end desktop CPUs – named 'Threadripper'.
However, AMD didn't sit on its hands after releasing the Ryzen Threadripper 1950X, one of the fastest processors we've used – even though the Threadripper 2950X has since dethroned it. AMD has even come out and suggested that bitcoin miners use Threadripper processors for cryptocurrency mining, to save money on future upgrades – likely due to the insane compute power of Threadripper.
And, now that AMD Ryzen Threadripper 2nd Generation finally arrived on August 13, 2018, we're going to see improved performance, likely similar to the huge performance boost we saw when Ryzen 2nd Generation succeeded AMD Ryzen – we know the core counts are skyrocketing, at least.
So, here's all the information we have on AMD Ryzen Threadripper, from the release date to price evaluation and other useful information.
Cut to the chase
What is it? AMD's uber-powerful 8-, 12- and 16-core processors
When is it out? Available as of August 10, 2017
What will it cost? Starts at $549 (about £420, AU$690)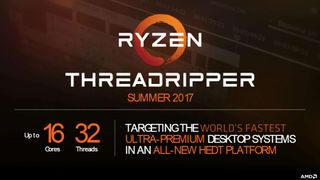 AMD Ryzen Threadripper release date
AMD Ryzen Threadripper first two processors the 1950X and 1920X arrived on August 10, 2017. While AMD's entry level Ryzen Threadripper 1900X came out a few weeks later on August 31, 2017.
And, it looks like AMD Ryzen Threadripper 2nd Generation is going to follow in the first's footsteps – the AMD Ryzen Threadripper 2990X launches on August 13, 2018 with the rest of the high-end CPUs following in the coming months. AMD isn't going to slow down, either, AMD is planning on supporting Threadripper with new chips until at least 2020, according to some leaks.
AMD Ryzen Threadripper price
At long last, we now have firm details on what price the AMD Ryzen Threadrippers will release at. They're not cheap, but you can expect to pay less for more performance than you would get with a comparable Intel chip.
Whereas the 16-core Ryzen Threadripper 1950X retails at $999 (around £770, AU$1,295), the Threadripper 1920X will boast 12 cores and sells for $799 (around £615, AU$1,035). Lastly, the Threadripper 1900X comes with a $549 (about £420, AU$690) price.
Meanwhile Intel's closest competitor to the 1950X, the Core i9-7960X, sets users back a whole $1,699 (around £1,315, AU$2,200) while the 12-core i9-7920X is $1,189 (around £920, AU$1,500). The Threadripper 1900X's closest octa-core competitor from Intel is the Core i7-7820X that retails for $599 (£529, AU$869).
AMD Ryzen Threadripper specs and power
We officially know the AMD Ryzen Threadripper series features "up to 16 cores and 32 threads", with the Ryzen Threadripper 1950X serving as the posterchild for these specs. The 1920X, on the other hand, is limited to 12 cores and 24 threads. Lastly, the 1900X serves up 8 cores and 16 threads.
As for how fast those cores will run, the Ryzen Threadripper 1950X can be found running at a base clock of 3.4GHz and a boost clock of 4.0GHz. At the same time, the Threadripper 1920X runs at a base/boost clock of 3.5/4.0GHz. Finally, the 1900X runs at a base/boost clock of 3.8/4.0GHz.
To put this into perspective, the Intel Core i9-7960X has packs the same 16-cores and 32-threads as the Threadripper 1950X and so on and so forth with the Intel Core i9-7920X vs Threadripper 1920X and Intel Core i7-7820X vs Threadripper 1900X we've setup.
However, now that the Ryzen 2nd Generation has made it to market, you can find about 10% better performance in the Threadripper 2950X – with a lower price tag. Making it a great option for aspiring PC enthusiasts.
The Threadripper series uses AMD's SMT (Simultaneous Multi-Threading) technology found in other Ryzen chips. Finally, the Ryzen Threadripper series processors uses a TP3 socket, which is a modified variant of the SP3 socket originally designed for AMD's beefy server chips that go up to 32-cores.