A nuclear-powered data center is opening this year
Launch could be an important step in the decarbonization of our data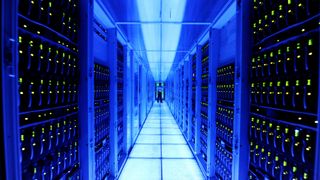 (Image credit: Future)
Cumulus Data has announced a new data center in northeast Pennsylvania powered by nuclear energy.
Data centers have typically required enormous amounts of energy to operate, and despite server improvements that have seen decent bumps in efficiency and power in recent years, the industry is still under pressure to clean up emissions as the world gears up towards net zero.
In turn, the company is opening up its flagship data center that will measure in at 475 megawatts, which it calls Susquehanna.
TechRadar Pro needs you!
We want to build a better website for our readers, and we need your help! You can do your bit by filling out our survey and telling us your opinions and views about the tech industry in 2023. It will only take a few minutes and all your answers will be anonymous and confidential. Thank you again for helping us make TechRadar Pro even better.
D. Athow, Managing Editor
Susquehanna nuclear data center
Phase 1 has been complete, meaning that space in the 48-megawatt, 300,000 square foot data center is available to lease.
The total area to be occupied by the 475-megawatt campus is set at 12,000 acres, dubbed to be the first of its kind in the US.
Cumulus promises zero-carbon, low-cost, reliable energy powered by the nearby Talen Energy's Susquehanna nuclear power generation facility.
The new data centers are set to be directly connected to the 2.5-gigawatt power stations, which Cumulus says will unlock significant value for its customers "without intermediation by legacy electric transmission and distribution utilities."
What this means is that it will be able to offer "the most attractive power rate in the US", alongside offering companies the opportunity to reduce their carbon footprints.
Besides the clear benefits for businesses, the company hopes to create "family-sustaining" jobs and offer training in technology, among other things, to nearby Pennsylvania companies. It also hopes to continue expanding such projects in other areas that Talen Energy operates.
While there are clear concerns about the use of nuclear energy, this does at least represent an important step forward in the decarbonization of data centers.
Are you a pro? Subscribe to our newsletter
Sign up to the TechRadar Pro newsletter to get all the top news, opinion, features and guidance your business needs to succeed!
With several years' experience freelancing in tech and automotive circles, Craig's specific interests lie in technology that is designed to better our lives, including AI and ML, productivity aids, and smart fitness. He is also passionate about cars and the decarbonisation of personal transportation. As an avid bargain-hunter, you can be sure that any deal Craig finds is top value!