10 of the best Office Store apps
Extra tools you can add to your Office programs, on Windows, iPad and more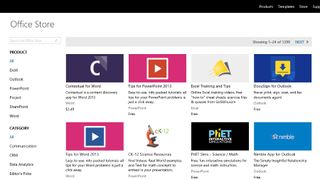 (Image credit: Future)
Introduction
Microsoft recently changed the name of the extras you can run inside Office apps again, and they're now called add-ins. But they're just as useful for making Office programs do more and they work in more places – as well as running with Office 2013 and Office 2016, they also run inside the Office Online apps and they're going to work on the mobile versions of Office as well. That will start first in Office for iPad, with add-ins for Excel.
There are still plenty of utilities that work with the various Office programs that don't come from Microsoft's Office Store (for example, ASAP Utilities for Excel has more than 300 handy commands for advanced sorting, insert and export).
But the advantage of the add-ins in the Office Store is that they've all been checked and approved by Microsoft, and you can get them from inside the Office applications – you'll find the Store on the Insert tab of the ribbon, along with a list of what you have installed under My Add-ins.
There are some big names coming to Office add-ins soon. We're waiting for the Yelp add-in for Outlook that will let you search for a place to have coffee when you're mailing to suggest it, and the Wunderlist add-in that will let you add to-dos to your list from Outlook, as soon as you get the email asking you to do something.
Anyway, let's get on with the show – here are our 10 favourite Office add-ins which are currently available.
Vistaprint It
Vistaprint is one of the cheaper and better quality online printing services and a great place to design your own business cards. But while the online design tool on the Vistaprint website is fine for filling in your name and address on one of the standard templates, it's tedious to use if you want to design something more customised.
You can spend a lot of time nudging text boxes around, only to find the back of your card is upside down when the order arrives. Word is a much better tool for designing business card layouts (and you have a full spelling checker too). Use the free Vistaprint It add-in and you can either fill in one of the standard designs right inside Word, or open a Word template to create your own card.
PayPal
The next time you need to pay someone back for your share of the bill, or you want to send some birthday money, why not do it right inside the email where you promise to send the money? Install the PayPal add-in for Outlook (including Outlook.com and Outlook web for Office 365 users), and create a new email.
Address the email before you open the PayPal add-in and it will pick up the name automatically, then just type in how much you want to send (change currency if you need to), write your message as normal – and remember to send it. As well as your email, your friend will also get an official email notification from PayPal that the money is in their account.
Uber
When you're making a meeting in Outlook, and you know you'll need a car to take you there, the Uber add-in lets you book the ride at the same time, using the address in the meeting. You get a reminder for the ride on your phone at the same time as the reminder for your meeting – confirm the car when you see the reminder or cancel it if the meeting isn't happening.
The Uber add-in works in Outlook 2013 and 2016. If you use Office 365 or Exchange 2013 it also works in the Outlook web app, and it will work on Outlook.com very soon.
Poll Everywhere
If you want to add a live quiz or poll to a presentation you're creating in PowerPoint, try the add-in for the free Poll Everywhere service (which lets you create as many polls as you want with up to 25 responses per poll). You design the questions in the add-in, choosing what kind of answers people can give, and it creates the PowerPoint slide for you.
Boomerang
Outlook doesn't let you set a reminder to follow up on an email you've sent and while you can look at your schedule to see when you're free, you can't easily suggest multiple times for a meeting – and you can't write an email late at night but have it automatically sent in the morning, so the person you're mailing is likely to see the message as it arrives and perhaps be more likely to reply. Boomerang lets you do all of this from a task pane right next to your email in Outlook.
DocuSign
If you need to get a legally binding signature on a document, you can do that with the DocuSign service. This add-in lets you add the names of the people signing right inside your Word document, and DocuSign tags to say what kind of signature that will be, sending the document through the secure DocuSign service where you can track who's signed it – all right from Word.
Fedex Package Tracker
Outlook.com can already give you the tracking status for various packages; this add-in only works for Fedex deliveries, but it works inside the Outlook software, not just on the web. When you get an email with a Fedex tracking number in, the add-in will appear at the top of the email – click it to see how far your parcel has got.
Evernote
Although Microsoft has its own note-taking software, OneNote, if you use the popular Evernote instead, this add-in lets you find and attach notes from Evernote to the mail you're writing without having to switch to the other app. You can also save mail messages from Outlook straight to Evernote and tag them at the same time.
People Graph
You can make an infographic in Excel with Microsoft's People Graph add-in – the name is a little confusing because as well as icons of people you can also use other graphics like boxes (it's possible to pick from 16 different shapes). There are three different infographic chart styles, with seven colour themes, and all you need to do is pick the two columns in the spreadsheet that have your data in. You can leave the chart in your spreadsheet or save it as an image to use elsewhere.
IFTTT
IFTTT or If This Then That is a way of connecting different tools and services you use together, using rules (which IFTTT calls 'recipes'). IFTTT recipes work with a wide range of services from Instagram to YouTube to SoundCloud to Nest – they live online and run automatically when the trigger for the recipe occurs.
Create a recipe for OneNote and Twitter and you can have every URL you tweet archived into your OneNote notebook. Or you can forward important emails or screenshots you take on iOS to OneNote, or archive a summary of your Fitbit stats every day, or add what's on your Alexa shopping list and Amazon Echo to-do list to OneNote.
You can also make IFTTT recipes for Office 365 calendar, contacts and mail (which will show up in Outlook) – like adding the weather report to your calendar every day – and for OneDrive for Business (support for Outlook.com is coming soon).
Are you a pro? Subscribe to our newsletter
Sign up to the TechRadar Pro newsletter to get all the top news, opinion, features and guidance your business needs to succeed!
Contributor
Mary (Twitter, Google+, website) started her career at Future Publishing, saw the AOL meltdown first hand the first time around when she ran the AOL UK computing channel, and she's been a freelance tech writer for over a decade. She's used every version of Windows and Office released, and every smartphone too, but she's still looking for the perfect tablet. Yes, she really does have USB earrings.