How to set up your ideal home office
Maximise your productivity with our top home office tips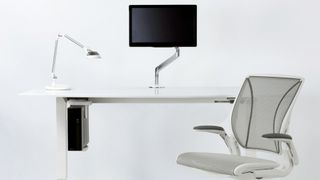 (Image credit: Future)
Introduction
Creating your own home office from scratch is often the beginning of a journey into self-reliance, but resist the temptation to spend a lot of money on office furniture and gadgets. Instead, create your office gradually and carefully until you have the right hardware, software and peripherals to suit your budget, the size of your home office, and the tasks at hand.
The following slides will detail the key points to bear in mind when you're creating your perfect home office.
Saving on software
If you'll need to buy all of your own software, resist immediately clogging up your laptop or desktop computer with the software your last employer supplied you with. Microsoft Word and/or Adobe software can be excellent, but they're expensive and at least equalled by low-cost and free alternatives.
For word processing consider using Google Docs or Apache OpenOffice, both of which output in DOC formats for emailing or putting on a cloud account for others to fetch. Also check out Gimp and the browser-based Pixlr, which offer comprehensive photo editing, while the online Canva app is great for creating simple graphics and for quickly resizing photos.
The desktop
The main decision here is not whether to buy a Mac or PC – depending on what industry you're working in, this decision may well be made for you. For instance, the publishing, design and advertising sectors were almost completely Mac-ified even before Apple products became widely popular. For most of us, it won't matter.
If you travel a lot, or expect to be mobile working, a laptop will likely be crucial. So why not build your home office around it? Hooking up to a monitor is easy, while various supports are available to prop up your laptop to act as a screen (though a few coffee table hardback books work just as well). That enables you to have the screen at a much healthier height (work on a laptop consistently and you will get a pain in the neck otherwise) and to use a larger keyboard that's easier on your hands.
A few years ago it was fashionable to have dual screen desktops, which then became three screen monstrosities. Mostly these extra screens are used for email and music software such as iTunes, and are of little real use. Save space by having a tablet to hand on your desktop, which can be used to monitor emails or for online research.
Superfast broadband and Wi-Fi
Don't think it's worth paying for a superfast internet connection? Working smart is about working fast, and if you're working from home then you don't want to waste your own time waiting for files to download or upload. Most people overlook upload speeds when choosing a broadband supplier; it's all too easy to strike a deal for 30 meg broadband only to find that the upload speed is a tiny fraction of that.
Wi-Fi is all about convenience, which is great if you're using portable devices around the home. However, if you're sat at a desktop computer most of the day, go for wired internet – it's almost always much faster, and much more reliable.
If the position of your broadband router makes that tricky – and if you do start to experience signal dropout in your office – consider instead networking over power cabling so you can have a wired internet connection wherever you have an electrical socket. You can do this in two ways – using a HomePlug to go from one socket to another, or by upgrading the socket itself using something like Powerline Ethernet, which can be used to network the entire house, or floor of a house.
Choosing a chair and printer
What's the most important piece of equipment in your home office? It's you, obviously, so look after yourself. Never underestimate keeping healthy – if you're self-employed, no one is going to pay you sick leave, so prevention is everything. When sat at your desk in a neutral position and ready to work, your feet should sit flat on the floor and your thighs should be parallel to the ground. The best task chairs also have some curved support for your lower back.
The other essential you'll likely need is a printer. The paperless office is possible if you're working on your own, but there will be times when a printer is invaluable. However, don't go overboard; if you don't need to print glossy photos, don't spend big on the ultimate inks when a cheap mono laser printer would do just as well for your needs, and be much cheaper to run.
Room layout and moving around
Choosing a good office chair is only half the battle. The real key to staying healthy while working for long periods is to get up and walk around frequently. If you're working late into the night, or are immersed in a frantic effort to meet a deadline, it can mean many hours sitting still hunched over a keyboard.
If you have an Apple Watch, it will remind you to walk around every hour. For the rest of us, setting an hourly alarm on a smartphone can be useful, though an easier way to make yourself get up unprompted is to purposely avoid over-streamlining your office. Put your printer as far from your desk as you can – perhaps in another room or on another floor, if it has Wi-Fi – and make sure you have to at least get out of your chair to reach a landline phone, or frequently needed files or books.
Backing up and syncing
If you plan to work on both a desktop computer and a laptop – and perhaps even on tablets, too – then a cloud storage solution is imperative. It's easy enough to get free storage from the likes of Dropbox, Google Drive, iCloud and OneDrive, though don't shy away from paying a small price for storage if it will help streamline your business admin.
However, think of these services only as an easy way of accessing your files in multiple locations, and not as your only backup solution. Better to rely on a hard disk solution, backing up every hour from your desktop PC, to be sure that your crucially important files are safe. Most hard disk drives now come with a cloud layer, which gives you useful off-site storage for your critical files.
If you start to work across several devices and in different locations, having different websites open on different devices can get irritating. A great way of preventing this is to save web pages you want to read later using a browser app like Pocket, which makes everything available on all devices, and now also works with links on Twitter.
Are you a pro? Subscribe to our newsletter
Sign up to the TechRadar Pro newsletter to get all the top news, opinion, features and guidance your business needs to succeed!
Jamie is a freelance tech, travel and space journalist based in the UK. He's been writing regularly for Techradar since it was launched in 2008 and also writes regularly for Forbes, The Telegraph, the South China Morning Post, Sky & Telescope and the Sky At Night magazine as well as other Future titles T3, Digital Camera World, All About Space and Space.com. He also edits two of his own websites, TravGear.com and WhenIsTheNextEclipse.com that reflect his obsession with travel gear and solar eclipse travel. He is the author of A Stargazing Program For Beginners (Springer, 2015),