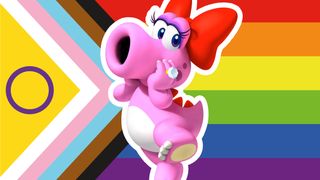 (Image credit: Nintendo)
There are few video game dinosaurs more glamorous than Birdo –– or Birdetta, as she prefers to be known –– the canonically trans icon of Nintendo's Super Mario franchise.
Birdetta made her official debut in the 1988 release Super Mario Bros 2, appearing as the egg-spitting enemy of everyone's favorite cartoon plumber. In the decades since, she's had a noteworthy glow-up. In an archived commercial, she oozes old-school Hollywood glamour, her hot pink body perched seductively on a chaise longue and covered only by a white fur stole. Everything about her is serving high-femme realness. Her eyelids are covered liberally in lilac eyeshadow; she wears an oversized red bow perched atop her head; on her left hand she wears a huge diamond ring set in gold, thought to be an engagement ring gifted by her lover, Yoshi. Put simply: Birdetta slays.
Nintendo has nodded to Birdetta's identity, but never fully fleshed it out. One of the only concrete references we have to her transness is the Super Mario Bros 2 manual, in which we learn that she "thinks she is a girl" and "would rather be called Birdetta," yet she's never been listed as Birdetta in any game, despite petitions asking Nintendo to put some respect on this queen's name.
It might seem bizarre to debate the gender identity of an anthropomorphic dinosaur. After all, Super Mario Bros creates a world full of adorable toadstools, broomstick-riding elders, and fire-breathing villains with huge dick energy. Even Yoshi, Birdetta's long-term lover, is described as a male character with the ability to lay eggs. Yet even with the absurdity of this fictional universe, Birdetta is treated with the same cruelty as any visibly trans woman online. There are lengthy Reddit threads dedicated to the "debate" around her gender, in which users pick apart her chromosomal makeup, all the while making transphobic jokes about her relationship with Yoshi.
Birdetta can't be hurt by these comments, for obvious reasons, but the trans gamers who stumble across these threads certainly can be.
Especially on a grassroots level, LGBTQ+ representation in video games is improving. Dream Daddy, a horny, tongue-in-cheek dating simulator, set the bar high; since then, high-profile games like Tell Me Why have made concerted efforts to accurately and sensitively tell trans stories, working with queer consultants and organizations along the way. Games like Saint's Row and The Sims 4 increasingly offer non-gendered character creation options, and even long-running franchises like Assassin's Creed have made efforts to introduce trans characters. Yet the backlash to this inclusion is often a reminder of how hostile the gaming world can be to marginalized communities, making these small steps feel bittersweet.
By contrast, the campiness of a game like Super Mario Bros is pure escapism. It's no coincidence that queer gamers gravitate towards the likes of Pokémon and Animal Crossing, whose cutesy, joyous worlds are a saccharine salve to the increasingly harsh realities of life as a trans person. We get to use animated avatars and mythical creatures to represent ourselves, and sometimes, we genuinely feel seen by these cartoon characters.
When Kim Petras jokingly declared Pokémon mainstay Jigglypuff a "trans icon," she –– probably inadvertently –– nodded to the fact that trans communities have to seek out, and to create our own representation. It's still seen as a divisive statement to actively support and affirm trans lives, even in today's hyper-capitalist climate of corporate allyship. We're politicized whether we like it or not, and companies taking a stance on our behalf means dealing with the fallout. As a result, progress moves at a slow, uneven pace. So, in lieu of obvious trans representation, we look to the fringes; we scour through histories to find even the faintest traces of queerness. Yet even these stories have been violently destroyed, most famously in the Nazi book burnings, which saw Hitler-affiliated youth break into the world-famous Hirschfeld Institute and set fire to thousands of documents, which bore proof of gender non-conformity in pre-war Germany.
This is the context of Birdetta's ascendancy to online trans icon status. Twitter accounts collate screenshots of her finest moments and her frankly fabulous accessories, from hot pink tennis rackets to über-glam biker chic. Fans Photoshop her gun-toting likeness onto Trans Pride flags. In the aforementioned petition, gamers are fighting for official recognition of Birdetta as a trans character, highlighting the importance it would carry for trans fans, who so often don't see ourselves represented. It's a "small and seemingly meaningless" request, writes the petition's author, but it's one that could affirm a demographic of gamers so often left in the dust.
It's not just Birdetta, either. More of us than ever are combing through video game history, spotlighting early, canonically trans characters like Street Fighter badass Poison and the loveable, fiercely loyal Vivian, a standout in the Nintendo 64 release Paper Mario. These heroes are largely queer-coded rather than confirmed, but reviving and celebrating their legacies ties into the wider, ongoing project of proving that trans communities have always existed.
Get daily insight, inspiration and deals in your inbox
Get the hottest deals available in your inbox plus news, reviews, opinion, analysis and more from the TechRadar team.
Jake Hall is a freelance journalist and contributor to TechRadar.