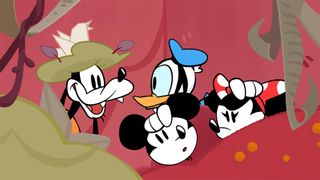 (Image credit: Disney Interactive Studios)
Disney Illusion Island is the latest Metroidvania to hit Nintendo Switch and comes from developer Dlala Studios, the studio that previously worked on the Battletoads reboot released in 2020. The team's latest game, though, focuses on a side-scrolling platforming adventure starring Disney's 'fab four:' Mickey, Minnie, Goofy, and Donald Duck.
So far, Disney Illusion Island has been warmly received by both critics and its target audience for its approachable nature and four-player co-op. In our Disney Illusion Island review, we praised the family-friendly platformer for its "excellent movement, satisfying platforming challenges, and a steady difficulty curve that's perfect for all ages."
Since publishing our review, we had the opportunity to sit down with AJ Grand-Scrutton, CEO of Dlala Studios, to talk about the game's development, its inspirations, as well as the potential future of the Disney Illusion Island.
Know your roots
Ask Sega Genesis or Mega Drive fans what some of their favorite games are on the system, and two games are almost certain to come up: Castle of Illusion Starring Mickey Mouse and its sequel, World of Illusion. Both were developed in-house by Sega and have since enjoyed a resurgence in popularity, with the former being re-released on Steam and both featuring on the Sega Genesis Mini retro games console.
"My best friend Mark, who's also my IT director, we played World of Illusion year-on-year for the better part of two decades," says Grand-Scrutton. "This game wouldn't exist without those games. If we hadn't grown up with Castle and World, then Illusion Island just wouldn't exist. And those games are part of the reason we make video games."
It's quite clear to see the influence of these Genesis classics in Disney Illusion Island. Striking, hand-drawn art styles aside, both World of Illusion and Illusion Island feature cooperative play. In fact, across both games, level design is accommodating of multiplayer, with sections becoming more manageable in co-op. One cute feature in both games, for example, is the ability to extend a rope to help other players reach higher platforms.
Mousevania
What sets Disney Illusion Island apart from its predecessors, however, is its Metroidvania-level layout. The game features a world map, of which more avenues of exploration open up upon finding new abilities. By comparison, the Genesis titles are more straightforward, left-to-right affairs. It's no surprise, then, that Dlala looked to highly-rated Metroidvania titles for inspiration.
"I love the two Ori games, Will of the Wisps and The Blind Forest. They're definitely big influences," Grand-Scrutton explains. "Our lead designer Grant, who did a lot of the world structure design, loves Metroidvanias. He'd be calling out stuff like Gato Roboto. And our tech director Ben is a childhood Metroid fan, Metroid Prime being one of his favorites."
Disney Illusion Island is rather atypical for a Metroidvania with its co-op play, which is a rarity in the subgenre. That means you're getting multiple playable characters in the aforementioned Mickey, Minnie, Donald, and Goofy. And while Dlala was always set on the fab four, there was always an interest in including more iconic characters.
"My marketing and brand manager Charlotte is probably gonna message me #DaisyWhere, so my team are really angry Daisy Duck's not in the game! As soon as we knew we were doing this, and we knew we were doing co-op, we knew it was gonna be the fab four."
On the plus side, Grand-Scrutton didn't rule out the possibility of updates, or DLC, coming to Disney Illusion Island that could open up the chance of more Disney icons making the cut. "Now, what we're saying is, hey, we hope the game does really well and that there's a conversation to be had in the future about other characters," he says, "but as soon as Disney said yeah, four players sounds good, well okay, it's Mickey, Minnie, Donald, and Goofy."
The future of Illusion
I asked about Disney Illusion Island's Nintendo Switch exclusivity, and the possibility of the game reaching other platforms. However, it seems like Grand-Scrutton and the team are content with keeping it on Nintendo's handheld hybrid at present.
"All we've been thinking about is Switch," he explains, "as a team that has done multiplatform before, pre-Battletoads days, it was kind of nice to just get to focus on one platform.
"Especially with this game; there's not many hand-drawn, 2D, seamless world games on Switch. And we'd never developed for a Nintendo platform before. Besides being a bucket list thing, it meant we had this challenge where we'd never done Metroidvania, we'd never done Nintendo. So for the last few years of our lives, we've been very focused on bringing a brand new Mickey Mouse game to a Nintendo platform."
By Grand-Scrutton's account, Dlala's working relationship with Disney was a positive one. With that in mind, I asked if the team would be open to future collaboration with the corporation, and what projects it'd be interested in making.
"There's a list," Grand-Scrutton smiles. "We like doing this IP thing. We like taking existing worlds and doing something new with them. And we make a list of our top ten IPs we'd like to do something with. And over the last few years, more and more of those things on the list are owned by Disney! So there's loads of things, and none of this comes as a surprise to Disney. They've heard us throw around loads of ideas. There are members of the team that would love to do a new Donald Duck game, whether that's like a QuackShot, Maui Mallard, Duck Tales, or a Darkwing Duck.
"But for me," Grand-Scrutton continues, "obviously I love this game, Disney Illusion Island, and the idea of one day doing a sequel to this excites me. And as far as we know, Disney enjoyed this relationship as much as we did, so I don't wanna give too much away in case one day these become a reality and I've spoiled the surprise for you! All I will say is we'd all happily work with Disney for a long time."
Disney Illusion Island is available now on Nintendo Switch. It's one of the best Nintendo Switch games to release in 2023, and certainly, one of the best co-op games if you're after a light-hearted, family-friendly adventure.
Get daily insight, inspiration and deals in your inbox
Get the hottest deals available in your inbox plus news, reviews, opinion, analysis and more from the TechRadar team.

Rhys is TRG's Hardware Editor, and has been part of the TechRadar team for more than two years. Particularly passionate about high-quality third-party controllers and headsets, as well as the latest and greatest in fight sticks and VR, Rhys strives to provide easy-to-read, informative coverage on gaming hardware of all kinds. As for the games themselves, Rhys is especially keen on fighting and racing games, as well as soulslikes and RPGs.