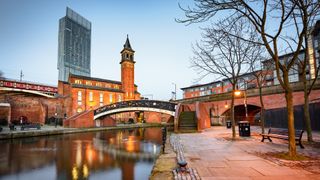 (Image credit: Shutterstock / SAKhanPhotography)
It's a bright, sunny day in Manchester - something of a rarity in the North of England - when I meet with Mike Rose, head of local publisher No More Robots.
If the name isn't familiar to you, then at least one of the studio's published games will be. No More Robots has published several popular hits, including mountain biking roguelite Descenders, 90s internet sim Hypnospace Outlaw (and its upcoming sequel, Dreamsettler), and Slayers X: Terminal Aftermath - Hypnospace's boomer shooter spin-off that's enjoying an 'Overwhelmingly Positive' Steam rating.
Not bad for a publisher that's based well beyond the south of England, or developer hubs like Leamington Spa or Guildford for that matter; both towns that are home to industry big-hitters like Codemasters (F1 23), Playground Games (Forza Horizon 5), Ubisoft Leamington (Watch Dogs Legion), Rare (Sea of Thieves) and Criterion Games (Need for Speed series) to name but a few.
Yet No More Robots is the exception, not the rule. In speaking to Rose, I learned just how difficult it is to set up a publishing house in a place like Manchester, especially when the funding for such a venture just isn't present in the area. It's a deeply political situation that won't be solved so long as London remains as centralized to the country as it is.
The so-called Northern Powerhouse
"Throughout the years," Rose says, "you see the government being like: Oh, we're leveling up the North! Northern Powerhouse and all this kind of stuff! It's all such bulls**t.
"I'm here running one of the biggest publishers in Manchester, and no one's been in touch with me. You would have thought by now if it was such a powerhouse, and they were trying to support local businesses, someone in the last seven years would have phoned me or sent an email or something."
For a bit of context, the concept of the 'Northern Powerhouse' was a very real policy proposal in the UK, initially put forward by former Conservative prime minister David Cameron and his coalition government. The term itself wasn't coined as such until the mid-2010s, by Cameron's chancellor, George Osborne.
The plan was to increase funding across the north's 'core cities.' Those being Liverpool, Leeds, Newcastle, and Manchester, among others. This would, in theory, spur economic growth in several sectors, including the games industry.
It's a sound plan on paper. After all, anyone outside of London would welcome a sharing of the capital's wealth with open arms. But the so-called Northern Powerhouse has amounted to little more than a few new railway lines since its inception in the 2010s. To complicate this further, the government recently canceled the HS2 high-speed rail line that would've connected Manchester to the West Midlands, which is quite a serious blow to making the city more broadly accessible via public transport.
The Conservative party may have failed the North, then, but what about other parties challenging for leadership, like Labour? Rose remains unconvinced that a voted-in Labour government would do anything meaningful for the North's gaming industry.
"There's no one on the Labour side where I'm like, yeah, if they got in, we'd start seeing something," says Rose. "I feel like one of the biggest answers to Labour's problem is - and it'll never happen - but they need to find younger people. They need to find people who are more in touch.
"In the context of video games," he continues, "no one wants to vote for people who have no clue about this industry. And I do not believe that there is anybody in Parliament right now who gives a f**k about video games. But it's not just about video games, it's about so many things, anything that younger generations give a s**t about.
"It's like a Catch 22. You can't put younger people in power, because then that will push the older people who actually vote off, but you need to put the younger people in power to make younger people want to vote in the first place. But no one wants to be the first person to do that, because that's too f**king scary. But no, I do not think anything's gonna change [under Labour]."
A brighter future?
In my time learning more about the Manchester game development scene, I also sat down with Errol Ismail, CEO of Expression Games. This is a small, fully remote studio that has ties to Manchester and the North West, where roughly 70% of its employees are based. Right now, the team's working on a brand new IP, but it also assisted Team 17 in the development of World War Two shooter Hell Let Loose.
To boost the north's gaming presence, Ismail seems keen on fostering a new generation of game developers in the North. "We have educational partnerships in the North West," he explains, "with the University of Bolton and Manchester Metropolitan University. They've seen a huge rise up the university rankings over the past 12 months, which is great to see!"
Ismail also wonders why the development scene in Manchester isn't bigger than it currently is. Stats from UK games industry trade body Ukie, and analysts Nordicity, suggest that as of 2021 there are just two games companies that employ upwards of 50 workers. There are also just seven small-to-medium-sized enterprises employing between 10 - 49.
"If you look at Manchester City Center, considering the size of the city and how well located it is, I've always been surprised at the lack of studios there," Ismail says. "Manchester has always lacked studios. And I've never really understood why that was with it being such a great place to live, work, and socialize. I don't think there's any barrier to being in Manchester. Besides the weather, maybe."
Regional figures from 2019's Screen Business Report also show the gulf between the size of the industry in London compared to that of the North West where Manchester is located. At the time, it recorded just 1,765 full-time games industry employees based in the region, as opposed to London's 5,805. Each region's GVA (gross value added) correlates, with £110.9 million generated in the North West, whereas London reached just shy of a billion at £997.5 million.
Much like Rose, Ismail is inclined to agree that to grow the games industry in the North of the country, younger folks will need to start getting more heavily involved. "I talk about education a lot. That's our future," he says, "I'm getting older, I'd like to continue making games until I'm able to retire, but I'm also realistic that there'll come a point where there are younger, more creative people coming through. And we need to support that next generation."
So, what happens over the next decade or so? What needs to change? Ismail's thoughts go back to education too, and providing support for young, fresh talent.
"I might be a bit critical of the government here," says Ismail. "I don't think the government is properly supporting games education. We have to create more jobs, I think. As an industry, we need to help improve that education.
"We complain all the time that the industry never has enough talent. There's a skill shortage and we've got thousands of people leaving games education each year, without the skill set or the experience needed to secure entry-level employment. And what I hope to see is that in ten years, our institutions are creating some of the best industry talent worldwide."
The future may be uncertain for game development in the North, then, but those active in the now seem to be in agreement that we'll need to rely on younger generations to propel cities like Manchester forward. It won't happen overnight, but with the right tools and training, Manchester and other Northern cities stand to benefit from the creativity and talent of those stepping into the industry for the first time.
Our list of the best indie games features some of the finest gaming experiences from smaller-scale studios, many of which are also responsible for some of the best Steam games on the digital storefront.
Get daily insight, inspiration and deals in your inbox
Get the hottest deals available in your inbox plus news, reviews, opinion, analysis and more from the TechRadar team.

Rhys is TRG's Hardware Editor, and has been part of the TechRadar team for more than two years. Particularly passionate about high-quality third-party controllers and headsets, as well as the latest and greatest in fight sticks and VR, Rhys strives to provide easy-to-read, informative coverage on gaming hardware of all kinds. As for the games themselves, Rhys is especially keen on fighting and racing games, as well as soulslikes and RPGs.