Starfield gets a much-needed performance boost on PC with new Nvidia update
GeForce RTX 40 and 30 cards should see an improvement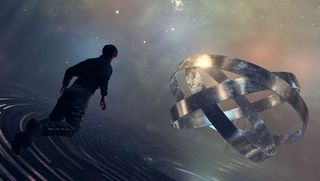 (Image credit: Bethesda Game Studios)
Nvidia has released a brand new graphics driver update that should improve Starfield's performance.
If you've been playing Bethesda's spacefaring RPG on PC recently, you may have been experiencing some performance issues, mainly revolving around FPS, stuttering, and maybe even some crashes.
Some players have resorted to installing a range of mods that are designed to replace AMD's FSR2 with Nvidia's DLSS technology in order to stabilize their performance without sacrificing visual quality. But it looks like players will no longer have to resort to such means, as the new Nvidia driver 537.34 will do all that for you.
In the patch notes, Nvidia explained that it's added a Resizable BAR profile [Base Address Register] - a feature that improves your GPU memory - for Starfield, which should increase performance on GeForce RTX 40 Series and GeForce RTX 30 Series GPUs, allowing for a much smoother experience.
"In our testing scenario, GeForce RTX 40 Series desktop GPUs see on average a 5% increase in performance," Nvidia said.
I tested the latest drivers personally on my own RTX 3060Ti and found an improvement in performance, as well as a small FPS boost, especially on populated planets.
"The Starfield Resizable BAR update will be pushed via an Over-The-Air (OTA) update from NVIDIA and will be automatically applied for gamers running the latest Game Ready Driver (537.34) or the previous release (537.17)," the patch notes explained.
If you're running into some poor performance issues you should install the new Nvidia drivers as soon as possible, because prior to installing, my game was freezing in high-action areas which caused some issues while playing.
Speaking of GPUs, despite being partnered with AMD Radeon, Starfield players have discovered that the game doesn't render the sun if you have a Radeon AMD graphics card.
If you're looking to upgrade your PC, check out our guide for the best graphics cards, and if you're looking for something to play, here are our best PC games of 2023.
Sign up to receive daily breaking news, reviews, opinion, analysis, deals and more from the world of tech.