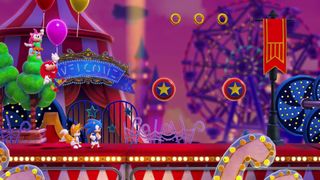 (Image credit: Sega)
TechRadar Gaming is reporting live from Gamescom 2023 on the latest and greatest developments in gaming and hardware.
Sonic Superstars has some speedy shoes to fill when it launches on October 17. The first classic 2D Sonic title since 2017's Sonic Mania, developers Sonic Team and Arzest seem very keen to bring fans a game that lives up to that iconic Genesis / Mega Drive legacy.
Initially revealed earlier this year at Summer Game Fest, Sonic Superstars looks to stick the landing after 2022's well-received Sonic Frontiers. If successful, we'd have back-to-back successes from the franchise across both modern and classic styles, something Sonic Forces wasn't quite able to achieve in 2017 after Mania's high critical reception.
TRG spoke to producer and Sonic co-creator Naoto Ohshima, and Sonic creative officer Takashi Iizuka at Gamescom 2023 about the upcoming release of Sonic Superstars, how the project got started, and the aspects its developers really wanted to nail to provide a fresh and authentic 2D Sonic experience.
Know your roots
Sonic Superstars has the rather demanding task of maintaining that legacy feel for longtime fans, as well as remaining approachable for new and younger audiences. With that in mind, I asked what fundamentals developers Sonic Team and Arzest wanted to get absolutely right.
"So I'd say there's three things," Iizuka says. "First, is that Sonic Superstars is next in the line of the classic series. You have Sonic 1, Sonic 2, Sonic 3 & Knuckles and Sonic Mania. So we really wanted to make sure we got the touch and feel, the controls, and the physics of the game really nailed down tight, because it needs to feel like those original games.
"Second would be we want it to appeal to a modern audience, to people who have never played the Mega Drive games," he continues. "So we needed a 3D art style to really represent the world in a familiar way for this new audience. But we also needed it to be very true to Sonic. So it had to be a Sonic world portrayed in 3D, still with that old-school feel.
"Third: this is a classic Sonic series game. But when we say that, we don't want to say 'oh, it's just an old game.' It has lots of new features, things like multiplayer and new Emerald powers that have never been in any of these 2D games. It's introducing all this for the new audience into the older style to remind people that just because it's from that era doesn't mean it's old."
Fang about
The most notable returning face in Sonic Superstars is Fang the Sniper, a villainous rival to Sonic who debuted in Sonic Triple Trouble for the Game Gear (a fan remake of which sits in our best Sonic games rankings), and has been relegated to the odd cameo ever since. Iizuka, however, was particularly enthusiastic about Fang's return.
"For Sonic Mania," he explains, "we had Mighty and Ray join the game even though they're not really major characters at all. But we put them into Sonic Mania as playable characters and everyone really liked that, and their popularity went up as well.
"We never really expected that, it was just supposed to be something fun to do. But because we saw the fans' reaction to it we really thought for these classic-style games, we have a lot of other minor characters that belong to that era, and we should probably spend some time bringing these characters back to life.
"Those characters really deserve a little bit more time in the spotlight, and Fang is a character that really stands out. We really wanted to make sure he had a presence in Sonic Superstars and we wanted to point the spotlight at Fang for this title to remind people of a lot of our cool classic Sonic characters."
However minor in the broader Sonic the Hedgehog canon, Iizuka recognizes that the vast majority of series characters have passionate fanbases. To me, it speaks volumes for what we can expect from future 2D Sonic titles. The return of Mighty, Ray and Fang seems to be just the beginning, so I wonder if there's potential for characters like Bean, Bark and Honey to make a comeback somewhere down the line.
A familiar face
Beyond Sonic Team, I was curious as to how developer Arzest and Naoto Ohshima got involved with the Sonic Superstars project. Ohshima is the original character designer for Sonic, as well as Sega Saturn hit Nights into Dreams, original Xbox cult favorite Blinx the Time Sweeper and most recently served as character designer and producer for Balan Wonderworld.
"It started with a conversation with Iizuka-san about 'hey, let's make another brand new classic Sonic game,'" Ohshima explains. "A lot of it started with the three points that Iizuka-san brought up earlier. Once that was laid out, we started sharing ideas and exchanging thoughts."
Ohshima added that while he oversees Arzest as development producer, his role in Sonic Superstars' creation was especially hands-on, handling game and character design as well as helping to shape its levels.
"Having the opportunity to create this brand new world was something really fun and interesting for everyone on the team to do," Ohshima continues. "The Northstar Islands are completely different islands that Sonic has never been to before. That gave us an opportunity to create something new, create reasons why they're there on the island and really create this whole new environment."
Turn it up
No matter how familiar you are with the Sonic franchise, you've more than likely heard a song or two from its extensive back catalog. Whether that be the new jack swing-inspired bops of the Genesis / Mega Drive era, or one of many blazing vocal themes from the modern games, Sonic music is particularly iconic and influential within the medium. I asked Iizuka what the approach is for Sonic Superstars' soundtrack and where it fits on that classic-to-modern scale.
"The two styles of Sonic games always had a different style of music to them. And what we wanted to do with Sonic Superstars is stay true to the roots of what the 2D Sonic games sound like," says Iizuka.
"And so we enlisted Jun Senoue to do the music. He's one of the few people at Sega who has experience making music back on the Mega Drive hardware. So we wanted to have someone who had that experience of what music sounds like back in the Sonic 1 era. So it's true to the roots of the classic series games and made by someone with the experience of what classic Sonic sounds like."
Jun Senoue is a choice pick for Sonic Superstars' soundtrack. Senoue is one of the few Sonic composers to work across both eras. While he started on titles like Sonic 3 & Knuckles and Sonic 3D Blast, he's perhaps best known for being lead composer for Sonic Adventure, Sonic Adventure 2 and Sonic Heroes. Senoue's band, Crush 40, also created countless iconic vocal themes for modern Sonic titles right up to 2019's Team Sonic Racing.
Environmentally conscious
A notable aspect of the Sonic franchise is a focus on a pro-environmental message. Throughout the series, Sonic and friends are constantly having to protect their homeland from Dr. Eggman's industrial takeovers. This is most bleakly apparent in Sonic CD, where you can travel to nightmarish versions of each zone's future, where Eggman has completely transformed the natural environment into a hellish mechanical wasteland.
Thinking about recent environmental disasters in Lahaina and California, I asked the team if they felt Sonic's message of preserving the natural environment is even more prescient today than it was in the 90s.
"Sonic has always loved nature," says Iizuka, "and he's always fought against Eggman destroying that nature and putting animals inside of robots. So Sonic was always there to free the animals and really love the environment that he was in, and a lot of fighting that he was doing was against the people who are destroying the nature that he was a part of.
"In Sonic Superstars there's still this love of nature, and there's still this want to make things better for the world. We don't want to spoil anything, but there's a story base to it, and that message I think will still be conveyed to people when they play."
Playing favorites
To end the interview on a more positive note, I asked both Ohshima and Iizuka who their favorite Sonic characters were, besides the hedgehog himself.
"So Amy is a great character," says Ohshima, "I like Amy because her qualities as a character are really well done. I think she's really positive."
Iizuka responded with a smile. "I'm asked this question a lot, and I always say Shadow. But Shadow is not part of the classic series! So if I have to choose from the classic series characters, I'd say Knuckles is my favorite. I started working on Sonic with Sonic 3, so I'm really grateful 30 years later to be able to make a brand new Sonic game and still be able to have Knuckles in that game."
Sonic Superstars is launching on all platforms on October 17. In the meantime, consider checking out our best Nintendo Switch games, best Xbox Series X games and best PS5 games lists for recommendations on hot new titles.
Sign up for Black Friday email alerts!
Get the hottest deals available in your inbox plus news, reviews, opinion, analysis and more from the TechRadar team.

Rhys is TRG's Hardware Editor, and has been part of the TechRadar team for more than two years. Particularly passionate about high-quality third-party controllers and headsets, as well as the latest and greatest in fight sticks and VR, Rhys strives to provide easy-to-read, informative coverage on gaming hardware of all kinds. As for the games themselves, Rhys is especially keen on fighting and racing games, as well as soulslikes and RPGs.