Oblivion and Fallout 3 remasters are planned, according to Microsoft court documents
Dishonored 3 and a Ghostwire: Tokyo sequel is also mentioned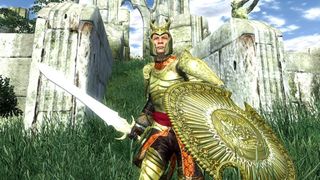 (Image credit: Bethesda Game Studios)
Microsoft court documents show plans to remaster The Elder Scrolls 4: Oblivion and Fallout 3, as well as other unannounced games like a new Doom game, Dishonored 3, and more.
According to The Verge reporter Tom Warren, who shared a tweet today, "A massive amount of highly confidential and unredacted Microsoft docs have leaked as part of the FTC v. Microsoft case. They were attached to a single file and incorrectly hidden and posted publicly. A huge error that has led to a giant leak. More to come."
As reported by The Verge, the leaked documents revealed during the FTC v. Microsoft court case - which were shared with Resetera - show that before Zenimax Media - parent company to Bethesda and iD Software - was acquired by Microsoft, it was working on remasters of The Elder Scrolls 4: Oblivion, Fallout 3, and a new Doom game.
The Oblivion Remaster was originally set for a 2022 release, the Fallout 3 remaster for 2024, the new Doom entry dubbed Doom Year Zero and its DLC for 2023, as well as the second set of DLC (fiscal year 2024).
The games were featured in a Microsoft presentation about the original proposal to acquire ZeniMax in July 2020 and included other unannounced games such as a Ghostwire: Tokyo sequel and Dishonored 3, both for a 2024 launch.
Additionally, there are some projects that are mentioned for console and PC that don't have determined names, including two unnamed projects called "Platinum" and "Kestrel" for 2023 plans, the latter of which has an expansion set for 2024. There's also a short mention of the previously announced Indiana Jones game which was originally set for a 2022 release, as well as a "licensed IP game" that doesn't have a name.
Yesterday, on September 18, the first of the court documents leaked, which provided even more details on other upcoming games, such as The Elder Scrolls 6, which is expected to be released sometime during or after 2026.
If you're looking for something new to play, here's our list of the best Xbox Series X games, as well as our best Xbox Game Pass titles on offer.
Sign up to receive daily breaking news, reviews, opinion, analysis, deals and more from the world of tech.