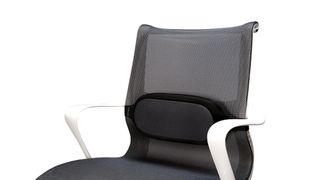 (Image credit: Fellowes)
If you've been considering buying one of the best office chair models on the market, you might have also been wondering about lumbar support. After all, if you spend any amount of time at an office desk, sat in a workplace chair then it's only reasonable to feel comfortable, right? Even more so if you're prone to ailments, such as fatigue in the back, shoulder or neck area.
Owning the right office chair is therefore vital and having one that provides lumbar support can be even more beneficial. Lumbar is a term that focuses on the lower region of your back, which is an area well known for providing many of us with painful issues that can be tricky to tackle.
Buying an office chair that offers a degree of lumbar support makes a lot of sense if you're looking for help with this problem area. Pick the right office desk and a chair with lumbar support built-in to the design and you could be looking forward to a much more pleasant experience during working hours. This is especially so if you spend long periods of time at work.
What to look for
If you're keen to get yourself kitted out with an office chair that has lumbar support as part of the package, think ergonomics. Pick an ergonomic design of office chair and you'll potentially have the option of lumbar support added as an integral part of the design. However, it is also possible to add lumbar support in the way of a cushion, which might sit on top of the regular chair top.
Another bonus of lumbar support, alongside its health benefits is that in many cases it can help to promote airflow around your lower back. That way there is less likelihood of discomfort to any of your problem areas, as well as minimising any perspiration levels that can tend to rise if you're stuck in the same position for longer periods of time.
How to improve posture
Lumbar support in an office chair can certainly help boost your fortunes on the better posture front, which means that it's possible to keep the natural curvature of your spine in better shape. Of course, you have to work at this in order to get the best from your lumbar support, be it built in to the chair or as an add-on accessory.
For starters, it's important to push yourself towards the back of the seat in order to give your spine the support it needs. You should try and maintain an upright position, because we all have a tendency to start slouching as the day progresses or as fatigue starts to set in. You should aim to keep your feet flat on the floor too, which helps to promote the sitting upright position.

However, it's important to mix this correct seating position with plenty of breaks, so make time to get up from your desk and do something else for a while, even if it's only for a few moments.
What to buy
Like any office chair, there are many different options when it comes to getting one with lumbar support as a built in part of the design. A lot of this comes down to how much you want to spend, but if you already have a bad back then buying a premium office chair, along with one of the best desks you can afford, will feel like great value if it eases your discomfort.
Office chairs with integral support come in all shapes, sizes and designs too. There is also the option to choose a seat covering that you prefer, from leather and vinyl through to fabric. You'll probably want to look for a model that comes with plenty of breathable mesh areas as part of the design because, as we mentioned above, this can lead to less chance of overheating and causing any inflammation to tender lower back areas.
Lumbar support accessories
Another angle you can take, especially if you've only recently decided that lumbar support would be beneficial for a back ailment, is to get an accessory that'll do much the same job. There are many different third-party lumbar support accessories that can be purchased from office supply outlets and countless locations on the internet.
The great thing about this option is that you can stick with an existing office chair that you're already happy with, meaning less expenditure. This is an area that has improved greatly over the years and the materials and design of quality lumbar support inserts has become top notch. In fact, if you've got an office chair that you're generally quite keen on, this is a great way of revitalising its potential and extending its life, especially if the seat base isn't quite as good as it used to be.

Equally, however, if you've got back issues and your office chair is starting to feel past its best, it may be wiser to spend some more cash and simply buy a new one. That way, you can look for an office chair with lumbar support built in as standard.
Cheaper alternatives
You might be tempted to buy a secondhand office chair if funds are tight, but if you already suffer from back or other health issues, it's probably a better idea to just get the best new model you can afford. Secondhand office chairs can fit the bill, but they obviously have varying levels of wear and tear. If your posture is poor then a sagging seat isn't likely to help.

Sometimes it's simply better to bite the bullet and purchase a new office chair. The same goes for your desk. The other thing about desks is that these have improved greatly over the years too, with many variations on the theme available. A quality standing desk might be another option to think about, especially if you're looking to improve your overall fitness levels and general wellbeing.
Are you a pro? Subscribe to our newsletter
Sign up to the TechRadar Pro newsletter to get all the top news, opinion, features and guidance your business needs to succeed!
Rob Clymo has been a tech journalist for more years than he can actually remember, having started out in the wacky world of print magazines before discovering the power of the internet. Since he's been all-digital he has run the Innovation channel during a few years at Microsoft as well as turning out regular news, reviews, features and other content for the likes of TechRadar, TechRadar Pro, Tom's Guide, Fit&Well, Gizmodo, Shortlist, Automotive Interiors World, Automotive Testing Technology International, Future of Transportation and Electric & Hybrid Vehicle Technology International. In the rare moments he's not working he's usually out and about on one of numerous e-bikes in his collection.