Supported
What is cloud VPN and why is its popularity on the rise?
There may be a more flexible and efficient solution for your business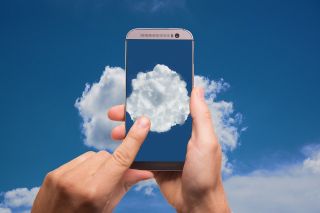 (Image credit: Pixabay)
More recently, however, cloud VPNs have been changing this way of thinking and many businesses see it as the best way forward, particularly when it comes to maintaining good levels of security.
A VPN, or Virtual Private Network, is a method of maintaining privacy and increasing security while you're online by routing traffic through an encrypted tunnel to a server. This is infinitely better than connecting directly to an Internet Service Provider and there are plenty of best VPN options when you're looking too.
Traditionally, businesses and organizations have used corporate VPNs to simultaneously let staff gain remote access, while also ensuring the safety of the server setup and maintaining privacy of both employee and corporate data. Under this model, the company runs the server, as well as the VPN, which the employees use to connect to corporate resources, such as databases and software. This is especially useful when they're away from the business location itself.


Cloud computing is efficient
If you're running a business or corporation, the more efficient workflow situation along with obvious cost saving potential has propelled cloud-based arrangements to the front of the queue when IT departments are looking to spend their budgets.
Better still, cloud applications also allow for collaboration in ways that were not previously possible. A good illustrative example of this is when several users can write and edit a written piece while they're all working remotely. Collaboration can take place; edits can be made and everything happens without transferring the actual document file back and forth because it remains safely on the cloud-based server.
'The Cloud' is already hugely popular when it comes to providing software, data and services. In many cases it has replaced the rather old school method of running everything locally on a PC or server by allowing businesses and individuals to call up their everyday tools via the internet, using a remote server instead.
The hosted service is accessed via a web browser or smartphone app. Cloud computing is therefore an efficient approach that can be quite cost effective. In fact, a popular option is that companies frequently outsource the daily running of the server, along with the maintenance. So, for example, rather than having to update each individual client, the updates can more efficiently be carried out at server level, which is widely regarded as a much more efficient way to manage workflow.
What is cloud VPN?
Enter then, the cloud VPN, which often goes by a few different names that can include 'hosted VPN', or a 'virtual private network as a service' abbreviated to VPNaaS. They are all basically referring to the same arrangement, which works similar to a conventional and locally hosted VPN, but with the benefit of added cloud power and flexibility.
In this cloud VPN configuration, rather than the corporation setting up and maintaining its own business VPN on a company maintained server, the daily operation of the corporate VPN gets outsourced to a VPNaaS. The use of a VPNaaS is a modern and hugely effective solution that helps to streamline operations. This is because it is designed to be compatible with Cloud applications while also maintaining a high level of security. That's an obvious benefit if you're running any kind of business operation.
A VPNaaS can also be designed to work via both a browser and a mobile app, depending on the requirements of your business and employees. Up until now, a traditional corporate VPN could frequently be quite frustrating to work with if you happened to be using a mobile device. This is a limitation that a VPNaaS arrangement easily overcomes.
This also brings up another issue in that, generally speaking, a corporate VPN tends to be fairly static, and once it has been setup, changing it or expanding the configuration to handle additional tasks can be a real challenge. A VPNaaS conveniently overcomes these issues and delivers a much more flexible solution that can be scaled up a lot more easily.
Traditional corporate VPN's are often difficult to setup too. It can take significant time and effort to get them up and running properly, often requiring months of IT department time to deploy. With VPNaaS setups, the heavy lifting happens at the level of the provider and that means they can be deployed much more rapidly. Alongside being more cost-effective, this has another obvious benefit in that it can keep up with the pace of expansion of the business.
The rise of cloud VPN
With so many advantages, it is hardly surprising that VPNaaS has become so popular in recent years. In fact, according to Reports and Data, the burgeoning VPNaaS arena is expected to experience growth from a market that was originally worth $2.77 (£2.21) billion back in 2019, to $8.78 (£6.99) billion by 2026.
The figures aren't really all that surprising given the added flexibility and security afforded by a cloud based VPNaaS system. It's certainly going to be more cost-effective considering the ease with which a system can be purchased and setup.
Similarly, maintaining a VPNaaS is that much easier too, mainly because old style VPN technology simply wasn't designed to work with cloud-based applications. Now that many businesses and organisations predominantly work around a cloud-based setup for all of their other workflow needs, it makes total sense to enlist the services of a VPNaaS system to complete the package.
What's more, now that lots more employees work remotely, from home or need a hybrid-style of working, the convenience of a cloud-based VPNaaS configuration makes using one a no-brainer.
Companies are always keen to make cost savings too, and the benefit of a VPNaaS system is that it can be setup, configured and subsequently set in motion in much less time than a conventional VPN arrangement. In that respect, going down the route of a VPNaaS now makes more sense than ever.
Are you a pro? Subscribe to our newsletter
Sign up to the TechRadar Pro newsletter to get all the top news, opinion, features and guidance your business needs to succeed!
Jonas P. DeMuro is a freelance reviewer covering wireless networking hardware.