Supported
Supercharge your practice with a HIPAA-compliant EHR for therapists
Use an electronic health record to take your practice to the next level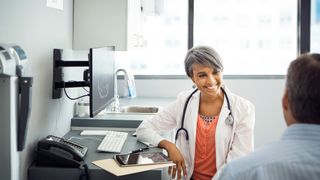 (Image credit: Cavan Images via Getty Images)
Mental health professionals have many challenges, many of which amount to an excessive amount of work that needs to get done in too short of a time period. While previously a luxury just a decade ago, an electronic health record (EHR) has become an essential item for any therapist's practice.
Choosing the right EHR does not need to become a burden, with the realization that like any other purchase, you just need to find the right features that will address these multiple needs, and offload some of the burden. This will make the practice more efficient, and let the therapist focus on what they are best trained to do- therapy. Here are our experts tips on the features that your EHR should have.
---

Secure
Any EHR needs to be compliant with the HIPAA (Health Insurance Portability and Accountability Act). This means that the patient's information needs to be secure, and therefore, protected. When assessing a potential solution, make sure that the information is password protected, but these days a software solution should do more than just a simple password.
Therefore, look for security features such as reminders to make sure that your password is complex enough, in terms of length, and that it will only accept one that has a combination of letters, numbers, and special symbols. Also look for reminders to change passwords at set intervals, the recovery method for a lost password, and even two factor authentication for an even higher level of security.
Backups
Losing data is a difficult and painful situation. Rather than keeping data locally on a storage drive, better that it is located in 'The Cloud.' This gives it multiple redundant copies, and stored at multiple data centers from leading providers. With a good EHR, you are buying into the services of this data center infrastructure behind the software solution, making data loss an experience of the past.
Encryption
Let's get back to the security issues, with another privacy issue. In order for your EHR to be compliant with HIPAA, it should be encrypted as it is stored, which means that it is a HIPAA-compliant database. This also means that only authorized users, namely the providers that are directly involved in the care have access to the patient records.
Also, the EHR provider needs to have 'Breach notification' in place. As HIPAA has a myriad of regulations in place around this, it is better to leave this to the EHR provider to maintain compliance. This breach notification involves notifying the therapist, in a timely fashion, for any identified leak of PHI, and also disclosure to government agencies should this occur.
As the regulations are quite confusing on the encryption and the notification process of the breaches, it is best left to the expertise that comes with a solid EHR.
Billing
Medical billing is another area that an EHR can help with. There is no reason to use index cards with stickers and checkboxes anymore. Similarly, a standalone app on a smartphone is a time consuming activity, and requires way too much data entry just to submit a bill. Also, in both of these scenarios, there is a delay from the time of the clinical encounter, to when the bill drops, which as these delays add up can negatively impact the cash flow of the mental health practice.
Rather, look for an EHR with integrated billing. This then provides a prompt as the clinical note is completed, to then provide a bill, that is attached to the note. This then allows the bill to be submitted in real time as the work is completed, so that there is no delay, and the cash flow is enhanced. As there won't be any practice without appropriate billing and payment, this is a critical function of the EHR.
Templates
Writing notes, whether initial consults, progress notes, or phone encounters are an essential activity of any practice. This supports the billing, can be reviewed by patients, and are often shared with other professionals on the patient's care team.
However, note writing quickly becomes a time consuming activity. Also, the information in the note needs to be organized so the therapist, and others can follow the clinical encounter, and how it impacts the progress of the patient. This is done by not free texting the note each time into a blank page, but rather developing templates that have categories of information, such as the past medical history, and the medication list. Efficiency can be gained with this information can be pulled from another source, such as when the patient inputs it via an intake form.
Look for an EHR that provides starter templates for categories of common notes. This helps the clinician to get started and see what is possible. Over time, the clinician will no doubt customize these templates, in multiple ways. This can include theming and branding, such as putting the practice's logo at the top, and having a list of the associates of the practice. Also, this can include pick lists for common issues, or being able to add phrases for common scenarios, such as recurring issues such as not having to type out each time "Patient counseled to return for their next session in week, and call for any worsening symptoms before the next appointment," and similar.
Reports
A good EHR can organize and analyze information, which can be used to generate reports. While it could take quite a while to answer questions like what is the payer mix of the practice, what zip codes are the patients coming from, or what is the most common billing code or diagnosis, these are all easily answered with a query of the EHR. This can then produce actionable intelligence to know if the practice should be expanded with an additional provider, or an additional location.
Conclusion
Having the right EHR is truly a game changer for a therapist's practice, and the right solution is a requisite to compete effectively in the dynamic healthcare marketplace. Consider the above features, and you will be sure to choose an effective EHR for your practice.
Are you a pro? Subscribe to our newsletter
Sign up to the TechRadar Pro newsletter to get all the top news, opinion, features and guidance your business needs to succeed!
Jonas P. DeMuro is a freelance reviewer covering wireless networking hardware.