Samba De Amigo is all about 'silly fun', says director Shun Nakamura
Nakamura doesn't rule out revivals of older franchises such as Billy Hatcher and Rhythm Thief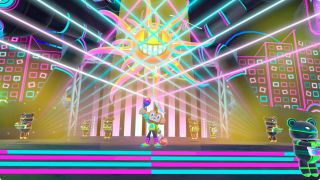 (Image credit: Sega)
The days of peripheral-based rhythm games and furious fret action on plastic guitars might be far behind us, but the rhythm and music game revival is in full swing. Hi-Fi Rush, the surprise rhythm game adventure from the same studio that brought you Evil Within, is one of the highest-rated releases on Xbox this year, and there's an ever-growing list of titles such as the rhythm-based beat 'em up God of Rock and jazz-inspired puzzler The Forest Quartet fusing rhythm elements with other genres or building music-focussed narrative experiences.
Things are particularly busy in the best VR games space, with the Quest's motion controllers creating a new generation of virtual drummers, dancers, and beat slashers through Smash Drums, Dance Central VR, and Beat Saber. In 2020, Sega and Tetsuya Mizuguchi's Space Channel 5 series was revived after a 20-year slumber as a VR title, so it was perhaps inevitable that Sega would eventually invite its maracas-slinging monkeys to join the fun.
We're talking, of course, about the Meta Quest 2 (formerly the Oculus Quest 2) and Meta Quest Pro versions of Samba De Amigo, Sega's rhythm-based arcade hit. At the time of its release in 1999, Samba De Amigo was considered revolutionary due to its use of special height-sensitive maracas that players had to swing in time to a selection of infectiously groovy Latin and pop songs.
A samba cult
You'd be forgiven for not hearing of Samba De Amigo until now (although we may think less of you). Despite the arcade version in Japan being a commercial success, later versions of the game struggled to capture the attention of mainstream audiences. The Dreamcast version of the game was warmly received by critics but also incredibly expensive, with the maracas costing $79 a pair, while the Wii version of the game was hampered by controls that were shaky in all the wrong ways.
That said, Samba De Amigo has managed to amass somewhat of a cult following, presumably due to players experiencing true joy by shaking their maracas at Ricky Martin. Samba De Amibo has always been about 'silly fun,' according to its creator Shun Nakamura, a concept that he tells TechRadar is at the very heart of the VR versions of the game.
Samba De Amigo is a game we have created based on the concept of "Silly fun," Nakamura explains over email. "Although it has not sold an extreme amount of copies in the past, I think people who did play the previous Samba [games] most likely had a good time and remembered in the back of their mind that the game had a bright vibe, a groove, a fun experience that other games do not have, which led to positive feedback."
In many ways, the VR version of Samba De Amigo was a 20-year wait for the ideal hardware to present itself. Nakamura says he was working on another music game in 2017 before he started developing the Nintendo Switch and VR versions of Samba De Amigo, but "it didn't work out." Instead, Nakamura looked to developments in the VR scene and was excited by the idea of being able to achieve new things.
Top VR games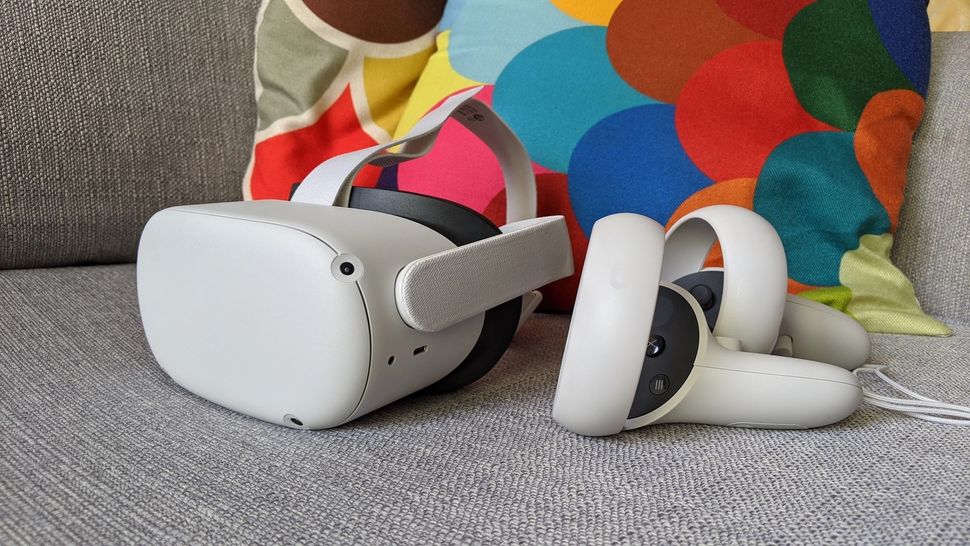 Remember to check out our picks for the best Oculus Quest 2 games and the best Oculus Quest 2 fitness games.
"As a creator, I really enjoy being involved in [new] things, and it is very rewarding when people are surprised by what I have created, so I would like to continue to challenge myself with new things," Nakamura explains. "Having said that, in past Samba games, certain things [such as height] could not be detected automatically. This time around, Quest can detect that automatically, eliminating the player's and producer's hassle. I thought that technology has really evolved, and we can now work on the game itself more easily."
A change of tune
Alongside new controls, mini-games, and competitive online multiplayer modes, one of the biggest changes to this latest version of Samba De Amigo is the significant expansion of its tracklist. Old-school Latin and samba picks are joined by some of the biggest names in contemporary pop music including licensed tracks from Ariana Grande ('Break Free ft. Zedd'), Miley Cyrus ('Plastic Hearts'), Pitbull ('Celebrate') and Carly Rae Jepsen ('I Really Like You').
This is a pretty extraordinary (and expensive) licensing feat from Sega, although the company has been making a concerted effort in recent years to expand music initiatives, whether that's partnerships with DJs such as Steve Aoki, the upcoming Sonic Symphony Tour, or joining forces with Sleeping With Sirens vocalist, Kellie Quinn, to inject a hilariously heavy dose of metalcore into the soundtrack for Sonic Frontiers.
Sega's no stranger to crossovers, and similar to how music from Space Channel 5 and Sonic The Hedgehog was incorporated into the Wii version of Samba De Amigo, there's a selection of music from Sonic The Hedgehog arriving as post-launch DLC, and Nakamura says the tastes of all Sega fans are being considered for future DLC installments.
"If everyone enjoys the SEGA music that is currently available, we would definitely like to prepare more," Nakamura says. "Thankfully, Sega's music is appreciated by many users, and I am sure that there are various titles that, when listening to its music, will remind you of the game and allow you to bask in the nostalgic afterglow of the experience.
"With Samba, we hope to make people enjoy the game while having those feelings of being in the moment, and we would definitely like to work on this more in the future."
A core of 'silly fun'
Nakamura's keen to emphasize that Samba De Amigo isn't your typical rhythm game. Similar to how the likes of Metal: Hellsinger and Hi-Fi Rush have spun the 'traditional' rhythm game formula, Nakamura doesn't want Samba De Amigo to be taken too seriously. He wants to see developers pursue rhythm games in new styles to boost the genre, rather than just "increasing the number of ordinary, common rhythm games."
"When it comes to rhythm games, there are many games that are very stoic and serious, which requires highly skilled players, and I think there are many games with really great players," he says. "However, Samba de Amigo is different from that. 'Silly fun' comes first, followed by rhythm, but the most important thing is to be able to enjoy the music. Therefore, we do a lot of things that we don't do in regular rhythm games. Of course, you can enjoy the game as a rhythm game, but I would also appreciate it if you knew that this is the underlying idea behind the game."
With Samba de Amigo brought back to life and reimagined on new hardware, we were curious if fans of Nakamura's other projects such as Billy Hatcher and the Giant Egg on the GameCube and Rhythm Thief could one day get the same treatment as remasters or remakes. Nakamura doesn't rule the idea out.
"I would like to try again if I had the chance, just as I did with Samba de Amigo. Each of these titles has been around for quite some time since their release, and there is a lot of material for new entries, but it is difficult to actually create them without an opportunity to do so. But this time, Samba is back after a 20-year absence. So, you never know, right? Maybe we will be able to share these titles with you again in this kind of interview."
Get daily insight, inspiration and deals in your inbox
Get the hottest deals available in your inbox plus news, reviews, opinion, analysis and more from the TechRadar team.
Mat Ombler is a freelance journalist, copywriter, and consultant specialising in video game music. His work for publications such as NME, The Guardian, WIRED, Edge, and the Washington Post explores the intersection of video games and music, as well as the business strategies underpinning music and gaming collaborations. He's co-host of the video game music podcast GXM, where he shares his love of obscure '90s game soundtracks.