Cyber Monday office chair deals 2022: Some great deals available now
A great office chair is vital for health and productivity – here's how to find the best Cyber Monday deals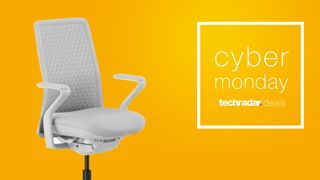 (Image credit: Future)
It's the morning after. Cyber Monday 2022 is now behind us and gave us some cracking deals. Can't wait to see what Cyber Monday 2023 has in store for us.
Until then, see our round-up of the best office chairs tested, reviewed, and rated.
Cyber Monday office chair deals: Quick links
Cyber Monday office chairs 2022 US
Cyber Monday office chairs 2022 UK
How much can I save in a Cyber Monday office chair deal?
Adobe has crunched the numbers from previous Cyber Mondays to find out what you should expect from Cyber Monday in 2022.
The conclusions are quite straightforward. Adobe reckons you'll generally find discounts at around 15% on top office chairs in October and November. But during the crucial long weekend that includes Cyber Monday, the best discounts will hit a more tempting 32%.
Given that Cyber Monday 2021 and Black Friday 2021 proved a little disappointing, we wouldn't be surprised to see slightly better discounts as retailers try to stimulate sales.
That being said, office chairs are not the most expensive products, so you should temper your expectations regarding the amount of cash you'll be saving.
As a rule, anticipate a chair's price to drop by around 20% - anything beyond that is a bonus. If you want to buy a more affordable and basic office chair that costs $100 or $200, you'll probably save around $20 or $40. But if you have a higher budget and you're happy enough to spend $750 on an office chair, you'd get a $150 discount.
If you see a good deal on Cyber Monday, make sure you grab it before it is out. Adobe's data also shows that the best deals disappear immediately after Cyber Monday – indeed, the firm predicts that those 32% discounts will drop to around 20% throughout December.
3 Pro tips for buying an office chair on Cyber Monday
1. Do your research first
Cyber Monday can be overwhelming, with hundreds of deals available on every kind of office chair imaginable. If you don't know what you're shopping for, it's easy to get lost and miss discounts altogether.
To avoid that problem, pick some office chair options before browsing. Think about how much you'd like to spend – even with a discount – and list every feature you need from your new chair. You'll need to cover ergonomics, adjustment options, size, and style.
Once you know what you need from your new office chair, you can select some products to concentrate on during Cyber Monday. Take this advice, and you will do a better job of spotting the best deals on products that are relevant.
2. Be thorough
If you want the best office chair deal on Cyber Monday, you should go further than picking out the chair you'd like to buy.
Set up email alerts for price drops on your chair of choice, and check different retailers to spot the best prices. Also, remember that companies with similar prices often offer extra incentives to sweeten the deal – so take advantage if you see free gifts or extra gear from a particular outlet.
If you can get to a physical store to try out your chair of choice, make the trip: you might use the chair in person and find it unsuitable.
Also, remember that manufacturers usually have wide product ranges. You may find that one of their cheaper office chairs has most of the features you need at a lower price. Similarly, some research might reveal that last year's models include many of the same options for less, too – take advantage of buying a year behind the curve.
3. Be patient
Even with Cyber Monday coming soon, buying your office chair of choice can be tempting if you see it on offer before the big day.
If that happens, though, stay strong. While you may have seen a great deal in early November, Adobe's data proves that better discounts usually come on Cyber Monday.
If you can't resist buying, consider keeping the product boxed up until Cyber Monday has been and gone. You can return the product for a refund if you spot it at a lower price.
Are you a pro? Subscribe to our newsletter
Sign up to the TechRadar Pro newsletter to get all the top news, opinion, features and guidance your business needs to succeed!
Mike has worked as a technology journalist for more than a decade and has written for most of the UK's big technology titles alongside numerous global outlets. He loves PCs, laptops and any new hardware, and covers everything from the latest business trends to high-end gaming gear.